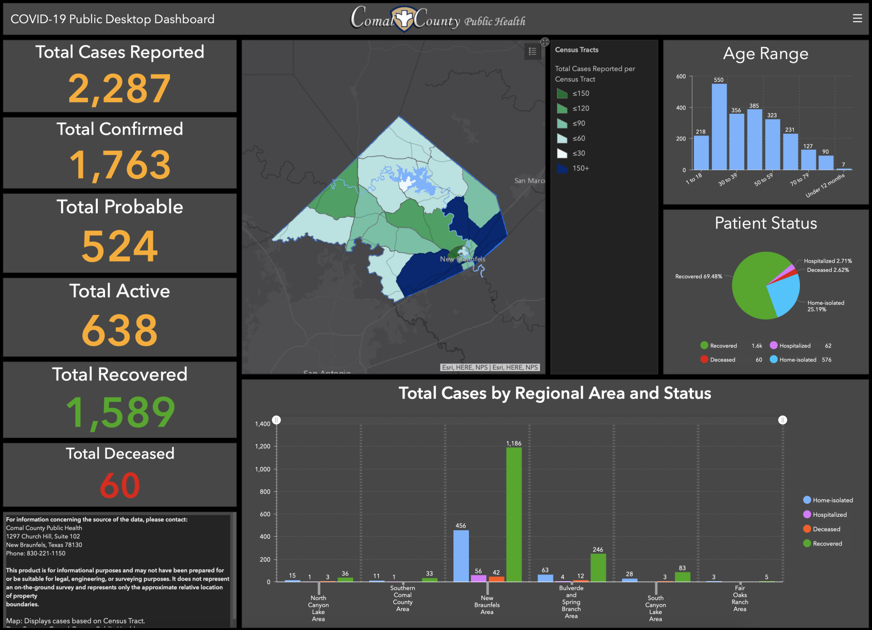 Officials said Wednesday morning that a New Braunfels woman in her 60s, who died on Monday after being discharged from a local hospital, is the 60th COVID of Komal County.
The county confirmed 223 more illnesses, putting the county's total recoveries at 1,589 and pushing the active case down to 638 – the lowest number since July 3.
The positivity rate of the county remains high, which is now 16.60%, slightly higher than Tuesday's rate of 16.57% and 16.49% per week.
Health officials added 56 new cases to the tally and said county residents had climbed to 62 by six at the hospital. The county now has 2,287 COVID-19 cases since the epidemic began.
Of the 56 new cases, 43 have been confirmed and 13 are probable. Fifty-one are residents of the New Braunfels-area, three are from the Bulverde / Spring Branch area, one lives south of Canyon Lake, and one lives north of Canyon Lake. Sixteen are younger than 30, 16 are in their 30s or 40s, 17 are in their 50s or 60s, and seven are older than 70.
On Wednesday, hospitals in Komal County reported taking care of 31 COVID-19 patients, 17 of whom are being cared for in ICU and 10 on ventilators. Some of those patients are residents of the county, but some are people from outside the county, and some of the county's patients are in facilities outside the county.
As of Thursday morning, public health has received reports of 13,779 trials, with 1,763 confirmed cases and 524 possible cases.
Residents wishing to test for COVID-19 can call the county's dedicated hotline, 830-221-1120, Monday through Friday, between 8am and 5pm.
    .