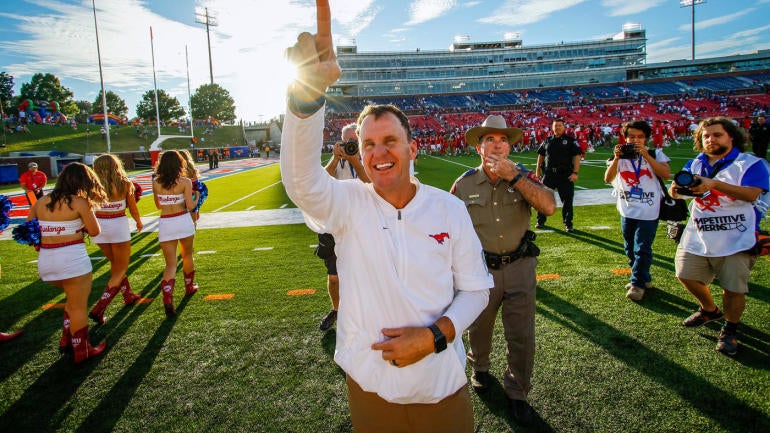 Arkansas is close to getting their new coach, and is someone who fits perfectly with what the Razorbacks need.
SMU coach Chad Morris has become the main target of a program that sacked Bret Bielema on November 24, shortly after closing a season of 4-8 (1-7 SEC), and will close a agreement made in the next 24 hours. Pete Thamel of Sports Illustrated reported Morris's best application for the first time.
Morris is 14-22 in three seasons at SMU but posted a 7-5 record this season and earned a place in the Frisco Bowl against Louisiana Tech. He had a 2-10 record in his first season with a program that won only one in the previous season and improved to 5-7 in 2016. The bowl this year is the first since a victory at the 2012 Hawaii Bowl over Fresno State.
The sources tell CBS Sports that influential people in the world of college football and within the SEC consulted with Arkansas – a program that did not have a sports director until Hunter Yurachek was hired on Monday ] – he almost universally recommended Morris to the position because of his integrity, his links to Texas and his ability to produce high-level offenses.
Prior to SMU, Morris was Clemson's offensive coordinator from 2011-14, helping to lay the foundation for his dynamic offense. He played a decisive role in the recruitment of former Tigers quarterback Deshaun Watson. Morris made the leap to college after an ultra successful career as a high school coach in the state of Texas.
The combination of Morris's high-octane offensive and the ability to recruit Texas, a state in which Arkansas relies heavily. – makes him a perfect candidate for a program after both traits gradually disappeared under Bielema.
Even the biggest news for the Razorbacks could be who he brings with him. According to FootballScoop.com, Morris points to Clemson's defensive coordinator Brent Venables for the same role with the Razorbacks. Venables has produced the 10 best defenses nationwide in each of the past four seasons, and the two closest friends worked together at Clemson from 2012-14.