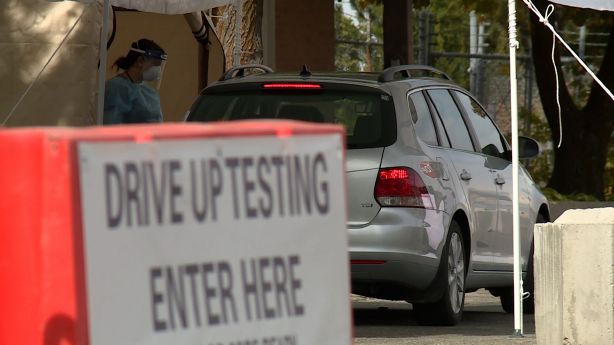 SALT LAKE CITY – The Utah Department of Health has confirmed 5,352 additional tests of COVID-19 on Saturday and is causing nine deaths from the disease.
The results come a day after the number of cases are "artificially low" due to "significant technical difficulties" by the department. The Health Department said that about 1,300 of Saturday's reported cases would have been reported on Friday if not for technical problems – meaning the state still saw about 4,000 newly reported cases on Saturday, records Thursday it was done.
With the update, Utah has now seen 151,141 diagnosed COVID-19 cases, 710 deaths and 6,676 total hospitalizations since. Currently, 487 Utahs are reported to be hospitalized with the virus and 184 of those patients are in intensive care.
The Health Department said the nine new deaths included:
A Salt Lake County man between 25 and 44 years old who was hospitalized when he died
A Salt Lake County man between the ages of 45 and 64 who was not hospitalized
A 65-year-old Washington County man hospitalized
A Washington County woman between 65 and 84 years old who was hospitalized
A Novel County woman between the ages of 65 and 84 who was not hospitalized
A Summit County woman between the ages of 65 and 84 who was a resident of a long-term care facility
A Utah County woman between the ages of 65 and 84 who was hospitalized
Two Davis County women between the ages of 65 and 84 who were hospitalized
This summit reported coronovirus-related deaths in the county since the epidemic began. It is the lowest of any health district in Utah; Some health districts include single counties, while other rural districts include many. Some rural counties have witnessed some deaths in person.
Meanwhile, Salt Lake and Utah account for about 64% of virus deaths.
During the past week, the state has 2,957 new cases per day and a positive test percentage of 23.6. The Health Department reports that 17,544 new people were tested on Friday's numbers; In total, a total of 1,724,263 tests have been conducted on 1,234,250 people in the state now.
A total of 42 Utahns died of coronovirus between Monday and Friday this week.
Under the current emergency order of Gary Herbert, there is a facade mandate in public places throughout the state of Utah. Additionally, the emergency order calls for the Utahbans to limit their casual social celebrations to other members of their own household until November 23 for another week. 23. Most after-school extracurricular activities have also been postponed until that time.
This week
Friday: In 'artificially low' count, 2,150 more COVID-19 cases, 14 deaths occurred in Utah on Friday.
Thursday: 'At the breaking point': Utah breaks the one-day COVID-19 record with 3,919 new cases, killing 9.
Wednesday: 2,335 more COVID-19 cases, 6 deaths occurred in Utah on Wednesday
Tuesday: 2,517 more COVID-19 cases, 11 killed in Utah on Tuesday.
Monday: Utns urges to follow new COVID-19 health order as state sees 2,247 new cases, 2 deaths
Method:
The test results now include data from PCR tests and antigen tests. Positive COVID-19 test results are reported to the Health Department immediately after confirmation, but negative test results cannot be reported for 24 to 72 hours.
The total number of cases reported each day by the Utah Health Department includes all cases of COVID-19, as the outbreak of Utah began, including those currently infected, who have recovered from the disease, and Those who have died.
Recovered cases are defined as someone who was diagnosed with COVID-19 three or more weeks ago and has not died.
According to the Health Department, deaths reported by the state usually occur two to seven days earlier. Some deaths can also occur from the future, especially if the person is from Utah but has died in another state.
The Department of Health reports deaths from both confirmed and potential COVID-19 cases according to the case definition outlined by state and territorial epidemiologists. The death count can be changed as soon as the investigation of the case is completed.
The data included in this story primarily reflect the state of Utah as a whole. For more local data, visit your local health district website.
Information is from the Utah Department of Health and coronavirus.utah.gov/case-counts. For more information about the Utah Department of Health and reports COVID-19 data, go to coronavirus.utah.gov/case-counts and scroll to the "Data Notes" section at the bottom of the page.
×
Related Links
You may be interested in more stories
.