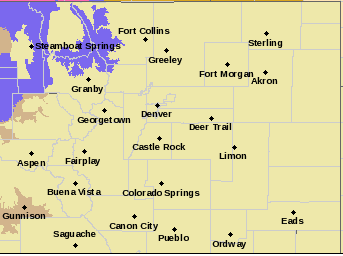 [ad_1]
Jacob Rodriguez, KUSA
5:03 PM. MST December 03, 2017
KUSA – A winter weather warning has been issued for parts of north-northwest Colorado since 7 p.m. Sunday at noon on Monday, says the National Meteorological Service.
The notice has been issued for almost the entire Rocky Mountain National Park, the Medicine Bow-Routt National Forest and the eastern edges of Garfield and White River counties.
Although not as severe as an Ice Storm Warning or a Winter Storm Warning, NWS says that a Winter Weather Warning will be issued whenever chilly rain or 2 to 4 inches of snow is expected in the forecast . The climate is expected to cause a significant inconvenience but is not expected to be serious enough for a warning.
Although most places in Colorado experienced a mild Sunday in December, with highs in the Denver area of ​​64 degrees, a cooldown is directed to Monday in the Rocky Mountains, with peaks that reach 40 and an overnight low of 19.
A rapid outbreak of snow in the mountains is expected Sunday night through Monday morning, according to the National Weather Forecast. Even on the border of Wyoming, almost 8 inches is possible.
Wind gusts are also a concern at night hours, with gusts of 30-50 mph common in the mountains and foothills. Winds are expected to turn off later in the day on Monday.
To keep up with the latest weather information, head over to our weather page.
Our regularly updated forecast can be found here.
© 2017 KUSA-TV
[ad_2]
Source link