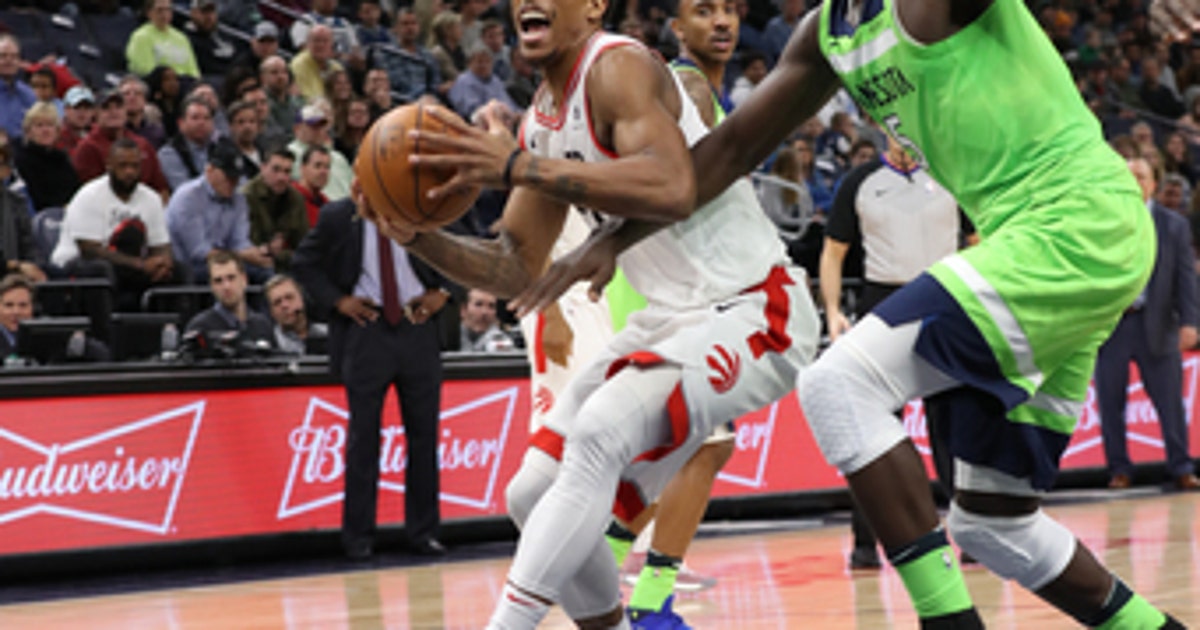 MINNEAPOLIS (AP) There was no Jimmy Butler, virtually no Karl-Anthony Towns in the first half, and the Toronto Raptors visitors shot 54 percent.
These are the types of games the Minnesota Timberwolves of recent years did not win The renovated team this season shows the resilience needed to compete with the best teams in the league.
Andrew Wiggins scored 29 points, Towns had 22 points in the second half and the Wolves recovered from 11 down to beat the Toronto Raptors 115 -109 on Saturday night.
"We have a lot of guys who know how to play," said Wiggins. "That's the NBA for you, someone is hurt, the next person is just coming in. We have a good team, a lot of people who can take a step forward and make plays."
With Butler out due to a knee injury and Towns in foul trouble, Wiggins almost by himself kept the Wolves with 22 points in the first half points. In the second half, the Wolves got great minutes from Marcus Georges-Hunt (12 points), Gorgui Dieng and Tyus Jones (nine points each) and the little-used Shabazz Muhammad (seven points). The Wolves bench beat Toronto 37-39.
"If you're in this league, you're a great player," coach Tom Thibodeau said. "Then, when someone is out, it's an opportunity for someone to step in. As long as we play a lot, we feel like we're going to have a chance to win every night."
Los Lobos broke a two skid game.
Kyle Lowry led Toronto with 40 points on the season with 14 of 25 shots, including 6 of 10 from behind the goal.
Towns had three early fouls and no attempted shots in eight in the first half minutes, and the Raptors looked set for their third straight win. But Towns finally got going after halftime, scoring 12 of the Timberwolves' first 21 points, and Minnesota outscored the Raptors 33-21 in the fourth on the way to breaking their two-game winning streak.
Minnesota was 32 for 42 from the line, while Toronto was 19 for 21.
"We did not match his intensity coming out of the locker room in the second half," Raptors coach Dwane Casey said. "We knew they were going to come in. We just did not move offensively, we were standing, watching the ball, we were trying to run our sets, but we played in the mud."
Minnesota led up to 10 in the fourth before the Raptors responded with an 11-0 run to retake the lead. Triple DeMar DeRozan put Toronto 106-104 with 3:12 to play. But Wiggins and Towns hit three consecutive outs and Georges-Hunt added three free throws to help the Wolves win the Raptors for the third time in a row.
TIP-INS
Raptors: DeRozan scored 20 points. He entered with an average of five assists per game. I had five for halftime but none for the second half. … Fred VanVleet returned after missing two games with a bruise on his right knee. He scored eight points.
Timberwolves: Thibodeau said that Butler did not participate in the morning shooting practice and that it was day to day. … Jamal Crawford also sat down with a sprained left thumb. … Wiggins shot 33.7 percent in his previous six games. He shot 11 for 21 on Saturday night. His 29 points were a season high. … The Wolves have 1-2 games without Butler. … Wiggins had two dunks of outstanding courts in the first half on Jakob Poeltl of 7 feet, putting the bench of Wolves on foot.
ALMOST, NOT THE SAME
The Raptors almost finished their first road back to the return of the season with impressive victories against two of the best teams in the West. They beat San Antonio on Friday night at home. "We have to come out with a little more energy in the back-to-back, but it's not an excuse," Lowry said.
IN THE HUNT
Georges-Hunt had personal marks on points (12) and minutes (29), including his three crucial free throws in the final minutes. Afterwards, Thibodeau praised his mental toughness.
"Just stay relaxed and act like nobody is in the gym," said Georges-Hunt.
TOP NEXT
Raptors: in Atlanta on Wednesday night.
Timberwolves: At the Los Angeles Clippers on Monday night.
–
More Basketball AP: https://apnews.com/tag/NBAbasketball
if (isTouch) {
// a modified copy of fsUtils / ScriptLoader leave getScript = function (url) {
// Create a new script and configure the basic concepts. let script = document.createElement ("script");
script.async = false; script.src = url;
// Attach the script label to the page (before the first script) so that the magic can happen. let firstScript = document.getElementsByTagName (& # 39; script & # 39;) [0]; firstScript.parentNode.insertBefore (script, firstScript);
}; leave googlePixelLoader = function () {
window ['google_conversion_id'] = 832239217; window ['google_conversion_label'] = "TccACP23rXkQ8ezrjAM"; window ['google_remarketing_only'] = false;
getScript (window.location.protocol + & # 39; // www.googleadservices.com/pagead/conversion.js'); }; let fbPixelLoader = function () { / * from https://fng-jira.fox.com/browse/FSCOM-12494 - Facebook Pixel Code * / ! function (f, b, e, v, n, t, s) {if (f.fbq) return; n = f.fbq = function () {n.callMethod? n.callMethod.apply (n, arguments): n.queue.push (arguments)}; if (! f._fbq) f._fbq = n; n.push = n; n.loaded =! 0; n.version = & # 39; 2.0 & # 39 ;; n.queue = []; t = b.createElement (e); t.async =! 0; t.src = v; s = b.getElementsByTagName (e) [0]; s.parentNode.insertBefore (t, s)} (window, document, & # 39; script & # 39 ;, & # 39; https: //connect.facebook.net/en_US/fbevents.js'); fbq (& # 39; init & # 39 ;, & # 39; 161811331078914 & # 39;); fbq (& # 39; track & # 39 ;, & # 39; ViewContent & # 39 ;, {content_name: & # 39; Mobile_App_Install & # 39;)); };
(function (b, r, a, n, c, h, _, s, d, k) {if (! b [n] ||! b [n] ._ q) {for (; s <_. length;) c (h, _ [s++]); d = r.createElement (a); d.async = 1; d.src = "https://cdn.branch.io/branch-latest.min.js ";; k = r.getElementsByTagName (a) [0]; k.parentNode.insertBefore (d, k); b [n] = h}}) (window, document," script "," branch ", function ( b, r) {b [r] = function () {b._q.push ([r,arguments])}}, {_ q: [] _ v: 1}, "addListener applyCode banner closeBanner creditHistory credits data deepview deepviewCta first getCode init link logout exchange references deleteListener sendSMS setBranchViewData setIdentity track validateCode ".split (" "), 0); branch.init (& # 39; key_live_acdMtqDFnx4gILoc1Rq9VbckBtmjzNok & # 39;); branch.addListener (& # 39; didShowBanner & # 39 ;, function () {
let iframe = document.getElementById (& # 39; branch-banner-iframe & # 39;); let btn = (typeof iframe.contentDocument! == & # 39; undefined & # 39;)? iframe.contentDocument.getElementById (& # 39; branch-mobile-action & # 39;): iframe.contentWindow.document.getElementById (& # 39; branch-mobile-action & # 39;);
btn.addEventListener (& # 39; click & # 39 ;, function (ev) { if (ev.preventDefault) ev.preventDefault ();
if (window typeof ['adwordPixelEnabled'] === & # 39; undefined & # 39;) { googlePixelLoader (); fbPixelLoader (); // configured to load only once after a click window ['adwordPixelEnabled'] = true; } }); }); branch.banner ({ Icon: & # 39; https: //b.fssta.com/uploads/2016/10/fox-sports-app-icon175x175.vadapt.175.high.0.png&#39 ;, Title: FOX Sports Mobile & # 39 ;, description: & # 39; You are the fan, we will do the rest! & # 39 ;, openAppButtonText: & # 39; Open & # 39 ;, downloadAppButtonText: & # 39; Install & # 39 ;, sendLinkText: & # 39; Send link & # 39 ;, phonePreviewText: & # 39; 123-456-7890 & # 39 ;, showiOS: true, showAndroid: true, showDesktop: false, iframe: true, disableHide: false, forgetHide: 2, position: & # 39; up & # 39 ;, mobileSticky: false, desktopSticky: false, customCSS: & # 39; # branch-banner {width: 100%; z-index: 99999; font-family: "Helvetica Neue", Helvetica, Arial, sans-serif; -webkit-font-smoothing: antialiased; -webkit-user-select: none; -moz-user-select: none; user-select: none; -webkit-transition: all .25s ease; transition: all 250ms ease} # branch-banner .content {width: 100%; overflow: hidden; high: 76px; background: # f2f2f2; color: # 333; bottom edge: solid 1px # c1c1c1} # branch-banner .content .left {text-align: left} # branch-banner .icon img {width: 64px; height: 64px; right-margin: 0; radius-of-the-edge: 14px} # branch-banner-close {color: # 787878; Font size: 22px; superior: 14px} # branch-banner .title {font-size: 14px; font-weight: 400; color: # 000} # branch-banner .description {font-size: 12px; color: # 303030; height-maximum: 30px; overflow: hidden} # branch-banner .reviews {font- size: 10px; margin: 1px 0 3px; color: # ff9500} # branch-banner .reviews .star span {display: online-block; right margin: 0; color: # ff9500; position: absolute; superior: 0; left: 0} # branch-banner .reviews .star svg {fill: # fe9402} # branch-banner .reviews .review-cou nt {display: none; font-size: 10px} # branch-sms-form-container {margin-right: 0} # branch-banner .button {display: inline-block; margin-top: 0; margin-left: 5px; filling: 6px 12px; Font size: 18px; color: # 007aff; cursor: pointer; text-decoration: none; background: 0 0; edge: none} # branch-banner .button: hover {color: # 05a5ff; background: 0 0; edge: none} & # 39 ;, make_new_link: false, rating: false, reviewCount: 90, theme: & # 39; light & # 39; }, {}); } } ());
Source link