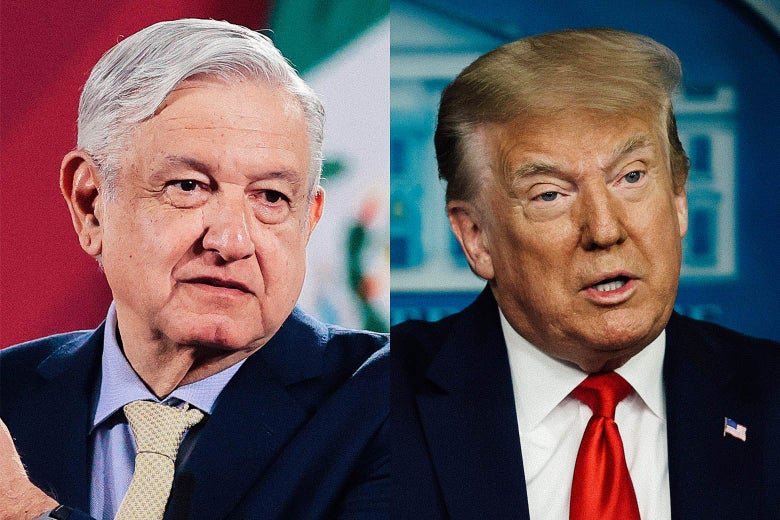 On Wednesday, President Donald Trump will organize a day of meetings with Mexican President Andrés Manuel López Obrador to officially celebrate the launch of the United States-Mexico-Canada Agreement, the replacement of NAFTA.
Surprisingly, it will be López Obrador's first trip abroad in a year and a half in his administration. Last year, he chose to skip a G-20 summit and delegated crucial talks on the imposition of tariffs and the USMCA itself. Not this time. With just four months to go before United States Election Day, and to the disappointment of the Democratic Party, López Obrador will join Trump in toasting the deal and "thanking Trump for his solidarity" during the pandemic.
Not surprisingly, López Obrador's decision to travel to Washington to show his appreciation for the most anti-Mexican president in recent memory has come under heavy criticism in Mexico. It's guaranteed. The visit is unnecessary and poorly scheduled. It is not a coincidence that Justin Trudeau, Prime Minister of Canada, has chosen to skip the occasion. With the USMCA already in effect, there is no urgent matter to negotiate. The journey, made during a pandemic in which people around the world are encouraged or required to limit non-essential travel, is purely symbolic. Furthermore, violence in Mexico has recently increased and the pandemic is spiraling out of control in both countries. The fact that López Obrador, who is 66 years old and suffered a heart attack in 2013, could be at risk makes the visit more irritating.
For the Mexican president, the visit to Washington will also be the culmination of a drastic personal change. Since taking office, López Obrador has shown an almost absolute will to comply with the Trump administration's demands on immigration and trade. His acquiescence has made him a Trump White House favorite, and the two men appear to have developed a special bond. López Obrador recently told the Mexican press that he would even like to speak to Trump about baseball, a sport that both men played in their youth.
It was not always so. In fact, just three years ago, when he was still a candidate, López Obrador had a completely different opinion of the man he now calls a friend. So much so that he wrote a book about it: Hey Trump ("Listen, Trump").
Published in 2017, it includes a series of speeches that López Obrador, who was mayor of Mexico City and ran unsuccessfully for president twice before being elected in 2018, delivered during a tour of various cities in the United States, where spoke to a diverse group. from Mexican and immigrant communities, whom he promised to defend against Trump's nativist policies. It's almost surreal to go back now.
López Obrador does not bite words. In the book, he calls Trump's border wall "a monument to hypocrisy and cruelty," suggests that "Trump and his advisers speak of Mexicans as Hitler and the Nazis were referring to Jews," and promises that "we cannot consent to a state policy. " That undermines the dignity of the legitimate interests of Mexicans and the nation. "
He repeatedly promises to defend immigrants and their right to seek a better life. "We will unconditionally defend the right of our compatriots to earn a living," he writes with passion.
It is especially surprising to read López Obrador's criticism of his predecessor, Enrique Peña Nieto, who controversially received Trump in Mexico City during the 2016 campaign. "The subordination of President Enrique Peña Nieto to the United States reveals a total absence of government in Mexico, "he writes. López Obrador continues to disapprove of Peña Nieto's inappropriate interference in the United States electoral process. "They were wrong to intervene," he writes, before criticizing Peña Nieto's shame: "Due to his lack of moral and political authority or perhaps due to the blackmail of various entities in Washington, Peña Nieto has allowed the scandalous insolence of the President of the States United against our compatriots. "
The man who wrote these lines will travel to Washington on Wednesday to discuss baseball and thank Trump. Your trip will not go unnoticed. "President Trump is hell-bent on inflicting cruelty on Latinos and immigrants and scapegoating our communities for political gain," Rep. Joaquín Castro, chairman of the Hispanic Congress Committee and vice chairman of the Foreign Affairs Committee recently told me. of the camera. "The relationship between the United States and Mexico is too important to be politicized."
Only a few years ago, Andrés Manuel López Obrador would have agreed. Will he have the courage to make Trump listen now?
To learn more about Slate coverage, subscribe to What Next at Apple podcasts or listen below.