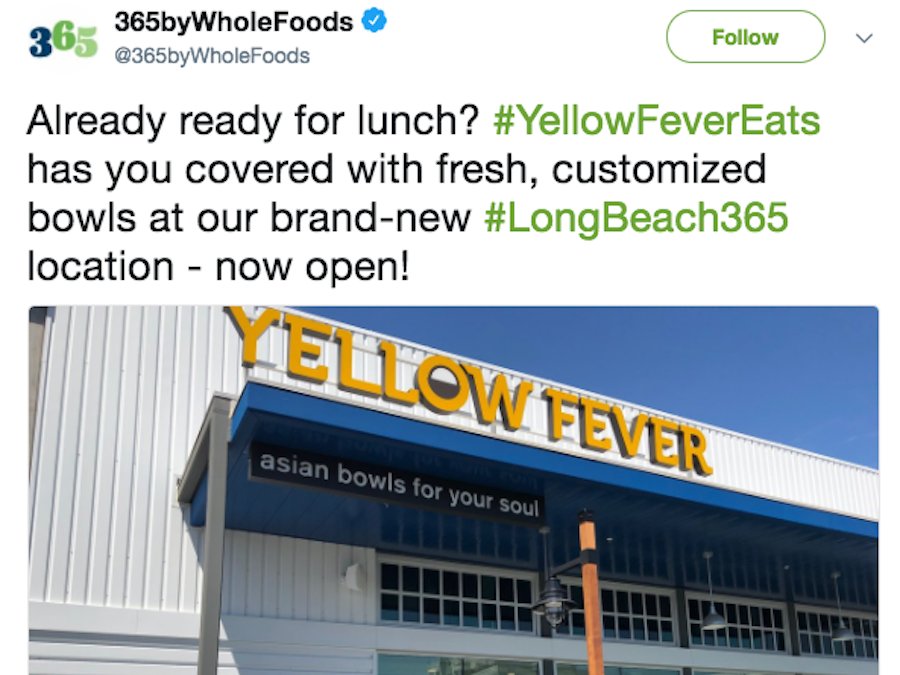 Photo: Twitter Screen Grab
Whole Foods faces a counterattack on Twitter after a restaurant called Yellow Fever opened at its new 365 store in Long Beach, California.
The restaurant is not owned by Whole Foods. It is an independent company that has partnered with the supermarket chain to open in its store.
The owner of "Yellow Fever", originally from South Korea, told Next Shark that he chose the name because it was "shocking."
---
The new opening of the Whole Foods store took an unexpected turn this week.
On Wednesday, the supermarket chain opened its new 365 location in Long Beach, California, which included the opening of a new restaurant called "Yellow Fever".
The restaurant is not owned by Whole Foods. It is owned and operated by an independent chain, which has two other locations in California.
Some Whole Foods buyers are on Twitter, claiming that it is an offensive and racist name, believing that it is part of the entire Foods empire.
Whole Foods did not respond to the Business Insider request for comment.
"My God, there's nothing like a racist food that * can * also give you a horrible illness", one Twitter user wrote.
The owner of Yellow Fever, who is originally from South Korea, explained how he came up with the name in a Next Shark interview last year:
"When we finally came up with the concept, all the names we think about of simply sucked in. The buzzwords like "traditional", "bamboo", "lotus" and "gold" were not memorable, "he said.
"One night, we said 'Yellow Fever' and it worked." Quick, somewhat shocking, and it's not exclusive, you can unite all Asian cultures under one roof with a name like this. We decided to go for it, "he added.
Yellow fever did not have an immediate effect in response to Business Insider's request for comment.
Join the conversation about this story»
Look NOW: Inside Cook Out, the most underrated restaurant in the South
See also:
SEE ALSO: Your "role will be eliminated": Whole Foods dismisses workers in a leaked 7-minute conference call
[ads2]
Source link