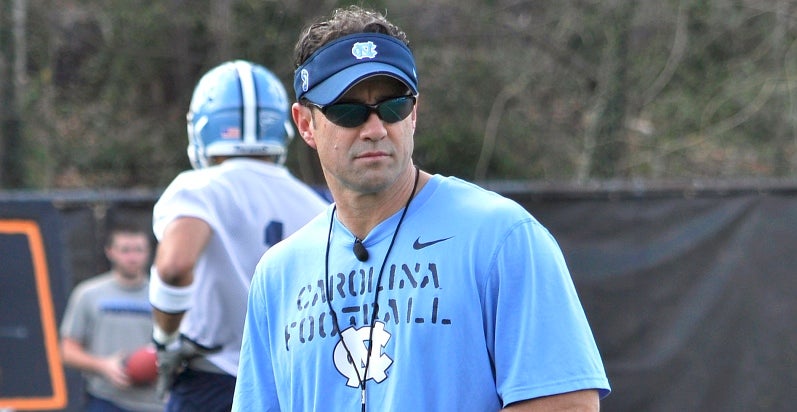 CHAPEL HILL, N.C. —- With the announcement of his dismissal on Sunday, the Larry Fedora era in Chapel Hill is over.
Fedora had a record of 45-43 in seven seasons in North Carolina and 28-28 in the ACC. He was 6-21 from November 10, 2016.
The Fedora era was a strange seven years. He arrived in the midst of an academic and NCAA scandal and had to recruit and play under that cloud for much of his term. The total Fedora time in North Carolina can be defined as mediocre, and the record supports it. But that was an average that includes very high and very low minimum highs. There were also many boring seasons in between.
In 2015, everything clicked and the Tar Heels won 11 games, went undefeated in the ACC on the way to an 11-3 record, won the Coastal Divison ACC and made an appearance in the game for the ACC title against Clemson.
That was the peak, but there were more disappointments. In 2016, even with the final choice of No. 2 draft in the quarterback, UNC only won eight games and lost to rival N.C. State and Duke.
Then came the strong fall. Due to the massive injuries of key players, Fedora led North Carolina to a 3-9 record in 2017. The quarterback fights continued in 2018 and the Tar Heels were a lousy 2-9.
Under Fedora, UNC was 3-4 vs. N.C. State, 2-5 vs. Duke, and 1-3 vs. East Carolina He lost the last three contests in the three schools of the state.
Beyond the successes and failures in the field, there were many strange moments. They were seven rare years not only in the field, but through press conferences, small scandals and only strange incidents that you would never have expected. Below is a look at the strange and memorable moments and situations of Larry Fedora in North Carolina.