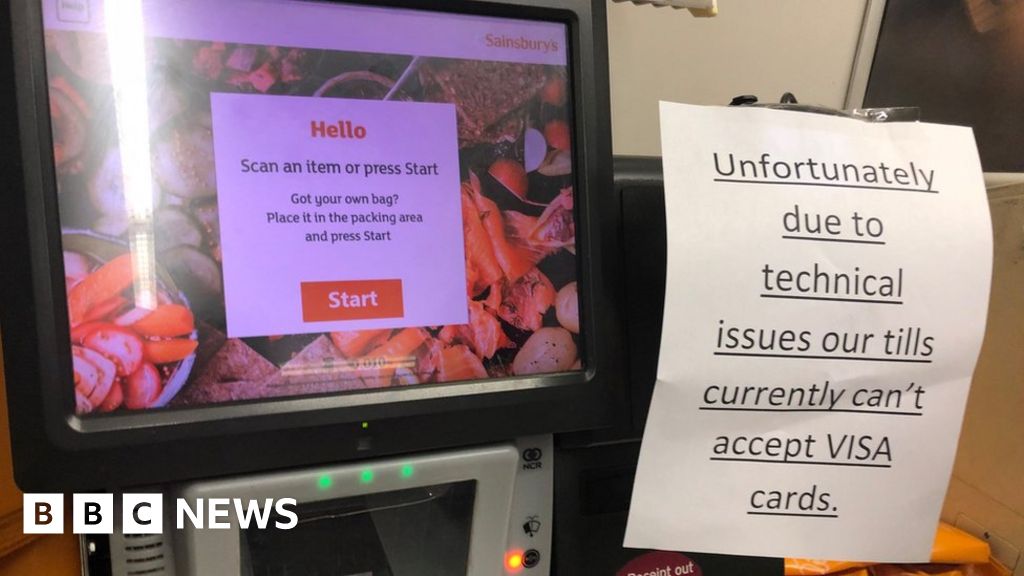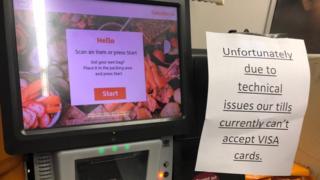 Visa services have returned to normal after a hardware failure leaves customers across Europe with no possibility of making any payments.
The company issued a statement on Saturday morning, saying that its systems are now working at "full capacity".
Visa issued an apology and said the cut was not due to "unauthorized access or cyber-attack."
Payments processed through Visa systems represent £ 1 in £ 3 of all UK spending.
Buyers were stuck in queues, diners were embarrbaded and a member of parliament even walked away from a gas station without paying, as the problem affected the Visa Europe systems on Friday.
Elle Gibbs-Murray of Bridgend said she was stuck in traffic on the Severn Bridge for 45 minutes, since drivers could not pay the toll card.
And Jay Curtis, of Swansea, had two cards rejected at B & Q when he tried to pay £ 240 worth of goods.
"My card just did not do it" Pbad, "said the 32-year-old man to the BBC.
" I did not have cash so I had to drive all the way home "
On Friday, Visa said the system was "almost normal" five hours after publicly acknowledging the problem.
The executive director of the company, Al Kelly, apologized for the problem caused by the hardware failure.
"Our goal is to ensure that all Visa payments work reliably 24 hours a day, 365 days a year," he said.
"We are far below this goal today and we apologize to all of our partners and Visa account holders for any inconvenience this may have caused."
Source link