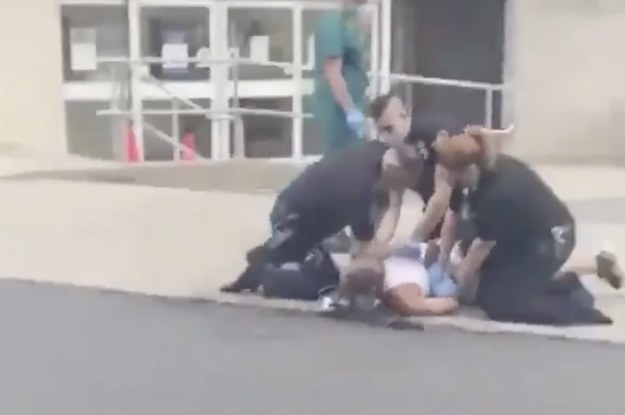 A video that appears to show a police officer kneeling on the neck and head of a man arrested in Allentown, Pennsylvania, sparked a protest in the city on Saturday.
The video, taken from a car pulled up in front of the Sacred Heart Hospital in San Lucas, shows three police officers arresting the man while a hospital employee waits and watches.
One of the police officers is seen kneeling on the man's neck and head while handcuffed.
"Take off your neck," a woman in the car is heard saying.
"He can't breathe," says a man in the car.
The video was shared on social media by Black Lives Matter to Lehigh Valley, as well as by Benjamin Crump, the attorney who handled George Floyd's case. Floyd died in May after a Minneapolis police officer knelt on his neck while arresting him, sparking global protests against police brutality.
"@AllentownPolice held this man's face against the pavement and then one of his officers put his knee on his neck!" Crump tweeted. "This happened yesterday and is exactly what led to # GeorgeFloyd's death. We need the name and insignia of this officer # NOW. "
"We are actively investigating this incident," Bill Lake, deputy director of the Allentown Police Department, told BuzzFeed News on Sunday.
Lake said the incident occurred shortly before 7 p.m. Saturday, but did not provide further details on the nature of the arrest or the identity of the officers involved. It also did not say whether the officers had been placed on administrative leave.
The Sacred Heart Hospital did not immediately respond to a request for comment.
In a longer version of the video obtained by the local newspaper The Morning Call, the hospital employee is seen crossing her arms over her badge and appears to signal people in the car that they are recording the video to walk away.
The Allentown Police Department's use of force policy, released last week, prohibits officers from using "neck restraints" and strangling.
"Preventing imminent death or serious bodily injury to a member or citizen is the only possible exception to the ban," says the policy.
The woman who took the video of the car spoke to The Morning Call but asked to remain anonymous. She told the newspaper that the man in the video was yelling "mira," which in Spanish means "look," apparently trying to draw attention to the arrest.
City residents gathered outside the police headquarters on Saturday to protest the arrest, chanting "the lives of blacks matter" and "dismiss the police."