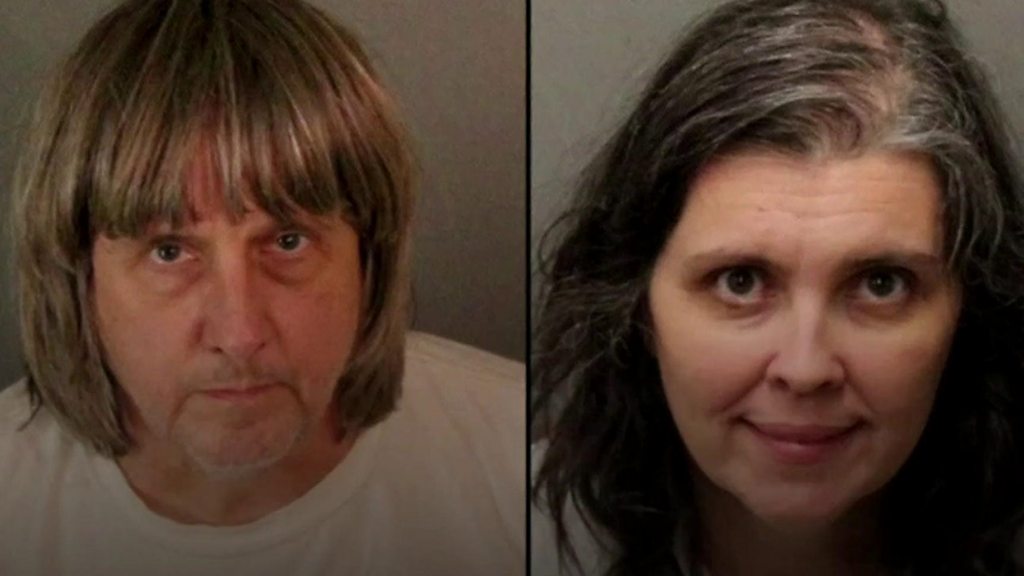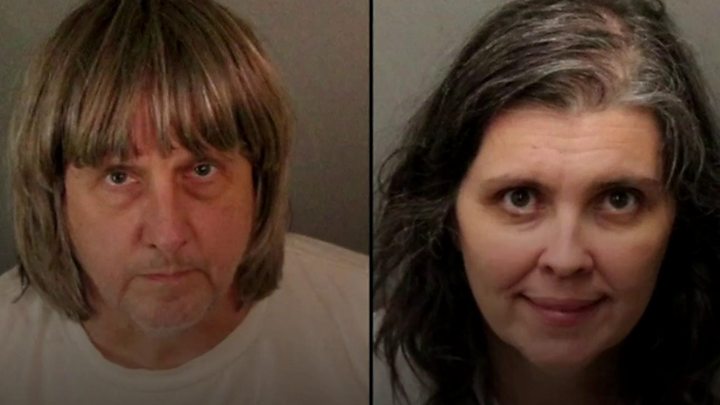 Two parents were arrested in California after police discovered they were allegedly kept captives to their 13 children in house, some "chained to their beds with chains and locks".
David Allen Turpin, 57, and Louise Anna Turpin, 49, were charged with torture and endangering children.
The children of the couple 29 – lived in Perris, 59 miles (95 km) southeast of Los Angeles.
One of the victims alerted the officers: a 17-year-old girl.
The girl, who appeared to be "only 10 years old and slightly emaciated," managed to escape on Sunday and called the emergency number. Using a mobile phone found inside the house, the Riverside Sheriff's Department said in a statement.
What did the police find in the house?
Police officers later found "several children chained to their beds with chains and padlocks in the dark and smelly surroundings"
But the parents could not immediately provide a logical reason why their children were restricted in that way, police said.
The agents were "surprised" to discover that seven of the detainees in the house were in fact adults between 18 and 29 years old.
"The victims appeared to be malnourished and very dirty," police said.
All victims are being treated in local hospitals.
The director of one of the hospitals, Mark Uffer, told the Reuters news agency: "Actually, it's heartbreaking for the staff and it's amazing what you see."
---
How did you hide your secret?
James Cook, BBC News, Perris
On Muir Woods Road there is no hint of the horror inside number 160.
This is a smart suburban house with three cars and a transport of people shining in the driveway. The curtains are cut, but you can see a decorative Christmas star hanging in a window.
The property is tidy and the houses on the road are wide but they are very close together. It is hard to imagine how a family can hide such a big and dark secret here.
And yet, that is exactly what seems to have happened.
The neighbors are now immersed in an examination of conscience about whether they should have seen something like that was wrong.
No one seems to know how long the brothers may have been captive and, of course, no one can answer the hardest question of all: why?
---
What do we know about the family?
According to public records, the couple lived in Texas for many years before moving to California in 2010.
Mr. Turpin has been declared bankrupt twice. At the time of his second bankruptcy, he is said to have had a relatively well paid job as an aeronautics and defense technology engineer Northrop Grumman.
However, with so many children and his wife out of work, the records suggest that his expenses exceeded his income.
On the website of the California Department of Education, Mr. Turpin appears as the principal of Sandcastle Day School, a private school operated from home.
The school opened in March 2011, says the website. Six students are enrolled there, all in different grades.
Mr. Turpin's parents said that their grandchildren were educated at home but had not seen the family for four or five years.
The couple's Facebook page shows numerous pictures of the whole family, apparently happy and smiling, some of the events where they renewed their vows.
Many messages have comments from family or friends.
What do the neighbors say?
A neighbor told Reuters that the Turpin family "were the kind who did not really know anything about them."
"You would never see them on a visit, you would never see anyone leaving, the only thing you would really see is that they go out and maybe they make a shopping round, and that was it," added the neighbor. [19659004] A neighbor across the street, Kimberly Milligan, 50, told the Los Angeles Times that they looked strange and wondered why children never went out to play.
"I thought the children were schooled in the home," he said. "You know something is wrong, but you do not want to think badly about people."
She remembers once saying hello to the children, but said that they looked at her "like a child who wants to become invisible".
---
Did you know the Turpin family? You can contact us by sending us an email haveyoursay@bbc.co.uk .
Include a contact number if you are willing to talk to a BBC reporter. You can also contact us in the following ways:
WhatsApp: +44 7555 173285
Tweet: @BBC_HaveYourSay
Send an SMS or MMS to the text 61124 (UK) or +44 7624 800 100 (international)