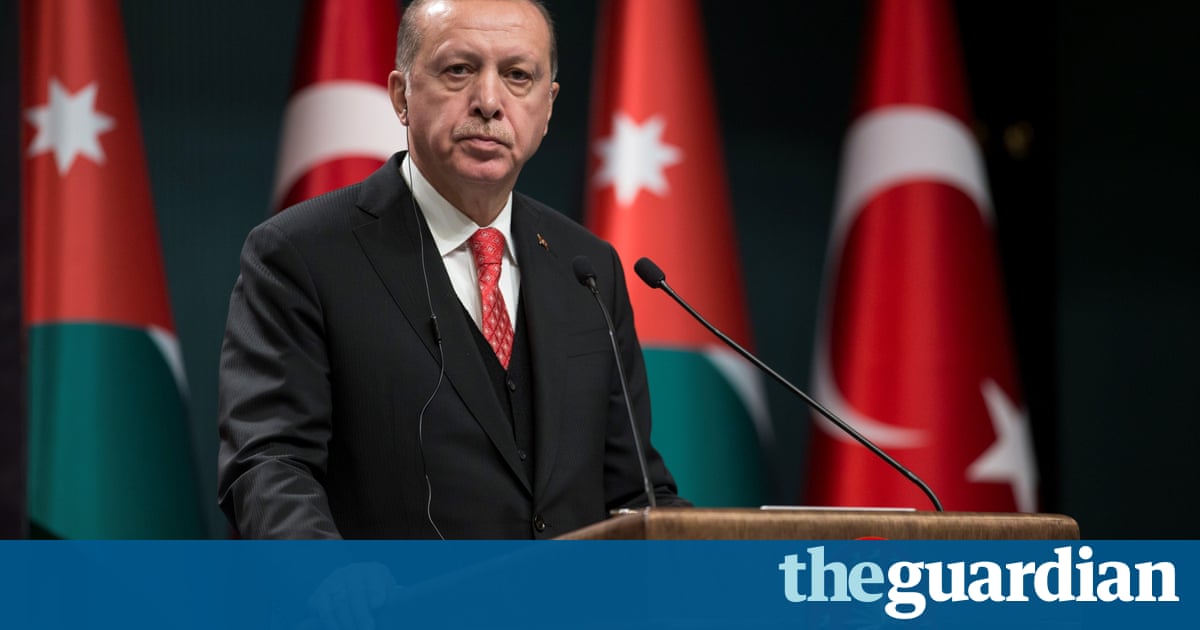 Turkey's president Recep Tayyip Erdoğan begins a landmark visit to Greece on Thursday, a rare foray to a European country for the increasingly confrontational leader.
In addition to his retinue of 200 bodyguards, Greek police are also deployed to 2,800 officers to take part in a US presidential-level security operation to guard Erdoğan.
"We are taking every precaution," the Greek public order Minister Nikos Toskas told the Guardian. "The security will be on a similar level to that of Barack Obama's visit. Every detail has been covered and planned. "
The historic two-day sojourn is the first official trip to Turkish head of state has made to Greece, both a rival and Nato ally, in 65 years. Elite special force units, including 200 commandos and bomb disposal specialists, have also been seconded to a surveillance operation that will see snipers posted on buildings along routes of the Turkish leader's cavalcade will pass.
The visit follows the arrests in Athens of nine Turkish Nationals charged this week with being members of DHKP-C, a militant Marxist group that has claimed responsibility for suicide bombings in Turkey.
Toskas denied that the reinforced security was in any way related, but it has not been ruled out that the terrorists were planning an attack on the Turkish presidential visit.
Erdoğan , whose relations with Europe and the US have become strained amid growing condemnation of his crackdown on democratic institutions, have made few trips to the west since a foiled coup attempt against him last year and he has become increasingly isolated internationally.
"The visit comes at an especially delicate time, diplomatically, given mounting criticism of his crackdown on perceived and real participants in the coup and other domestic opponents," said Hubert Faustmann, professor of history and political science at the University of Cyprus
Ties between Turkey and Greece have never been easy. Hostility between the two nations goes back to the subjugation of Greeks under Ottoman rule before a bloody war of independence saw the creation of the modern Greek state in 1821.
Successive conflicts followed, most notably in 1922 when the Greek army suffered a disastrous defeat in Asia Minor, prompting a massive exchange of populations – widely seen as the first experiment in ethnic cleansing – and the establishment of the Republic of Turkey.
The two counties came close to war again in 1996 over a group of uninhabited isles in the Aegean Sea. Most recently, tensions have resurfaced over Greece's frontier role in the refugee crisis, failed talks to reunify Cyprus and, say officials in Athens, Turkey's repeated violations of Greek air and naval space in the Aegean.
The defence ministry claims over 3,000 airspace have occurred this year, more than at any other time since 2003. Erdoğan's open questioning of the peace treaty which forged the boundaries of the two states in 1923 has exacerbated friction further. [19659015] Greek prime minister Alexis Tsipras " src="https://i.guim.co.uk/img/media/60506ea9e8e6225bf58de83eed11628460538841/0_95_2835_1701/master/2835.jpg?w=300&q=55&auto=format&usm=12&fit=max&s=99cf4d3d466bd2c8f0075bf6f7c2f496″/>




Greek prime minister Alexis Tsipras hopes the visit will be groundbreaking. Photograph: Anadolu Agency / Getty Images

But the Greeks are also acutely aware that geography means they must coexist with Turkey and stand to benefit most if Ankara remains anchored to Europe.
Alexis Tsipras, the Greek prime minister, hopes the visit will be as groundbreaking in substance as it is in optics. "What we anticipate is a substantive upgrade of our relationship with Turkey … we expect very constructive talks," said the Greek government spokesman, Dimitris Tzanakopoulos. Aegean Sea tensions, the refugee crisis, economic relations, trade and transportation would top the agenda, he said.
Officials in Turkey have also signaled they will raise the fallout from the coup, including the cases of eight Turkish military officers who flew into Greece by helicopter to evade arrest as the putsch unfolded. Greek courts have rejected pleas for the commandos' repatriation, arguing they would not be given a fair trial if they were to return.
"Erdoğan is isolated and the government is clearly accommodating him in the hope that he will stop his verbal explosions and start behaving less irrationally towards Greece," said MP Harry Theocharis, who sits in parliament as an independent. "And that is far from sure."
The visit will be closely watched, both by Washington and EU capitals. Diplomats will be keen to see if the Turkish leader uses Athens to issue yet another broadside against the west, or chooses to exploit the visit to mend fences by exhibiting a more conciliatory tone.
"This is a visit to a European capital and EU member state that allows Turkey to ameliorate its international image which, in the west, could not be worse," said Giorgos Koumoutsakos, shadow minister of foreign affairs in the main opposition New Democracy party.
"If Erdoğan comes here to make statements against the West and Europe, it will be a problem and an embarrassment for the government."