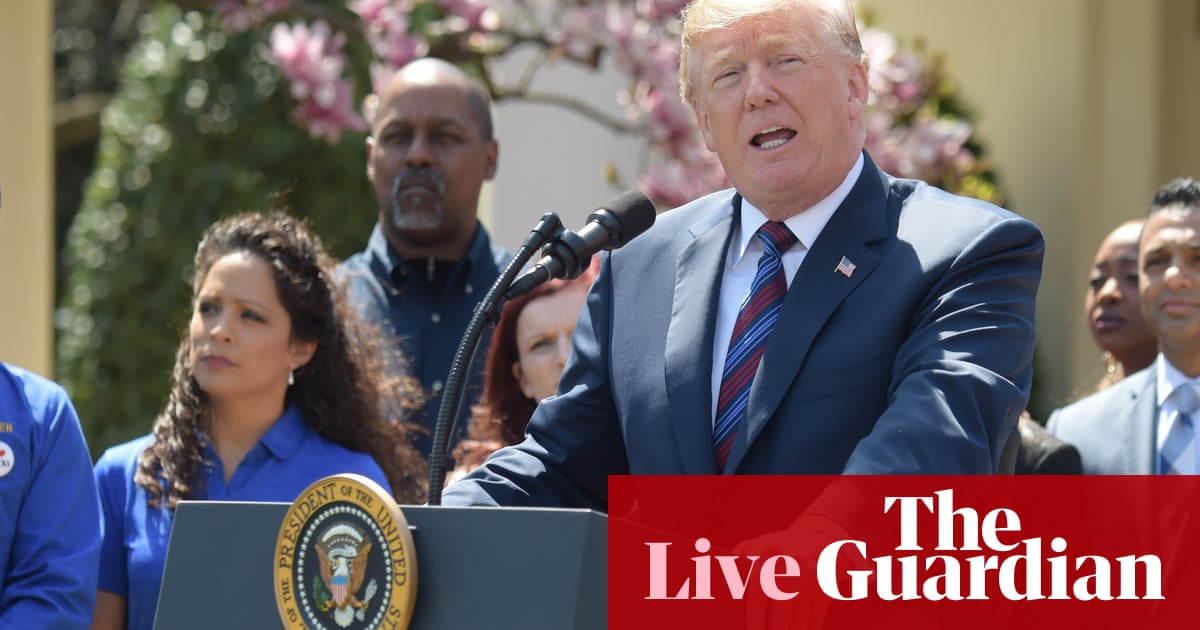 Good morning, and welcome to our progressive coverage of the global economy, the financial markets, the eurozone and business.
As tensions over Syria diminish, trade is again in focus today.
US President Donald Trump has supported the prospect of rejoining the Trans Pacific Partnership, a multinational trade pact that his government split from last year, but only if it offered terms "substantially better" than those stipulated in previous negotiations .
His comments on Twitter came a few hours after he told Republican senators that he had asked US trade representative Robert Lighthizer and White House economic adviser Larry Kudlow, reopen the negotiations.
Trump's comments were received with caution in the Asia-Pacific region. Japanese Finance Minister Taro Aso told reporters after a cabinet meeting, before Trump's tweet:



If it's true, I'd appreciate it.
He added that Trump "is a person who could change temperamentally, so he can say something different the next day".
The Prime Minister of New Zealand, Jacinda Ardern, also expressed some skepticism.



If it turns out that the United States really wants to rejoin, that triggers a completely new process.
The TPP, which has 11 members, was established to reduce trade barriers in the Asia-Pacific region and to counteract the growing influence of China. Trump pulled the United States out of the pact in early 2017, citing concerns about jobs in the United States.
The news came when new data showed China's exports unexpectedly fell in March, the first drop since February 2017. The country Last month, Chinese exports fell 2.7% per month past, while imports grew 14.4%, more than expected, according to customs data. Analysts expected a surplus of 27.2 billion dollars, after the February surplus of 33.7500 million dollars.
The export outlook has been marred by a growing trade dispute with the United States. China's trade surplus with the United States fell to $ 15.3bn in March from $ 21bn in February.
In the first quarter, its trade surplus with EE. UU It increased 19.4% from the previous year to $ 58.25bn.
also be in focus today, with JPMorgan Chase, Citigroup and Wells Fargo reporting the results of the first quarter.
Agenda
10.00 BST February euro zone trade
12.00 BST JPMorgan Chase Q1 results
13.00 BST Citigroup Q1 results
13.00 BST Wells Fargo Q1 results