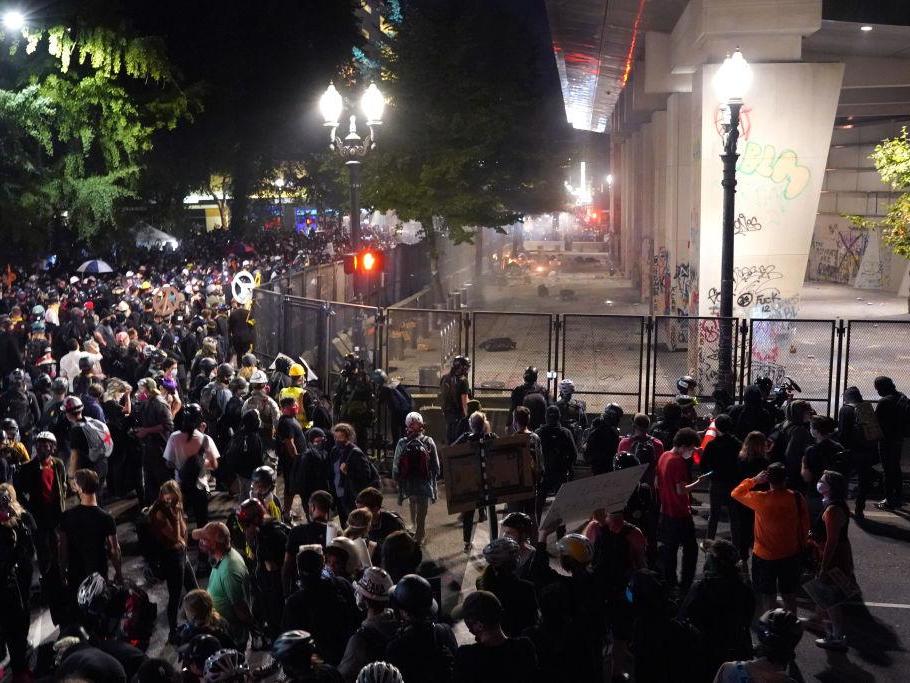 Donald Trump has threatened to send the National Guard to Portland if the governor and mayor fail to clarify what they say it is "the hive of terrorists".
Speaking at a White House press conference, the president said that Portland was a disaster filled with professional agitators and anarchists, and that the National Guard would be dispatched if local officials did not get the city under control within the next two days.
"Governor and Mayor, we're working with them, and we think they don't know what they're doing because it shouldn't be for 60 days," Mr. Trump said. "Cleaning the cities is not our job, it should be done by local law enforcement."
Download the new Independent Premium App
Sharing the whole story, not just the headlines
He said federal police officers would stay in Portland to see how local law enforcement happens, and if they don't control the city, the federal government will "take care of it".
"And we are telling these protesters, and many should be arrested because these are professional agitators, these are professional anarchists, these are people who hate our country," Mr. Trump said.
"They are working to clean this spatter of terrorists today and maybe tomorrow, and I will be very happy if they do that. And then gradually we will be able to leave the city. If they don't do that then we will Will send to the National Guard.
Department of Homeland Security (DHS) Secretary Chad Wolf and Oregon Governor Kate Brown announced a joint plan to end the violence directed at federal law enforcement officials yesterday.
Under the plan, the Oregon State Police will "keep the peace" in the city of Portland while DHS Hotfield will put federal agents in the city on standby to protect the federal courthouse if violence continues uncontrolled.
In an interview with Fox News, Mr. Wolf said, "We will continue to keep law enforcement officers in the area to ensure that Anganwadi is safe at the end of the day."
"Over time, if the Oregon State Police and the plan are implemented that is successful, and we can responsibly attract law enforcement assets there, we will."
Mr. Trump's threat to send to the National Guard comes after more than 60 consecutive nights of both protests and riots.
In a statement, the Oregon State Police (OSP) said the Special Operations Team and the uniformed contingent will begin a two-week rotation within Portland on Thursday.
"The OSP hopes to develop an environment that maintains normalcy while removing protective fences and fulfilling our obligations to protect federal property," the statement said.
.