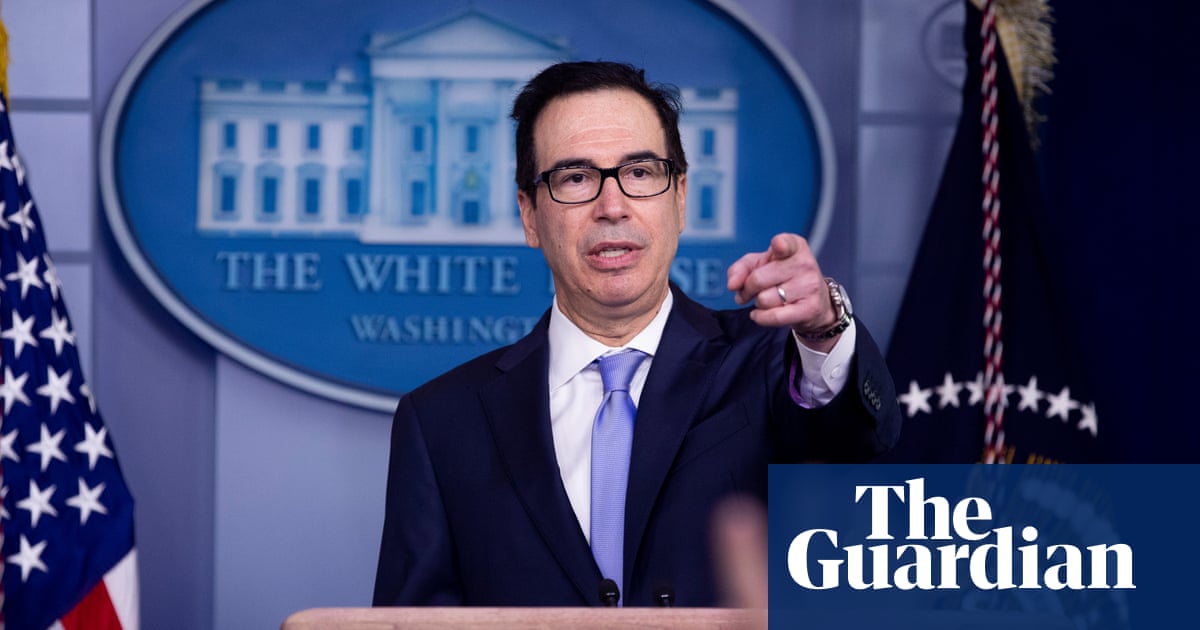 The US Treasury Secretary said the Trump administration has no regrets in pressuring states to reopen their economies, a day after the country reported more than 50,000 new cases of coronavirus, the fourth record number for a single day in just over a week, according to Johns Hopkins Figures.
When asked if he regretted that the White House pressured states to reopen as quickly as possible despite repeated warnings from the country's top public health experts, Steven Mnuchin said at a press conference on Thursday: "No , absolutely not".
Cases are increasing significantly in more than 40 states, particularly in southern and western America, and California, Florida and Texas, the three most populous states in the country, recorded a record increase. Florida, one of the states hardest hit by the June surge, reported more than 10,000 new coronavirus infections Thursday, its largest increase so far.
"What we have seen is a very disturbing week," Dr. Anthony Fauci, the government's leading infectious disease expert, said in a live broadcast with the American Medical Association.
More than a dozen have been forced to pause reopening plans, while the number of available hospital beds and testing capacity are under pressure.
"The crisis is being handled," Donald Trump insisted at the press conference to announce the latest job numbers, which showed the unemployment rate fell to 11.1% in June from an initial estimate of 13.3% in May.
"It's opening up much faster than anyone thought possible, and with more success," said Trump, who has repeatedly downplayed the increase in cases and now faces a steeper path to re-election in November.
Today's announcement shows that our economy is rebounding. It is getting extremely strong, "he added.
"I think we have had a very careful plan," Mnuchin said of the push to reopen, while stressing that the strategy remained "primarily the responsibility of the states."
Some Republican-led states that moved quickly to reopen this spring at Trump's behest, such as Texas, have now pushed the pause in that strategy. State Governor Greg Abbott ordered Thursday that face covers should be worn in public throughout most of the state despite previous efforts by local governments to enforce mask requirements.
But others, like Florida, continue to refuse to change course. Florida Governor Ron DeSantis insisted that the state "would not reopen" to reopen its economy, saying "going to a business is not what is driving" the increases. Instead, he said, the youth had not adhered to social distancing measures.
California, led by Democrats, which not long ago was celebrated for controlling case numbers, has now been forced to close bars, restaurants and other businesses again in 17 counties before the July 4 weekend.
Ohio, Kansas and Louisiana, all of which appeared to have controlled the spread of the virus just a month ago, have reported some of their highest totals in a single day in weeks. North Carolina, Tennessee and Texas set records for single-day cases on Wednesday.
The Covid Tracking Project said Wednesday that the seven-day US average for new daily cases had doubled since June 13, and that hospitalizations had increased by the highest number since April 21.
"We were hit very badly, worse than any country, regarding the number of cases and the number of deaths," Fauci told the BBC's Today program on Thursday.
"The problem we are facing now is that in an attempt to reopen or open and return to normal, we are seeing very disturbing peaks in different individual states in the United States … and that is not good news." We have to get that under control, or we risk an even bigger outbreak in the United States. "
But Trump and his team have repeatedly contradicted the country's public health experts, telling the public that it is safe to go ahead with the reopening of the economy, while carefully adding the warning that the ultimate responsibility for the reopening lies with each state. .
The Department of Health and Human Services and the U.S. Surgeon General, one of the top federal health care officials, reiterated calls for Americans to follow social distancing measures to prevent the spread of the coronavirus before the festive weekend, including the use of face masks.
"There is a reason we keep coming back to these same public health messages: they are tried and true," said statement by Surgeon General Jerome Adams. "We all have a role to play in defeating this virus and going back to school, work, worship, play, and overall health."
But public messages from the White House continue to contradict such advice. In an interview with Fox Business on Wednesday, Trump was asked if he really believes, as he has previously said, that the virus would simply go away.
"I do. I do," he said. "Yes sure. Sometime. And I think we will also have a vaccine very soon. "
Trump added: "We are coming back in a very strong way … And I think we are going to be very good with the coronavirus." I think at some point that will just go away. I hope."
Trump has faced fierce criticism for minimizing the risks of the virus and for his refusal to promote simple security measures, such as wearing a mask. When asked about this on Wednesday, he said that "he thinks the masks are good," but said he did not think there was a need to make mandatory masks.
Responding to Thursday's jobs numbers, Senate Minority Leader Chuck Schumer, a Democrat, said: "Today's jobs report may be just a slight spike in a much larger valley, and unless the president Trump shows true leadership in fighting the health crisis … the pain the United States is experiencing will only get worse. "
.