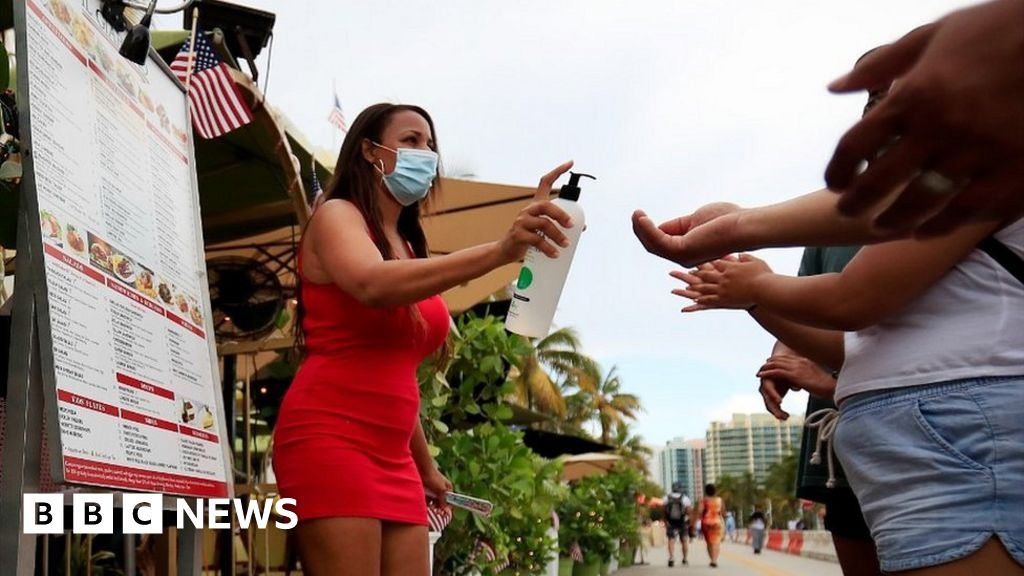 President Donald Trump says the United States is on the way to a "tremendous victory" over the "terrible plague of China," despite a huge increase in Covid-19 cases.
His upbeat video message to the nation was to commemorate Independence Day; however, many July 4th events have been canceled for public health reasons.
Beaches have closed in Florida and California, city parades were canceled, and fireworks were cut.
Hundreds are expected to attend a White House party that Trump will host later.
Despite the gloomy economic figures in the United States, which include more than 20 million people unemployed by the pandemic, the president said in his message that "we are getting closer to fighting to get out of it" and "our country is coming back, our job numbers are spectacular. "
The daily count of coronavirus infections in the United States hit a new record of 52,300 on Friday, according to figures from Johns Hopkins University.
Florida, where the outbreak is especially acute, said it had registered 11,458 new confirmed cases on Saturday.
The number of cases is increasing in 39 states, and at least five (Alabama, Alaska, Kansas, North Carolina, and South Carolina) had single-day case records on Friday, the New York Times reports.
According to Johns Hopkins research, almost 130,000 people have died of Covid-19 in the US, most of any country, and the US has 2.8 million confirmed cases.
How is July 4th marked in the United States?
In Washington, the White House invited hundreds of paramedics, doctors, and nurses to the July 4 party, doctors who have been treating Covid-19 patients, despite the security concerns of Washington, DC Mayor Muriel Bowser. .
"We are giving DC residents the same message about any of their outings for the holiday weekend," Bowser told reporters. "Ask yourself, 'Do you need to be there?'"
Fighting the pandemic is a topic of what the White House calls its Independence Day "Salute to America." Thousands of people are expected to fill the nearby streets to see a military takeoff and fireworks.
The United States Department of the Interior plans to deliver 300,000 face masks to spectators who gather at the National Mall. They will also be asked to stay 6 feet (1.8 m) apart.
Joe Biden, the Democratic Party rival against Trump in this year's presidential election, tweeted that "this July 4th, one of the most patriotic things you can do is wear a mask."
Fireworks are a traditional highlight of July 4th, but an estimated 80% of cities and towns have canceled their shows.
New York City generally has a one-hour extravaganza, but this year it was replaced by five-minute displays during the week, hosted by Macy's department stores, with one last televised on Saturday, all in undisclosed locations.
Major League Baseball canceled its 2020 All-Star Game for the first time since World War II.
Defying health warnings, President Trump addressed a large crowd on Friday at Mount Rushmore in South Dakota, condemning the "angry mobs" who had toppled statues in anti-racism protests.
The site, with its giant carvings in the mountains of former US presidents, was chosen to strengthen its claim that American heritage is under attack.
Two of the presidents whose faces are carved on Mount Rushmore, George Washington and Thomas Jefferson, were slave owners.
In preparing for a tough re-election battle, Trump accused protesters of waging "a ruthless campaign to erase our history, smear our heroes, erase our values ​​and indoctrinate our children."