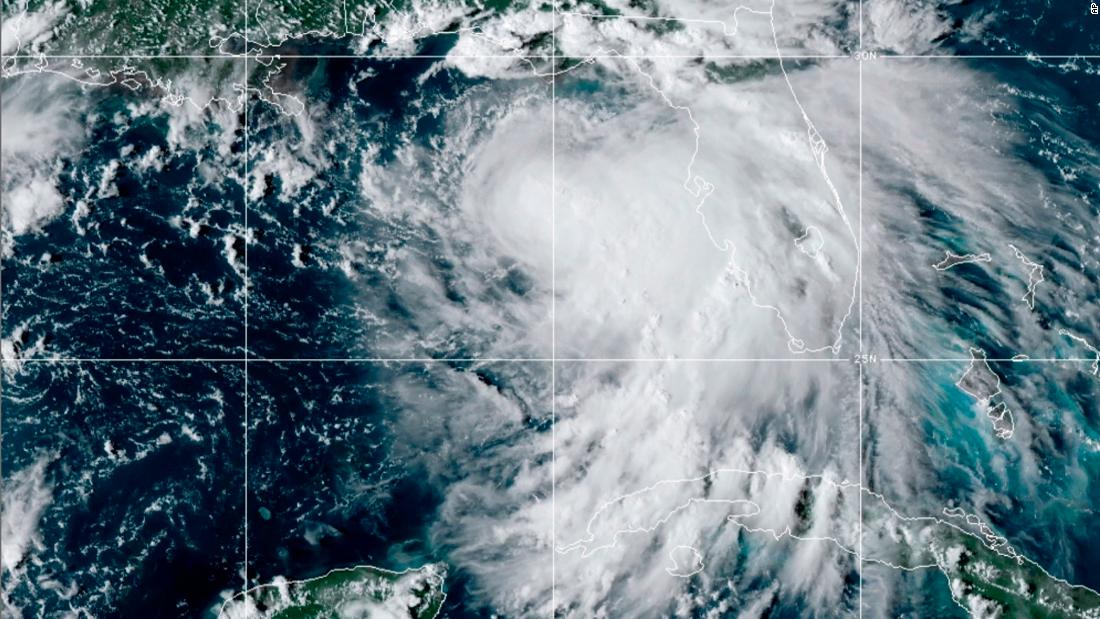 On August 29, Derailed train cars rolled over in Lake Charles, Louisiana.
President Donald Trump visited Damage on August 29 in Lake Charles.
A building is partially submerged in water on August 28 in Hackenberry, Louisiana.
Rachel Ellis, left, and Jayne Fitch purchased salvage items from the AutoZone store, where they operate in Lake Charles on August 28.
On August 28, a man stands in front of a damaged vehicle near Orange, Texas.
Porson's laundromat and barber shop in Westson, Louisiana survives in ruins.
This aerial photo shows a devastated neighborhood outside Lake Charles on August 27.
Maria Ramirez and her 17-year-old son, Jose Avila, surveyed the damage to their home in Orange, Texas on August 27.
Mannequins were thrown to the floor at the Hair Saga store on August 27 after Hurricane Laura's passing through Lake Charles.
A man passes through a rubble-filled hallway on the second floor of a Lake Charles church that lost its roof on August 27.
On August 27, people survey the damage done in their Lake Charles neighborhood.
On August 27, a McDonald's sign in Iowa, Louisiana is damaged.
Ahmed Nawaz sees the damage done on August 27 at his store in Lake Charles.
On August 27, smoke rises from a chemical fire at a plant in Lake Charles. Plant managers were trying to stop the chlorine leak, according to state police. Details about the start of the fire were not immediately available.
A man holds a photo taken from a damaged home on August 27 in Cameron Parish, Louisiana.
Damage is seen on August 27 in an office building lobby in Lake Charles.
This aerial photo shows the roof of an autozone store in Lake Charles on August 27.
Benjamin Luna helps recover from the belongings of children at the First Pentecostal Church in Orange, Texas on August 27.
Dozens of small fish have been trapped inland after hurricanes near Holi Beach, Louisiana.
Louisiana National Guard Pfc. Devin Lejeanne helps search the Lake Charles Apartment Complex for people in need.
Martin Almanza catches a canoe on August 27 through a flood section in Galveston, Texas.
The Capital One Bank Tower is seen blowing through its windows at Lake Lake Charles.
Latasha Miles and Howard Anderson are standing in their Lake Charles living room, where they were seated when they fell from the roof at around two and a half on the morning of 27 August.
A swing of power lines hangs on a road in Lake Charles.
An 18-wheeler driver ejected his vehicle after police arrived at the scene along Interstate 10 in Vienna, Texas. Both the driver and passenger received minor injuries.
A man walks behind a destroyed building in Lake Charles.
The flooding is seen in Sabine Pass, Texas.
A structure is flattened near a beach in Lake Charles.
L'Auberge Casino Resort is visible after the lights in Lake Charles.
Shrimp boat Sea Lion V prepares to land Hurricane Laura on 26 August.
This photo of Hurricane Laura was taken on 26 August aboard the International Space Station.
Victoria Nelson gave the lines to her children, Autum, Sean and Asia, as they boarded the bus to evacuate Lake Charles on 26 August.
A sheriff deputy wiped his face on August 26, targeting a road in Lake Charles.
The families board buses to evacuate Lake Charles on 26 August.
Children play in the circuit of America's racetrack, where some evacuees were settling in Austin, Texas on August 26.
Demeteri Bushnell was hugged by her niece as they and other evacuees prepared to board the bus at Lake Charles.
On August 25, traffic is at a near-standstill on Interstate 10 due to evacuating the area near Jennings, Louisiana.
An employee of the US Postal Service covers a mailbox in Galveston, Texas with plastic wrap. The plastic wrap indicates that the last mail from the box has been cleaned, and it prevents people from placing the mail inside that could be lost in the flood.
An evacuation awaits boarding a bus on August 25 in Port Arthur, Texas.
Nick Gaido, left, helps board the windows at his seafood restaurant in Galveston.
Roman Tatrik, with the help of family and friends, rounds cattle in Cameroon, Louisiana, so he can deliver them to the higher ground.
A family board a charter bus that will take them from Galveston Island to Austin.
Katy Gay raised a dog as the Houston SPCA moved more than 100 animals to the Austin Humane Society.
People wait to board the bus to leave Galveston.
People make sandbags at St. Raymond Church in New Orleans.
People tie their ships along Lake Pontcharten, Louisiana on August 23.
People stand in long lines before entering New Orleans Costco to pick up supplies.
Michael Kent rides his boat on August 23 in Venice, Louisiana.
Cruz brings sandbags to help flood prevention in Belle Chase, Louisiana.
Caesar Reyes takes a sheet of plywood as he helps install window coverings at a business in Galveston.
Houston firefighters prepare rescue equipment before the storm.
    .