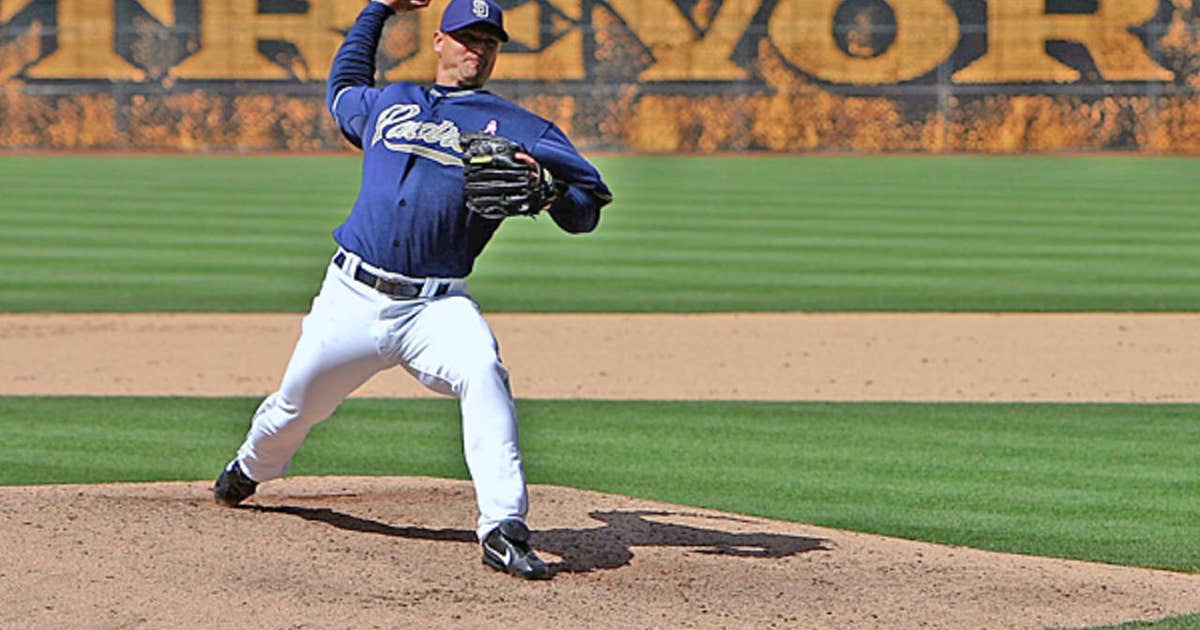 SAN DIEGO: San Diego sports fans can celebrate for the next six months, as one of their own will be honored with one of baseball's most important honors.
On Wednesday afternoon, Major League Baseball announced that San Diego Padres pitcher Trevor Hoffman will be part of the 2018 Baseball Hall of Fame induction class. Hoffman received the official call from his home in San Diego surrounded by family and close friends.
Hoffman, who is a beloved figure in the community of San Diego, fell just one point below the 75 percent required in 2016. On Wednesday, it was announced that Hoffman received enough votes to secure his place in the history of the baseball.
Shortly after the announcement, Padres CEO Ron Fowler and General Partner Peter Seidler released the following statement:
"On behalf of the entire Padres family, we would like to send our heartfelt congratulations to Trevor Hoffman and the Class of 2018 upon being elected to the National Baseball Hall of Fame. put the Padres uniform for the first time, Trevor has represented our organization and the City of San Diego with an incredible sense of class and dignity, not only is Trevor the National League's lifeline leader of all time, it's a to be even better human, and we are delighted that he will be consecrated in Cooperstown as Father with the best players in the history of baseball. "
The 2018 Hall of Fame weekend will be held July 27-29 in Cooperstown, with the induction ceremony on Sunday, July 29.
Hoffman was selected seven times for the MLB All-Star Game and retired with 601 saves in his career, which was the MLB record at that time. In 2014, Major League Baseball named the NL Reliever of the Year award after Trevor Hoffman, with the AL award named after Mariano Rivera.
Congratulations Trevor Hoffman!

51 has been elected to the National Baseball Hall of Fame. #HOFfman pic.twitter.com/nRcIjsmctj

– FOX Sports San Diego (@FOXSportsSD) January 24, 2018
It's Trevor's time!

Congratulations to Trevor Hoffman for his election to the National Baseball Hall of Fame #HOFfman pic.twitter.com/pkvmAFWeS9

– San Diego Padres (@Padres) January 24, 2018
Congratulations to @ THoffman51 . Hall of Fame tied and deservedly so. Thank you for everything you did to make me feel welcome at @Padres . 2018 HOF class! #HellsBells pic.twitter.com/WWbTK3dsXy

– Don Orsillo (@DonOrsillo) January 24, 2018
script.async = false; script.src = url;
// Attach the script label to the page (before the first script) so that the magic can happen. let firstScript = document.getElementsByTagName (& # 39; script & # 39;) [0]; firstScript.parentNode.insertBefore (script, firstScript);
}; leave googlePixelLoader = function () {
window ['google_conversion_id'] = 832239217; window ['google_conversion_label'] = "TccACP23rXkQ8ezrjAM"; window ['google_remarketing_only'] = false;
getScript (window.location.protocol + & # 39; // www.googleadservices.com/pagead/conversion.js'); }; let fbPixelLoader = function () { / * from https://fng-jira.fox.com/browse/FSCOM-12494 - Facebook Pixel Code * / ! function (f, b, e, v, n, t, s) {if (f.fbq) return; n = f.fbq = function () {n.callMethod? n.callMethod.apply (n, arguments): n.queue.push (arguments)}; if (! f._fbq) f._fbq = n; n.push = n; n.loaded =! 0; n.version = & # 39; 2.0 & # 39 ;; n.queue = []; t = b.createElement (e); t.async =! 0; t.src = v; s = b.getElementsByTagName (e) [0]; s.parentNode.insertBefore (t, s)} (window, document, & # 39; script & # 39 ;, & # 39; https: //connect.facebook.net/en_US/fbevents.js'); fbq (& # 39; init & # 39 ;, & # 39; 161811331078914 & # 39;); fbq (& # 39; track & # 39 ;, & # 39; ViewContent & # 39 ;, {content_name: & # 39; Mobile_App_Install & # 39;)); };
(function (b, r, a, n, c, h, _, s, d, k) {if (! b [n] ||! b [n] ._ q) {for (; s <_. length;) c (h, _ [s++]); d = r.createElement (a); d.async = 1; d.src = "https://cdn.branch.io/branch-latest.min.js ";; k = r.getElementsByTagName (a) [0]; k.parentNode.insertBefore (d, k); b [n] = h}}) (window, document," script "," branch ", function ( b, r) {b [r] = function () {b._q.push ([r,arguments])}}, {_ q: [] _ v: 1}, "addListener applyCode banner closeBanner creditHistory credits data deepview deepviewCta first getCode init link logout exchange references deleteListener sendSMS setBranchViewData setIdentity track validateCode ".split (" "), 0); branch.init (& # 39; key_live_acdMtqDFnx4gILoc1Rq9VbckBtmjzNok & # 39;); branch.addListener (& # 39; didShowBanner & # 39 ;, function () {
let iframe = document.getElementById (& # 39; branch-banner-iframe & # 39;); let btn = (typeof iframe.contentDocument! == & # 39; undefined & # 39;)? iframe.contentDocument.getElementById (& # 39; branch-mobile-action & # 39;): iframe.contentWindow.document.getElementById (& # 39; branch-mobile-action & # 39;);
btn.addEventListener (& # 39; click & # 39 ;, function (ev) { if (ev.preventDefault) ev.preventDefault ();
if (window typeof ['adwordPixelEnabled'] === & # 39; undefined & # 39;) { googlePixelLoader (); fbPixelLoader (); // configured to load only once after a click window ['adwordPixelEnabled'] = true; } }); }); branch.banner ({ Icon: & # 39; https: //b.fssta.com/uploads/2016/10/fox-sports-app-icon175x175.vadapt.175.high.0.png&#39 ;, Title: FOX Sports Mobile & # 39 ;, description: & # 39; You are the fan, we will do the rest! & # 39 ;, openAppButtonText: & # 39; Open & # 39 ;, downloadAppButtonText: & # 39; Install & # 39 ;, sendLinkText: & # 39; Send link & # 39 ;, phonePreviewText: & # 39; 123-456-7890 & # 39 ;, showiOS: true, showAndroid: true, showDesktop: false, iframe: true, disableHide: false, forgetHide: 2, position: & # 39; up & # 39 ;, mobileSticky: false, desktopSticky: false, customCSS: & # 39; # branch-banner {width: 100%; z-index: 99999; font-family: "Helvetica Neue", Helvetica, Arial, sans-serif; -webkit-font-smoothing: antialiased; -webkit-user-select: none; -moz-user-select: none; user-select: none; -webkit-transition: all .25s ease; transition: all 250ms ease} # branch-banner .content {width: 100%; overflow: hidden; high: 76px; background: # f2f2f2; color: # 333; bottom edge: solid 1px # c1c1c1} # branch-banner .content .left {text-align: left} # branch-banner .icon img {width: 64px; height: 64px; right-margin: 0; radius-of-the-edge: 14px} # branch-banner-close {color: # 787878; Font size: 22px; superior: 14px} # branch-banner .title {font-size: 14px; font-weight: 400; color: # 000} # branch-banner .description {font-size: 12px; color: # 303030; height-maximum: 30px; overflow: hidden} # branch-banner .reviews {font- size: 10px; margin: 1px 0 3px; color: # ff9500} # branch-banner .reviews .star span {display: online-block; right margin: 0; color: # ff9500; position: absolute; superior: 0; left: 0} # branch-banner .reviews .star svg {fill: # fe9402} # branch-banner .reviews .review-cou nt {display: none; font-size: 10px} # branch-sms-form-container {margin-right: 0} # branch-banner .button {display: inline-block; margin-top: 0; margin-left: 5px; filling: 6px 12px; Font size: 18px; color: # 007aff; cursor: pointer; text-decoration: none; background: 0 0; edge: none} # branch-banner .button: hover {color: # 05a5ff; background: 0 0; edge: none} & # 39 ;, make_new_link: false, rating: false, reviewCount: 90, theme: & # 39; light & # 39; }, {}); } } ());
Source link