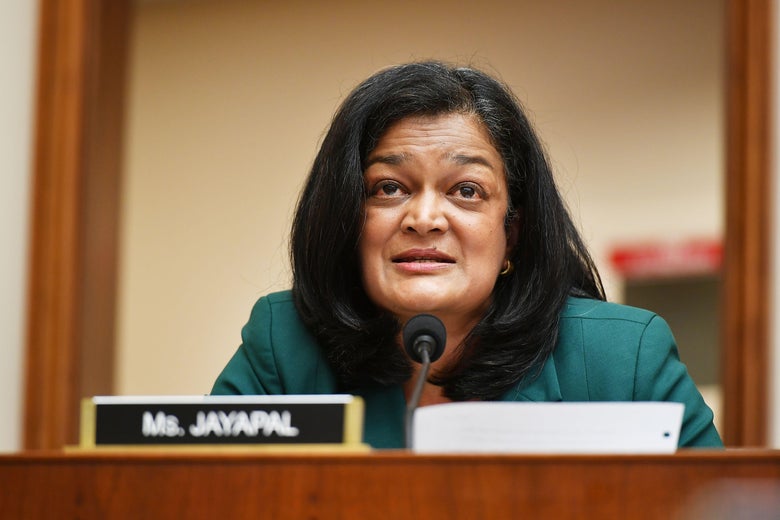 Pramila Jaipal is on a roll. In the last two days, Democrats in Washington have circled the two most memorable exchanges in two separate House hearings. Previously, she exposed naked racism and political motivations behind Attorney General William Barr's attacks on Portland protesters. In another, she caught Facebook CEO Mark Zuckerberg in a series of lies about Facebook's business practices.
During Barar's interrogation on Tuesday, the attorney general tried to dispute that law enforcement officials used tear gas to disperse protesters for a presidential photo session near Lafayette Square in June. Authorities admit to using chemical eye irritation in the attack on the protesters, but, Barr said on Tuesday, "tear gas is a special compound" that was not used. Jaipal remained adamant. "I have started losing my temper," she told him, when she refused to address the substance of the question for the third or fourth time.
Barr also attempted to defend the deployment of federal agents to end racial justice protests in Portland under the guise of protecting the federal building. In the meantime, he denied ever hearing about armed protesters in Michigan, seeking to end home stays, stormed the state capitol and threatened Gov. Gechen Whitmer in May . Jaipal pointed out the disparity in his reaction to these two groups of protesters. When Barr tries to interrupt him to say that he only cares about protests that affect federal property, Jaipal cuts him off. "It's my time, and I control it," he said. She left:
When protesters carry guns and Confederate flags and swastikas and ask the Michigan governor to behead and shoot and kill, somehow you are not aware of it … because they are looking at the president's personal agenda Are doing. But when black people and people of color protest police vandalism, systemic racism, and the president's lack of response to those important issues, you forcibly remove them with armed federal officials, pepper bombs, Because they are considered terrorists by the president.
Unlike his Democratic colleagues, who effectively interrogated racism within police forces and allayed their fears around mail-in voting, Jaipal made no particularly damning statements on record to Berar. But her question-and-answer line offered more than the hollow satisfaction of a good barn and the joy of seeing a righteous legislator increase her power over a person who regularly abuses her. Most people do not have the time or inclination to watch a lengthy congressional hearing. If there is big news, they will read headlines or watch clips on their nightly news, but most of the substance of these hearings often goes unnoticed. Responding to Barr's derogatory statements, he resented Jaipal making sure he made headlines. Then, she gave viewers and readers a concrete example of the Trump administration's racist hypocrisy, in which she was clearly in fluent language. Unlike Democratic presidential nominee Joe Biden, who said in an address on Tuesday that "anarchists should be prosecuted" – leading some progressives to argue that Trump and Biden "are two sides of the same coin" – Jaipal does not have any vocal qualifications. He focused the blame to which he belonged: not on the political dissidents, but on the state institutions that were trying to suppress him.
His line of questioning offered more than a good hollow satisfaction Burn.
Jaipal again came into the limelight on Wednesday. The opposing subcommittee of the House Judiciary called the tech giants — Zuckerberg, Amazon's Jeff Bezos, Google's Sundar Pichai and Apple's Tim Cook — to answer questions about their anticomantic test practices. Jaipal himself began questioning Zuckerberg, citing emails and statements from several Facebook executives, including the CEO, who said that Facebook should stop competitors from gaining market traction and copy their products if necessary. Then, he asked her, "Has Facebook ever taken steps to prevent competitors from copying?"
Zuckerberg dodged. So he said: "Since March of 2012, after that email conversation, how many contestants had Facebook copied?" Zuckerberg said, "Congressmen, I can't give you many companies."
Zuckerberg said he does not remember any conversations in which he threatened to copy competitors' products if they do not let Facebook gain their business, so Jaipal read aloud quotes from an online chat transcript that showed That Zuckerberg is doing exactly this in conversation. With the founder of Instagram. Jaipal said, "Facebook is doing a case study, in my opinion, in monopoly power as your company harvests and demonetizes our data and then your company to spy on competitors and acquire and kill rivals Uses that data, "said Jaipal. "These tactics reinforce Facebook's dominance, which you then use in an increasingly destructive manner."
These are not hearing tests. In some cases, their public value is largely dramatic: those bigots who are called to testify to the hedge and the stall, while members of Congress, from their seats, put on a show for their constituents. Wednesday's hearing fit into this mold. The counterparty subcommittee had already been investigating these companies for more than a year, conducting hundreds of hours of interviews and collecting more than 1 million documents. At the hearing, the members did not extract much new information. Their main job was to make public the information they already had and take care of their constituents. And Jaipal has proved himself to be remarkably skilled at performing with substance.
If there was ever an illusion that elected officials in this pseudo-democracy could be trusted to uphold the laws that govern it, the events of the last few years should extinguish that hope. Powerful corporations and politicians will not police themselves, and many members of Congress will not risk offending the donor class, unless there is public outrage to justify it. Jaipal did not just hold Zuckerberg in a defensive posture regarding Facebook's unjust consolidation in the tech industry. He laid the groundwork for the rest of America to understand what Facebook is doing, to understand the cynical potential of Zuckerberg's attempt at self-astonishment, and point between Facebook's anticompetitive strategies and its role in the decimation of American democracy. Add to If congressional Democrats ever hope to build popular support to break or enforce strict rules on monopolies like Facebook, they will need people like Jayapala – who represents a district where many Amazon employees live Are – to sell to the public at the urgency of the issue.
With such, it is of great importance in the public view, directly in the face of abuse of power Clarity.
Jaipal's week-long tenure comes on the heels of another notable performance in the House. Last week, Rape. Alexandria Ocasio-Cortez stood on the floor of the House and addressed her Republican colleague Rep. Ted Yoho, who called her a "fucking bitch" in front of an audience of reporters. She received plenty of approval (and qualified) press coverage of her speech, in which she hired Republicans who have used their wives and daughters as a shield against allegations of misrepresentation. Few would dismiss the staid, sentimental, made-for-TV addresses like him and warm exchanges like Jaipal as a sound-bitty clapback with little solid political import. But with such clarity, directly, from the public point of view, there is great importance in combating the abuse of power. This gives those who are not paying too much attention to an accessible explanation for why they should be working and the language they need to explain to others.
It gives many of us a worthy disguise for his impotent rage, which transforms feelings of powerlessness into power. Yoho insisted Rubbish, No Bitch, And moreover, he says, Ocasio-Cortez deserved it; Zuckerberg insisted that the threat he had posed on Instagram was not a threat at all. If he is going crazy, this is enough to surprise any rational, agitated observer – here are two members of Congress who strongly reassure him that he is not. It is a malicious antidote against political indifference by an elected official for expressing indignation at uncontrolled injustice on the public stage. This is representative democracy at work.
Readers like you make our work possible. Help us continue to provide reporting, commentary and criticism that you will not find anywhere else.
Join slate plus
Join