[ad_1]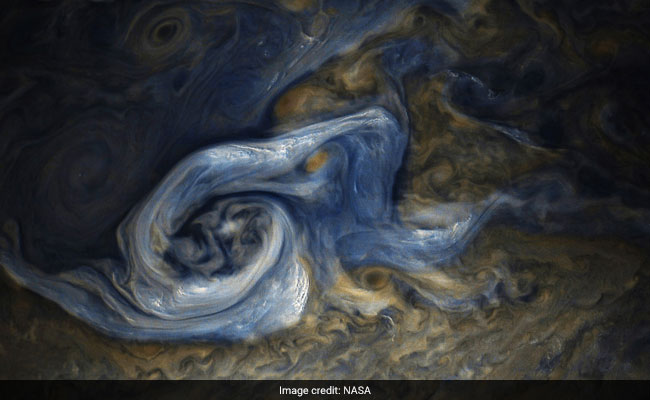 The colour-enhanced pictures by NASA's Juno reveals a storm rotating counter-clockwise on Jupiter
Washington: 
NASA's Juno spacecraft beamed again a shocking picture of a large, raging storm in Jupiter's northern hemisphere, captured by the probe throughout its ninth shut flyby of the fuel large planet. The picture was taken on October 24, when the spacecraft was about 10,108 kilometres away from the tops of the clouds of Jupiter.The colour-enhanced pictures reveals a storm rotating counter-clockwise with a variety of cloud altitudes.
The darker clouds are anticipated to be deeper within the environment than the brightest clouds. Within a few of the shiny "arms" of this storm, smaller clouds and banks of clouds could be seen, a few of that are casting shadows.
The shiny clouds and their shadows vary from about seven to 12 kilometres in each widths and lengths. These seem just like the small clouds in different shiny areas Juno has detected and are anticipated to be updrafts of ammonia ice crystals presumably blended with water ice.
Citizen scientists Gerald Eichstadt and Sean Doran processed this picture utilizing knowledge from the JunoCam imager, NASA mentioned.
 
Click for extra trending information
[ad_2]
Source hyperlink