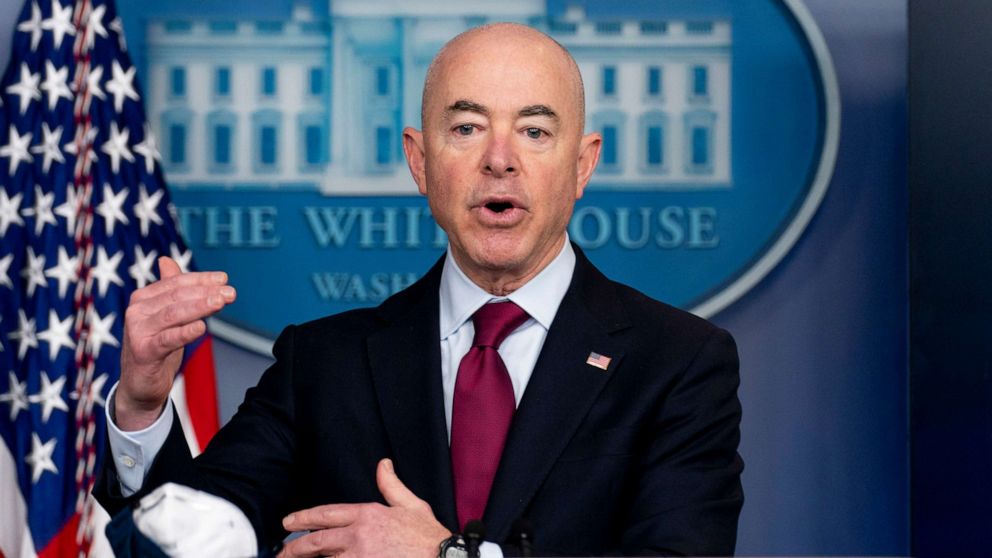 Some of the members had been installed under former President Donald Trump.
Homeland Security Secretary Alejandro Mayorkas fired most members of the National Security Advisory Council on Friday, according to a letter obtained by ABC News.
The National Security Advisory Council is made up of 30 members, both Democrats and Republicans. Some of those who were fired included allies of former President Donald Trump, such as former Acting DHS Undersecretary Ken Cuccinelli and former Acting Director of Immigration and Customs Enforcement Thomas Homan.
"I am considering how the HSAC can bring the greatest value to the Department and how the experience, judgment and advice of its members can be used more effectively to further the Department's mission. I look forward to working closely with the HSAC and trusting in its members to help guide the Department through a period of change, "Mayorkas wrote.
The HSAC produces reports and advises the secretary on a variety of topics, from domestic violent extremism to biometrics.
"In the service of an orderly transition to a new model for the HSAC, I have terminated the term of the current HSAC members as of March 26, 2021," he wrote. "I will reconstitute the HSAC in the coming weeks once the new model has been developed. President William Bratton and Vice President Karen Tandy will remain in their leadership positions of the HSAC. William Webster will continue to be the HSAC President Emeritus. I had the privilege from working with Judge Webster throughout my previous service with the Department. "
Bratton, Tandy, and Webster are the only three members still listed on the HSAC website. Bratton, the former NYPD commissioner, is serving as commissioner.
The senior member of the House Homeland Security Committee, John Katko, RN.Y., criticized the action.
"While these members serve at the Secretary's pleasure, today's action sends the message that this Administration does not intend to advocate for a unifying, bipartisan approach to securing our homeland," Katko said. "The HSAC is not intended to be an echo chamber for what the current DHS Secretary wants to hear. Its mission is to provide a diverse and knowledgeable set of perspectives to combat the changing threats of today and tomorrow.
Former Trump DHS Acting Secretary Chad Wolf, who named some of the members, tweeted which was also a mistake.
"While I respect the right of a DHS secretary to modify the HSAC to address their needs, firing the entire council and stopping a large amount of important work (that was underway) is not the right approach," Wolf wrote.
Mark Osborne of ABC News contributed to this report.