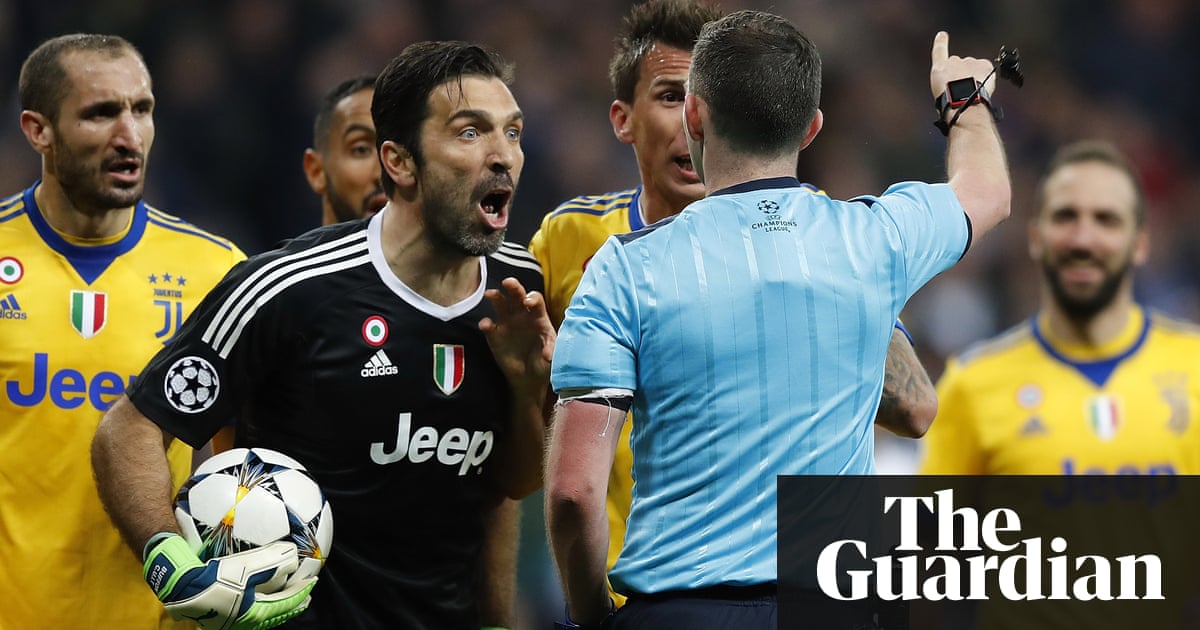 Juventus goalkeeper Gigi Buffon criticized English referee Michael Oliver, saying he has a "garbage can" where his heart should be and accused him of condemning the Italians to the elimination of the Champions League after giving him a Penalty to Real Madrid in the third minute Additional time that Cristiano Ronaldo scored to send them to the semifinals.
Oliver gave the penalty for a foul on Lucas Vázquez in the closing stages of a dramatic quarter-final that Madrid won 4-3 on aggregate. He sent Buffon to protest, his last European game ended with him leaving to receive the applause of home fans.
"Award a so dubious, or very dubious, penalty just before the final whistle and destroy the work of a team who gave absolutely everything you have to have a dustbin instead of your heart," said Buffon. "A human being can not decide the elimination of a team with such a decision.When I do not feel that I am good enough, I risk it.It should do the same.It is a matter of sensitivity.It means that you do not know where you are, what teams are playing, you do not know shit. "
The goalkeeper added: "You need to be ready for a game like this, you have to watch the first leg and see that a similar foul was not punished with a penalty for Juventus in Turin, and especially you need a personality to referee a game Like this, if you do not have personality, it is better to watch the game from the stands with your wife and your children while you eat chips, what did I say to him while protesting? I could say everything at that moment because when you make that decision in a certain moment of the game means you do not know what sport is.
"We did something that seemed impossible. It's a pity that it ended like that, unfairly. It was a tenth of a penalty. But life goes on. "
Max Allegri, the manager of Juventus, defended Buffon, saying that his reaction was" understandable "and also admitted that he had exchanged words with the suspended Sergio Ramos as they crossed in the mouth of the tunnel where the real defender had seen the second half.
"It was a moment of confusion," Allegri said. "Gigi had that reaction, but that's understandable. I do not know if that was his last game, there were three seconds left and the result would have been historic, very important, and he had a human reaction.
"The referee took the red card and sent it off, and as for the penalty, the referee said yes and he whistled and there is nothing more we can say, but we still have a bitter taste."
Allegri admitted that he left angry, hurt and convinced that Juventus had at least deserved to take a dramatic quarter-final in overtime, but said "crying is useless now".
When he left, he went to Ramos in the tunnel "he told me it was a clear punishment," revealed Allegri. "I said:" Sure, Gray, at least. "-