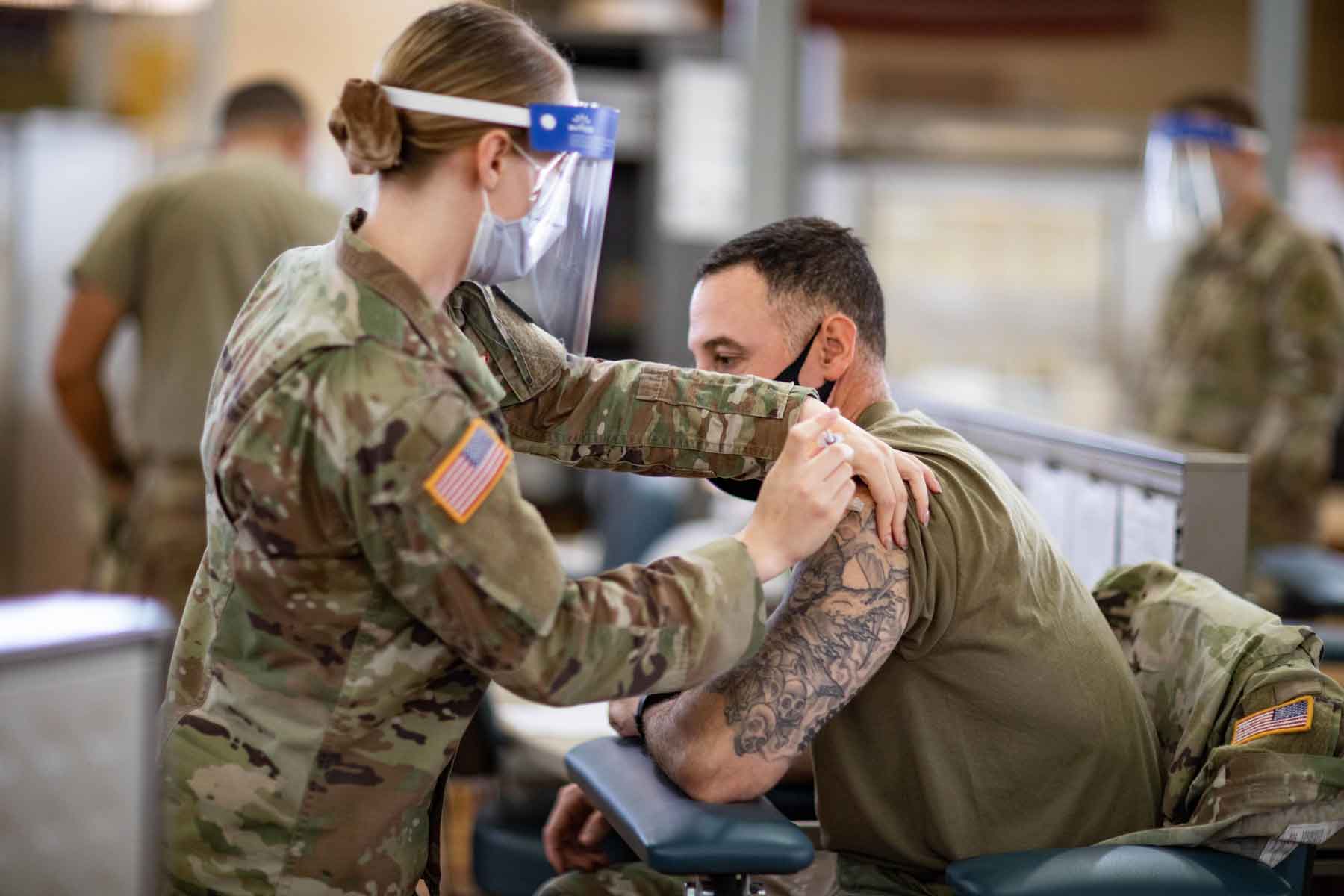 Fifteen months after launching an effort to develop a COVID-19 vaccine, the Walter Reed Army Research Institute is gearing up for a clinical trial, seeking volunteers for a small safety study.
The Army vaccine candidate uses a new technology involving a spike ferritin nanoparticle, or SpFN, which researchers hope can be adapted to protect against any coronaviruses, including those that cause the common cold or deadly diseases like COVID-19. , severe acute respiratory syndrome, or SARS, and Middle East respiratory syndrome, MERS.
The WRAIR candidate vaccine has been tested in mice and monkeys and is now ready for human safety trials, according to officials at the institute, which reports to the Army Medical Research and Development Command.
"Even before recent COVID-19 variants were identified, our team was concerned about the emergence of new coronaviruses in human populations, a threat that has been accelerating in recent years," said Dr. Kayvon Modjarrad, Director of the Emerging Infectious Diseases Branch of WRAIR. it said in a published statement. "That's why we need a vaccine like this – one that has the potential to broadly and proactively protect against multiple species and strains of coronavirus."
Read next: Officers Identify Navy Corpsman Who Shot Two Sailors Before They Are Killed By Police
The study is being conducted at the WRAIR Clinical Trials Center and will enroll 72 healthy adult volunteers ages 18 to 55 who will be randomly placed into placebo or experimental groups.
WRAIR began its work on a coronavirus vaccine on January 11, 2020, the day after Chinese researchers published the genetic sequence of the coronavirus, allowing scientists to better understand the deadly pathogen.
With that genetic makeup in mind and based on research on the coronavirus that causes Middle East respiratory syndrome, or MERS, WRAIR scientists developed SpFN as a protein base that can carry one or more spike proteins designed to block the infection and elicit an immune response, according to Modjarrad.
While commercial manufacturers have produced four different COVID-19 vaccines, three of which are currently distributed under emergency use authorization in the US, WRAIR is playing long-term when it comes to developing a vaccine against it. coronavirus for the future.
"We are in this for the long term," Modjarrad said in a statement. "We have designed and positioned this platform as the next generation vaccine, one that paves the way for a universal vaccine to protect not only against the current virus, but also to counter future variants, stopping them in their tracks before they can cause another pandemic."
The vaccine was developed with support from the Henry M. Jackson Foundation for the Advancement of Military Medicine.
More than 176,000 U.S. service members have tested positive for COVID-19 since the start of the pandemic and 24 have died. Another 307 civilian Defense Department employees, contractors and family members have also died.
Worldwide, 132.1 million people have been infected with the coronavirus and 2.8 million have died. There have been nearly 30.8 million cases in the US and 556,307 US deaths as of April 4, according to Johns Hopkins University.
Across the Department of Defense, 2.1 million doses of the COVID-19 vaccine, made by Moderna, Pfizer or Johnson & Johnson, have been administered to U.S. troops, family members, civilian employees and other essential workers, according to the Centers for The diseases. Control and Prevention.
On Tuesday, President Joe Biden implored Americans to get vaccinated, especially with cases on the rise in some areas and the spread of variants.
"We are getting more and more data on how effective these vaccines are," Biden said. "We are making great progress … but we are not even halfway to vaccinating 300 million Americans. We are still in a life and death race against this virus."
– You can reach Patricia Kime at [email protected] Follow her on Twitter @patriciakime.
Related: As the private sector rushes to develop a COVID-19 vaccine, the military takes a cautious approach
Show full article
© Copyright 2021 Military.com. All rights reserved. This material may not be published, broadcast, rewritten or redistributed.