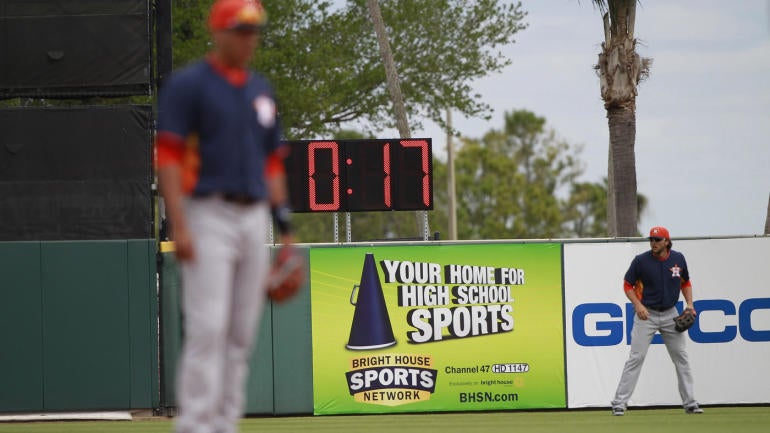 In all likelihood, there will be a turning point in Major League Baseball this season.
Ken Rosenthal of The Athletic reports that the MLB Players Association is expected to reject Commissioner Rob Manfred's latest pace proposal, paving the way Major League Baseball implement rule changes unilaterally. De Rosenthal:
The players' union is expected to reject Manfred's revised proposal on new rules to improve the pace of play, according to the sources Athletic on Thursday.

Such union decision sets the stage for Manfred to unilaterally implement his original proposal, which included a 20-second launch clock and visits to reduced mounds.

…

Players are not opposed to game-rhythm improvements and will act professionally if Manfred orders new rules, the sources said. But in addition to the objections to the launch clock, players have expressed a variety of other concerns, including downtime resulting from instant replay and ticket interruption. Some players also worry that accelerating the game will increase the risk of injury. Others want to preserve the timeless aspect of baseball and fear losing fans who want the sport to maintain its traditions.
MLB and the commissioner's office have always had the ability to implement rule changes unilaterally, but prefer to work with the union to keep the peace work. However, in this case, Manfred wants a lot more pace measures, and the MLBPA is not playing ball, so to speak.
As a rule, Manfred can only implement proposed rule changes in the last off-season, which includes a clock release. In the minors a 20 second throwing clock has been used: pitchers who take too long to throw a pitch receive a ball and hitters who are not in the box on time are charged with a stroke, and have cut in the Overall game time dramatically.
MLB has not yet officially announced these changes to the rules, but they expect it to happen very soon. They will want to implement these measures for the start of spring training so that players can use the Grapefruit League and Cactus League games to adjust.