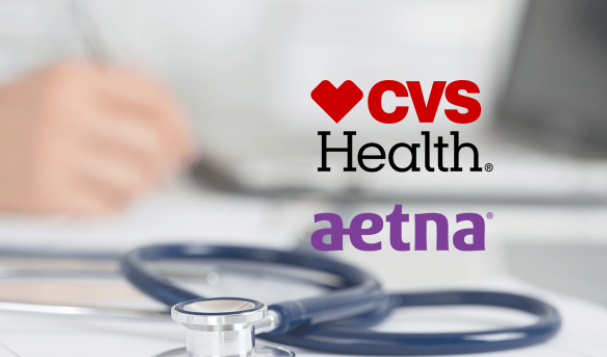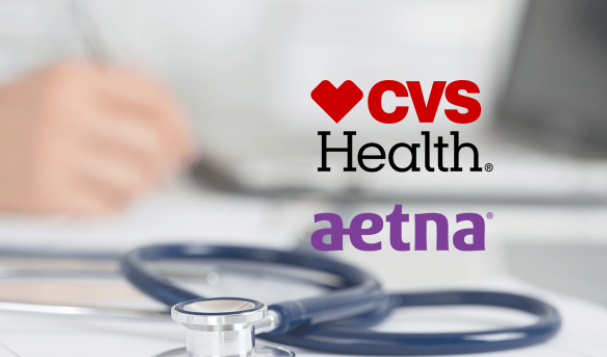 Image credit
The healthcare deal heard 'round the world
By now, we're all aware that CVS Health (CVS) has made a pitch to buy giant healthcare Aetna (AET) in a deal that would make an enormous, integrated healthcare player should it go through. The merit of the rationale is something each investor has to decide for themselves in terms of whether or not the deal makes sense – it seems reasonable to me – but in this article, I'll focus strictly on the financial of the deal as is currently structured. I've been a bull on CVS of late and the reaction to the announcement of the deal has been rather weak. But there's good reason for that. Additionally, I'm not sure that I will remain bullish on CVS in the short term given the enormous cost of the merger, as I shall explain below.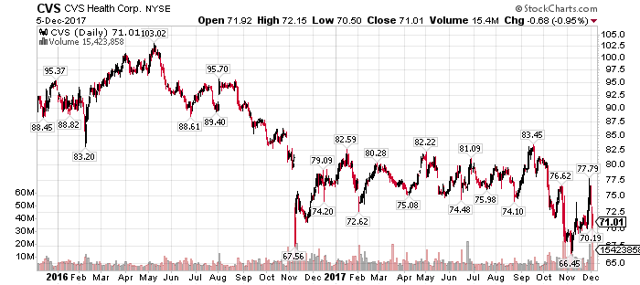 Sound reasoning is only part of the picture
CVS has been weak for the past couple of years, as evidenced above, and the Aetna announcement is not helping. I think the rationale for combining a healthcare service provider with 10k or so distribution points could work over the long term. But to my eye, it is harder to see the synergies in cost reductions coming into play than if CVS had bought another retail business. After all, redundancies largely do not exist when the whole point is to integrate two complementary, but different, businesses. But apart from that, shareholders are on the hook for some pretty significant costs in the coming years if the deal goes through.
The price tag matters, too
First, let's get started with how the deal is going to be financed. CVS is going to issue $ 45B in new debt and is going to issue $ 21B in new equity in addition to using $ 4B in available cash. CVS 'current market cap is $ 72B or an additional $ 21B in equity is huge, adding almost 30% to the float. Since the amount of equity that will be issued is a fixed fraction per share of Aetna shareholders' own, we will not know the exact dollar amount until the transaction closes. But this is a huge amount of equity to issue. CVS management is just betting the proverbial farm on the Aetna transaction given how much equity is being issued.
Not only does the CVS 'additional equity dilute' ability to produce EPS growth, but it hurts repurchases and the dividend as well. CVS 'current yield is about three percent and a meaningful reason why I liked the stock earlier this year. An additional 30% or so added to the float will make paying and raising the dividend much more challenging in the future just because so many more shares will be outstanding once the deal goes through. Of course, CVS will have the benefit of Aetna's additional earnings and FCF to help offset the cost of the new equity, but these numbers are huge and this is certainly not a positive development for CVS shareholders on the capital return front. Again, the dividend and buyback made a pretty decent portion of my bull case and they've both just flown right out the window.
Next, CVS is going to issue $ 45B in new debt, which is almost twice what it have outstanding right now. That means that even if CVS gets financing terms that are comparable to what it is on its current slate of debt, it is going to be on the hook for nearly $ 2B in additional interest expense annually for a very long time. That's $ 2B that will reduce earnings and make the capital returns I just mentioned get pushed further down the road as CVS will try to get its leverage back in line before resuming things like the buyback, dividend raises and additional M & A. I meant it when I said CVS was betting the farm on Aetna – the additional leverage and dilution from the deal means CVS can not buy or dividend raises that were a big part of my original bull thesis on the stock. That's a problem for me to be sure and given the reaction from investors, I do not seem to be the only one.
On the plus side, Aetna's EBITDA margin is north of 10% for the TTM while CVS 'is under 7%, meaning that the combined companies would produce something like 8.4%, according to estimates from the slideshow linked above. The combined entity is purported to produce $ 221B in revenue and $ 18B in adjusted EBITDA if it were combined today so it is not like the deal is without benefits. But if we take Aetna's $ 6.2B in adjusted EBITDA at face value and consider the costs of owning it for CVS, the deal does not look all that great to my eye.
CVS 'problem with merger math ]
CVS is paying with $ 45B in additional debt as well as the $ 21B in new equity to achieve just over $ 6B in additional adjusted EBITDA. Keep in mind I reckon the new debt alone is going to be another ~ $ 2B in interest expense, which would reduce Aetna's incremental operating earnings to just over $ 4B. Then consider that almost 30% of CVS 'float will be issued to pay for the deal as well and the additional $ 4B in operating earnings – which would be right at one third of CVS' standalone adjusted EBITDA – just barely gets CVS to breakeven on a pro forma per-share basis. That's a long way of saying that if the deal closes with these terms, CVS is basically paying a bunch of money for a relatively large benefit unless some enormous synergies come into play.
On that note, management reckons synergies will be $ 750 M as the slide below explains.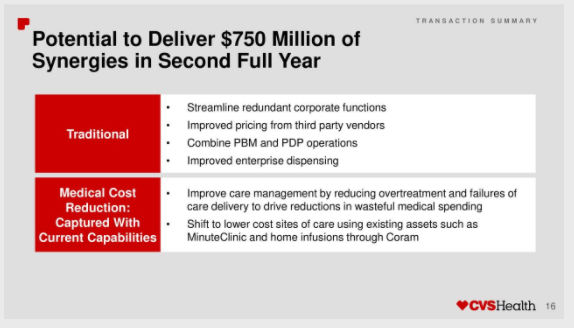 You can read the reasoning behind the estimate above but even if CVS can get to $ 750M, While that helps pay for the deal to an extent, remember the price tag is nearly $ 70B and my estimate of additional operating earnings was in the $ 4B range. While $ 750M is a lot of money, it pales in comparison to the many costs of achieving the synergies. The hope is that the things listed above will produce more and more over time in terms of synergies but I just do not see this moving to the point where CVS can thrive with its proposed capital structure. There's just too much leverage and too much dilution for this to be attractive.
No further capital returns and I'm out
And that's really it for me – I get the strategic rationale behind the deal But at the same time, combining two very different businesses means that synergies are going to be more difficult to come by than if CVS were just going after more retail distribution points, for instance. The deal looks very expensive to my eye. And given the costs to CVS shareholders – no dividend raises, no buybacks and no more M & A for the foreseeable future – I can not get behind it. As a result, I'm pulling my buy recommendation from CVS because there's a lot too much near-term uncertainty and to be blatantly honest, I think it's overpaying for what it's getting with Aetna. I do not want to own a company like that I do not do it anymore – CVS will carry on without me from there unless something changes materially.
Disclosure: I / we have no positions in any stocks mentioned, and no plans to initiate any positions within the next 72 hours.
I wrote this article myself, and expresses my own opinions. I am not receiving compensation for it (other than from Seeking Alpha). I have no business relationship with any company whose stock is mentioned in this article.
Source link