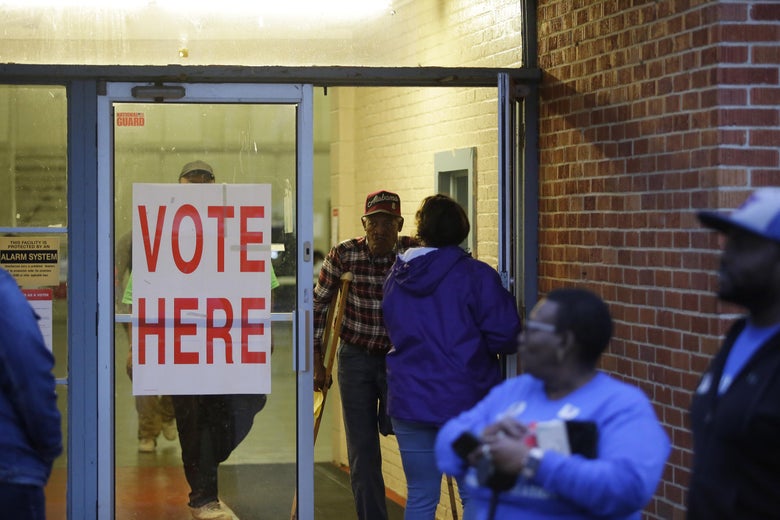 For the past two weeks, the federal judiciary has sent a forceful message to Americans who are deprived of their rights in this year's election: You are alone.
In a dizzying succession of sentences, the courts are laying the groundwork for a chaotic Election Day. An appeals court allowed Wisconsin to reinstate its dramatic cut in early voting in a startling opinion that explicitly authorizes lawmakers to manipulate electoral laws for partisan profits. Another appeals court blocked a lower court decision protecting the ability to vote of former homeless criminals in Florida. The Supreme Court also delivered a double whammy, first allowing Texas to impose discriminatory limits on mail voting, and then reversed a decision that eased voting restrictions in Alabama due to the pandemic. Taken together, these movements indicate that a growing number of federal judges, and five Supreme Court justices, have simply relinquished their responsibility to safeguard voting rights. This election was already a tense battle over the future of American democracy; Courts are now withdrawing from the fight, leaving voters to fend for themselves.
Start with Wisconsin, the epicenter of voting wars in this election cycle. In April, in an instantly noticeable decision 5–4, the Supreme Court forced thousands of residents to choose between voting in person during a pandemic and losing their right to vote. June 29, 7th The US Circuit Court of Appeals added the insult to the injuries, giving the green light to the sharp reduction in the state's early vote. For years, Wisconsin local governments set their own electoral rules, with some allowing up to six weeks of early voting, until Republican lawmakers set the outer limit in two weeks. A federal judge had repeatedly blocked this cut, finding that it disproportionately affected racial minorities.
After inexplicably sitting on the case for more than three years, 7th Circuit reversed that decision, letting the cuts take effect. Judge Frank Easterbrook's opinion for the court announced a new constitutional rule: lawmakers "have the right to consider politics by changing the rules on voting," he said. In other words, Republican lawmakers can manipulate electoral laws to make it difficult for Democrats to vote. Easterbrook derived this supposed principle from Rucho v. Common cause, in which SCOTUS argued that federal courts cannot stop partisan gerrymandering. But Rucho he simply found that federal judges are unable to determine when the redistribution of political districts "goes too far"; it has nothing to say about other electoral laws, even if conservative judges desperately want it to be.
The news from Florida, another infamous swing state for suffrage assaults, is no better. In May, US District Judge Robert Hinkle upheld a Florida unconstitutional plan that forced former criminals to pay fines and court-imposed fees before regaining the right to vote. This scheme effectively imposed a voting tax, denying people the ballot unless they had enough money to pay the judicial debt. Plus, it was totally unfeasible: Florida has no idea how much previously incarcerated people owe and there's no way to find out. As a result, Hinkle explained, even those former criminals with the means to pay the court's debt could never really be sure that they paid in full. And if he miscalculated, they could be prosecuted and jailed.
The Supreme Court believes that voting easier could somehow confuse voters.
Hinkle devised a system where previously incarcerated people could ask the state to reveal how much judicial debt they had. If the state was unable to provide a response within three weeks, the individual regained the right to vote. Furthermore, no one can be denied the ballot simply because they cannot pay their judicial debt, as wealth-based deprivation of rights violates the constitution.
Wednesday 11th The United States Circuit Court of Appeals blocked Hinkle's order, allowing Florida to resume denial of registration for those convicted of serious crimes. And, in a very unusual move, the court accepted Florida's request to hear the case in banc before a panel of three judges had the opportunity to hear it. There is only one plausible reason why the court, which Donald Trump recently rejected, would have taken this rather grim step: The conservative majority likely worried that a panel of three judges would include two liberals who would comply with Hinkle's order, maintaining the scheme. Florida waits until the November election. So they short-circuited the appeals process, granting the state an instant victory by lifting Hinkle's tenure and a likely long-term victory by taking Florida's side on the road.
These appeals courts appear to be taking their cues from the Supreme Court itself. In June, the court refused to block Texas' strict restrictions on voting by mail, forcing most residents under 65 to vote in person, while allowing all older residents to vote absentee. (Fear of hiring COVID-19 does not provide a valid excuse to vote by mail.) This law clearly discriminates on the grounds of age in violation of the 26th Amendment. However, no justice deemed it appropriate to intervene and prohibit the state from imposing special burdens on younger voters.
Then on Thursday, the Supreme Court blocked a court order that eased restrictions on Alabama's voting procedures in light of the pandemic, a hasty and puzzling decision of 5–4. Alabama law makes it extremely difficult for the elderly or immunocompromised to avoid crowded polls: to vote absentee, they must have a notary or two witnesses to sign their ballot, and provide a copy of your photo ID. Some Alabama cities tried to ease this burden by introducing "curb voting" by allowing voters to cast their votes from their cars. But Secretary of State John Merrill banned this practice statewide under dubious legal authority.
In a 77-page, fact-laden opinion, a federal judge prohibited Alabama from imposing these absentee voting limitations on sick, disabled and elderly voters. It also lifted the ban on voting on the sidewalk. A panel of three judges for 11th Circuit left that decision to stand in an exhaustive 28-page opinion. Two judges noted that the plaintiffs "presented evidence that more than 50 Wisconsin people who recently worked or voted at polling stations there amid the pandemic tested positive for COVID-19." However, five Supreme Court justices decided to participate in and restore Alabama's draconian laws.
Why? Most did not deign to explain themselves, but presumably based on the "Purcell principle". This doctrine prohibits courts from altering voting laws shortly before an election on the theory that last-minute changes could "confuse" voters. In the hands of a conservative court, the Purcell principle has become a perverse rule that voters always lose. SCOTUS consistently maintains that voter suppression laws do not burden the constitutional right to vote. However, when a court tries to ease voter suppression laws, SCOTUS stops it, because by voting easier it could somehow confuse voters. Simply put, this Supreme Court believes that voter suppression laws do not impose the right to vote, but the decisions that block those voter suppression laws do.
The message of these decisions is clear: Federal courts will not preserve the right of Americans to vote in a free and fair election. Even when a pandemic sweeps the nation, many of these courts see no problem with electoral laws that force citizens to risk coronavirus infection to cast a vote. When voters ask the courts to protect the franchise, the judges slam the doors of the federal court shut. When states ask the courts to protect the privacy laws, the judges are too eager to intervene. The federal judiciary is leaving voters at the mercy of state lawmakers who are hell-bent on preventing certain citizens from participating in democracy.