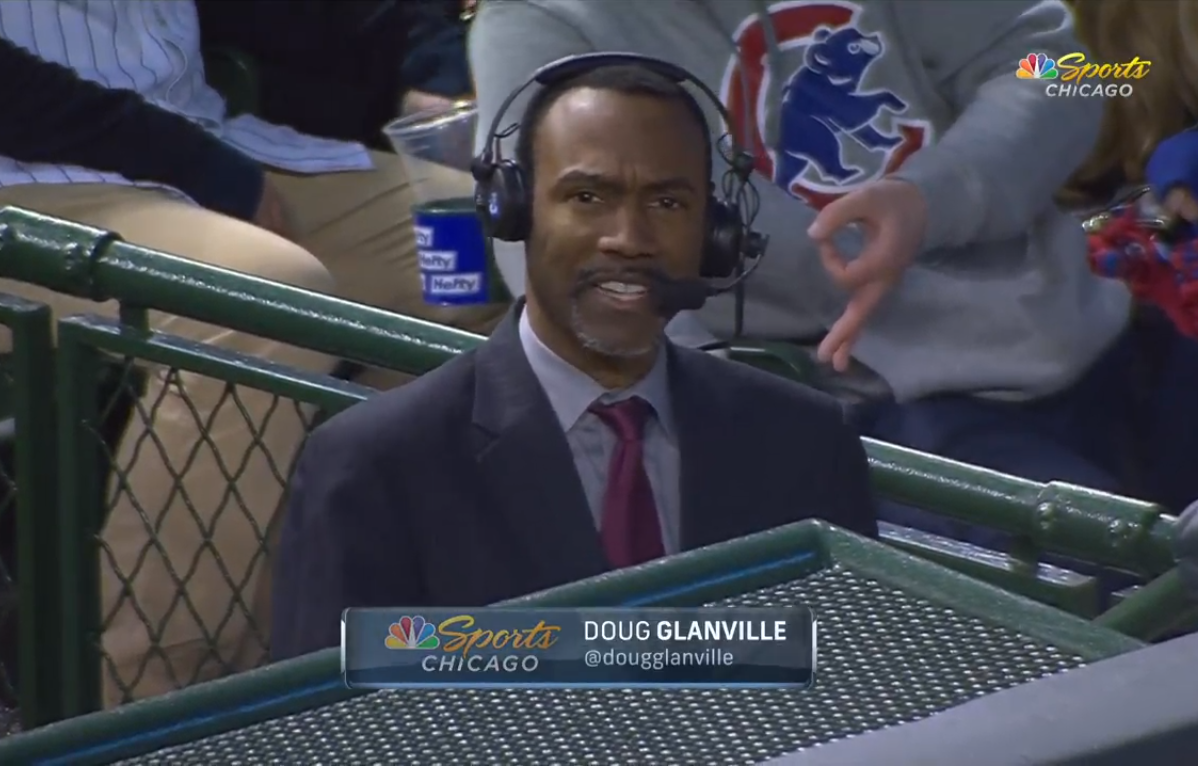 While NBC Sports Chicago badyst Doug Glanville was making a live hit during the Cubs-Marlins at Wrigley Field on Tuesday, a fan leaned on the frame and showed a white power gesture.
@Cubes @NBCSChicago Is this guy doing a white power sign behind Doug Granville in Wrigley? pic.twitter.com/VrqngzL3Hy

– Mike Curtis (@MCLiterature) May 8, 2019
The people on Twitter caught him quickly, as expected:
This guy pic.twitter.com/gZmFar7apb

– Aaron (@MarsSixx) May 8, 2019
(Before continuing, yes, the gesture that has always been considered to mean "OK" has become a gesture that reflects white supremacy.) In this specific context (on television behind a black man) it is
The Cubs and Glanville posted statements about the incident, and the Cubs searched for the identity of the fan in question so they could expel him from the stadium:
We are currently investigating an incident that occurred during the Cubs broadcast on May 7 at NBC Sports Chicago while reporter Doug Glanville was on the air. An individual sitting behind Mr. Glanville used what appears to be an offensive hand gesture that is badociated with racism.

Such ignorant and repulsive behavior is not tolerated in Wrigley Field. We are reviewing the incident thoroughly because no one should be subjected to this type of offensive behavior.

Any derogatory behavior must be reported immediately to our stadium staff. Anyone who behaves in this manner will not only be eliminated from the field of play, but will be permanently banned from Wrigley Field.
According to Cubs baseball operations president Theo Epstein on Wednesday, the fan will be kicked out of Wrigley Field:
"The incident last night is really unpleasant," he told reporters at the club's headquarters before the game. "It gave me chills to see that, to see that happen at Wrigley Field, and we've made it clear how outrageous and unacceptable that behavior is, and there's no place for it in society, in baseball and at Wrigley Field. person responsible for that gesture will never be welcome at Wrigley Field. "
Glanville, who played three seasons for the Cubs and spent nearly a decade as an ESPN badyst, also posted a statement about the incident:
My statement regarding the previous night. @Cubes #Cubes @NBCSCubs @NBCSports @NBCSChicago https://t.co/W3reObcHLn pic.twitter.com/HLh3NXHMdX

– Doug Glanville (@dougglanville) May 8, 2019
Partly:
I applaud the responsiveness of the Chicago Cubs organization and NBC Sports in investigating this issue. I have been contacted and support my role in the broadcast and continue to have the desire to maintain an inclusive environment at Wrigley Field. They have shown sensitivity as to how the implications of this would affect me as a person of color.
This is obviously an unpleasant incident, which neither Glanville nor anyone else should have to go through. The person in question should not be so difficult to identify thanks to his willingness to put his face on television, along with some other shots of him in the broadcast:
– Aaron (@MarsSixx) May 8, 2019
The quick response is refreshing, especially considering that the Cubs have had problems responding to their own disasters in recent weeks.
UPDATE: The Cubs have apparently found and banned the fan in question.
The Cubs came to the conclusion that the fan in question used a symbol of a racist hand that forbade it in the stadium. The president of business operations, Crane Kenney, said: "If you try to enter Wrigley Field or other areas with tickets, you may be subject to a criminal proceeding for criminal property infringement."

– Patrick Mooney (@PJ_Mooney) May 9, 2019