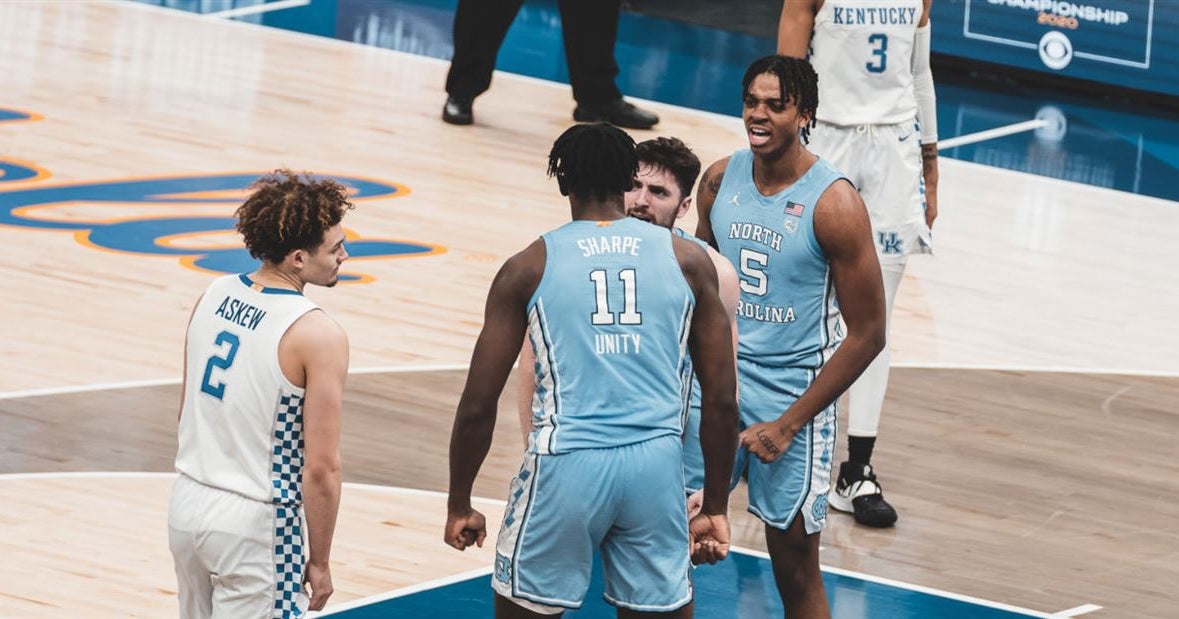 CLEVELAND – No. 22 North Carolina trailed by double digits in the first half against Kentucky on Saturday, the fifth time in six matches that Roy Williams' squad fired a nozzle. This is a disturbing trend, although it is one of better offensive execution and more intensity on the defensive end.
The value of that figure can be found in what was found later. UNC returned to take the lead in each of those games and eventually won three out of five contests. That type of flexibility is difficult to teach.
A season ago, the Tar Heels had an 11-point opening hole against NC State – and their biggest week crossed in a win was a single point, a single point, first against Notre Dame and then against Elon. UNC already has a four-point deficit through seven matches this season.
Williams has never made a big deal about an early deficit, often saying how his team is playing is more important than the scoreboard in the first half. His Tar Heels got off to a slow 21-8 run to take their first lead, but Kentucky's work on the boards allowed a talented bunch of John Calipari to enter halftime with a 38-34 lead. However, there was already some evidence that UNC's efforts in getting the ball to the rim, whether by drive or pass, were proving successful. The Wildcats' primary majors – Olivier Cir, Isaiah Jackson and Lance Ware – had already combined for seven dishonesty.
Less than five minutes into the second half, veteran guard Andrew Platuck told his young teammates that Kentucky had already added six fouls to their tally and that the next one would be placed in the UNC bonus. The Wildcats were eventually called for 20 fouls in the second half and a trio of bigs above were ruled out to play with 4:33 left.
As important as the physical toughness of the UNC can be in the paint, where contacts were often bone-jerking and not all foul whistling, there was also a component of mental toughness on display on the perimeter. The Tar Heels lost seven of their first eight out of three, leading to poor shooting of the season and the Wildcats were willing to trade out in the open for a crowded lane.
Kerwin Walton interrupted that game plan and the Wildcats had no answer. The freshman guard hit a three-point backward through the second half to erase a six-point deficit. Walton was joined by fellow freshman Puff Johnson with a score of 10 out of UNC's 11 points in a three-minute stretch, giving his team an edge and would not give up.
"I told the team that when the game was over in the locker room, the biggest moment of the game for me was when they got a six-point lead and Kerwin and Puff scored 10 or 12 of our next 15 points. I thought it was too big, "Williams told reporters after the game.
The sophomore led UNC with 14 points and eight rebounds, with Armando Bacot agreeing with his head coach that the splash outside Walton was a much-needed boost.
"Obviously the teams have had to sink in color in the last few matches, but once we start shooting the ball better, it just opens the floor for everyone, the lane for the guard and 1-on-1 opportunity for big. , "Said Bakot.
The Tar Heels closed the game to a 33–15 run, turning the round of the competition into a 75–63 victory. Despite a slow start, his physical game weighed the Wildcats down and his confidence in rallying never faltered.
"I want our identity to be tough, to work hard, to be smart and to play together like Carolina basketball," said Platt. "I want it to be our identity and come out every day and show that don't jump and wait until we're below 11 or below 10, which is what we've got." Williams asserted during his postgame press conference that cruelty is greater than shallow attempts at masculinity. It is about boxing and diving on the floor; It is about fighting for loose balls and running back on defense. The UNC did all those things in the second half. The next step of this team is to find out how to do it from the beginning.
"We still want to put together a good two halves of basketball, but yes, we went down early and they thought they'd tickle us, but that's not the last year," Bacot said. "We're not going for any of that [expletive] this year. Were not. Sorry, my language is there, but we are not.