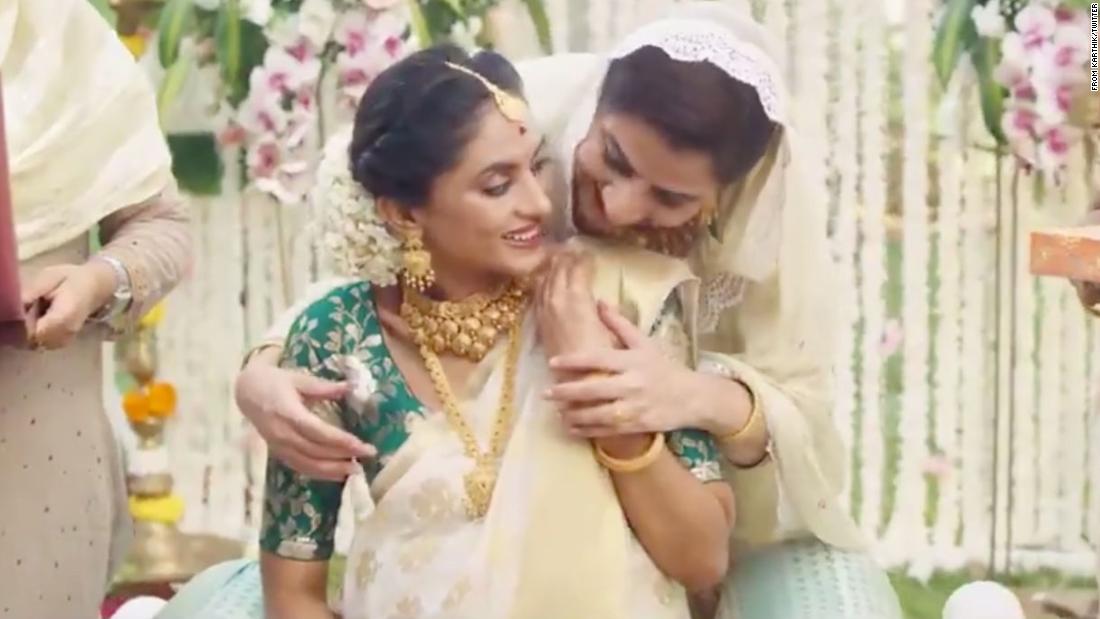 The 45-second ad for "Ektvam (unity) – beauty of beauty" shows a Muslim family traditionally throwing South Indian Hindu baby showers for their pregnant Hindu daughter-in-law.
The daughter-in-law says, "But these rituals are not celebrated in your home," and the mother-in-law responds, "But the ritual of making daughters happy is in every household."
The hashtag "Boycattanishak" started trending in India after the Tata group's jewelery brand posted advertisements over the weekend.
Tanishq on Monday removed the commercial from all platforms, later telling CNN that the film had "provoked exaggeration and serious reactions, contrary to its very purpose."
Some people on social media called Tanishq to apologize for running the commercial.
Many called the advertisement a "love jihad" – a reference to an Islamophobic doctrine that claims that Muslim families try to convert Hindu women to Islam on the pretext of love and marriage.
But others announced their support for the advertisement and questioned whether there would be no reaction to the reversal of religions.
A spokesperson for Tanishq told CNN, "The idea behind the Ekatam campaign is to celebrate the beauty of beauty and to come together from people, local communities and families from different regions during these challenging times.
"The film, unlike its very objective, has provoked deviations and serious reactions.
"We are deeply saddened by the unintentional stirring of emotions and take this film back to take into account the hurt feelings and wellbeing of our employees, partners and store employees."
.