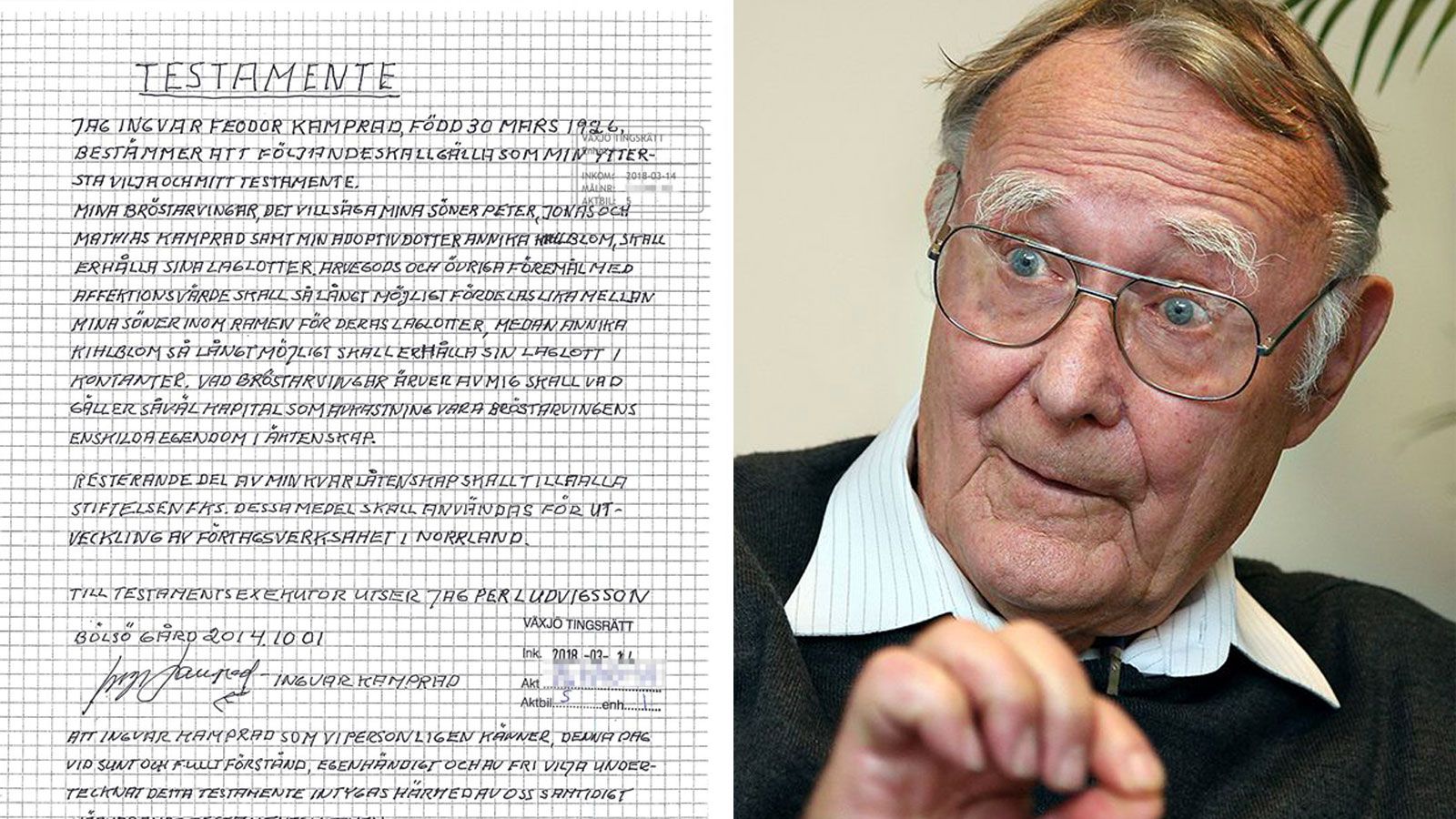 Ingvar Kamprad's fortune is to be shared between the children and the family foundation.
In the handwritten testament, which became public today, the Ikea founder states that the Foundation's contribution will go north.
"These funds will be used for the development of business activities in Norrland," writes Kamprad.
The test was established at Ingvar Kamprad's farm in Liatorp in Älmhults municipality on October 1, 2014. With bold letters on a checkered paper, the Ikea founder finds his fortune to be shared between the four children and the Kamprads Foundation.
"I Ingvar Feodor Kamprad, born March 30, 1926, decides that the following will apply as my ultimate will and my will, "writes Kamprad.
" My chest wings, that is, my sons Peter, Jonas and Mathias Kamprad and my adoptive daughter Annika Kihlbom, will receive their teamlots. Arvods and other objects with affectionate value shall as far as possible be distributed equally between my sons in the framework of their team-daughter, while Annika Kihlbom will, as far as possible, receive his team allowance in cash. "
Stöttar Norrland
The writings in the will mean that the children get one eighth of the legacy was. On Tuesday, it became known that the second part goes to the family foundation.
"Remaining part of my retirement is due to the foundation FKS (f am Kampen Foundation, reds. Anm ). These funds will be used for the development of business activities in Norrland, "writes Ingvar Kamprad in the testament.
The foundation was founded in 2011 with a donation from Kamprad's family of SEK 950 million. According to Dagens Nyheter, the organization now has assets worth around SEK 4.7 billion.
The Ikea founder was very committed to creating good conditions for living and working in the northern parts of the country.
– His heart burned for the Swedish countryside but also for the little man. He had many thoughts about developing Swedish care for the elderly and be sure that there must be someone who holds the elderly in his hand, "said the friend and rural minister Sven-Erik Bucht in an interview with SVT after Kamprad's death.
Was one of the richest in the world
At his death Ingvar Kamprad was ranked as the eighth richest person in the world of Bloomberg. The economy estimated its wealth to around SEK 470 billion.
However, the amount of money that the children and the foundation can receive is still unknown. The boupp drawing had not yet been submitted to the Swedish Tax Agency on Wednesday.
Ingvar Kamprad died on January 27 this year at his farm in Liatorp. The friend Bertil Torekull has previously told Aftonbladet that he died in the suites of a pneumonia, which he incurred after a flight. [19659000] Ingvar Kamprad became 91 years old.