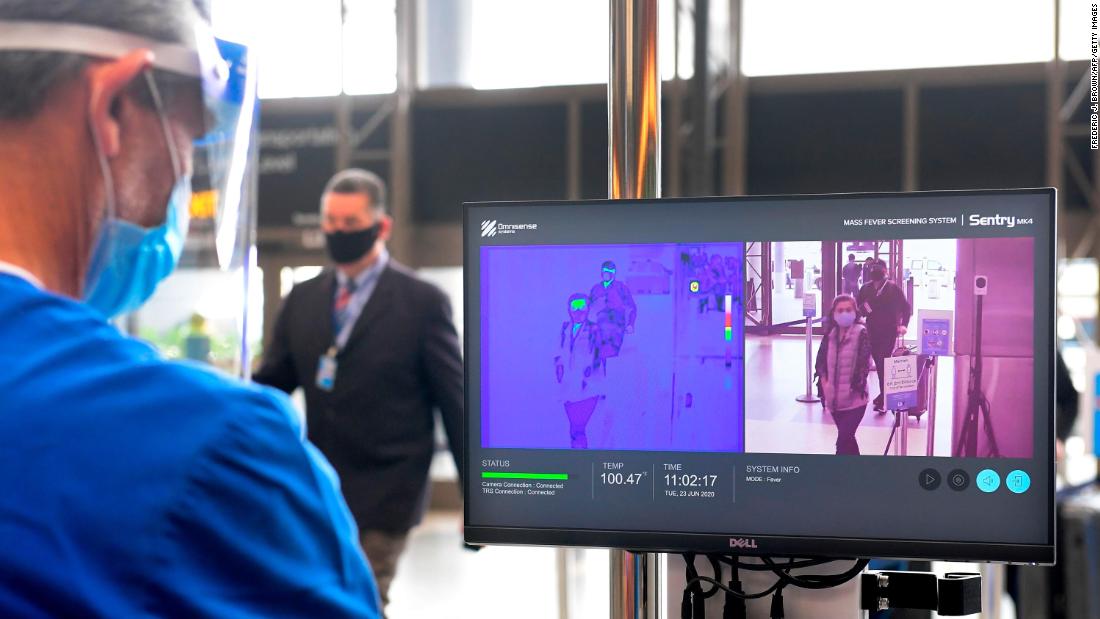 This study, published last Thursday in the Journal of Medical Internet Research, showed a statistically significant increase in clinic and hospital visits by patients reporting respiratory-related illnesses at the beginning of the week of 22 December.
Researchers noticed the trend through nearly 10 million medical records from the UCLA Health System, which included three hospitals and 180 clinics.
In China, the first known case of Kovid-19 was in a person who developed symptoms according to a Lancet study on 1 December. This means that the patient may be exposed to the disease as early as November. A handful of ongoing studies have found some evidence that the virus may have been circulating in Europe in or before December.
Dr. working on new study Joan Elmore said she began looking through records at UCLA through her clinic's patient portal in March after receiving multiple emails from anxious patients. Patients kept asking if they might have a cough Kovid-19 in January. The UCLA physician, who also trained as an epidemiologist, said she was curious, so she began the study.
Elmore and his colleagues looked at the spike in respiratory cases by searching the area in medical records that listed why someone came to the clinic and discovered the symptom "cough". He looked at the record for the month of December 2019 through February 2020 and compared his findings to the record of five prior years.
Elmore said, "With outpatients, I saw a 50% increase in the percentage of patients complaining of cough. This turned out to be an average of more than 1,000 additional patients than we would normally see."
The number of patients for ER for respiratory complaints, as well as the number of people hospitalized with acute respiratory failure between December 2019 and February 2020, showed a similar increase compared to the previous five-year record. The trial began in the last week of December.
"Some of these cases could have been caused by the flu, some may be due to other causes, but it is notable to see these types of high numbers in the outpatient setting as well," Elmore said.
Although scientists may never know for sure that these additional patients were early Kovid-19 cases, Elmore does not think it is out of the question.
"Our world is so interlinked. There are about 500 flights from China to LAX in a month, so you can easily take one or two cases from that trip and it can reach the community," Elmore said.
Elmore hopes that this research suggests that real-time data collected on such diseases can potentially identify public health experts and track emerging outbreaks and potentially slow or even disease May prevent the spread of.
Dr. Claudia Hoyen, an infectious disease specialist at University Hospitals Cleveland Medical Center who has not worked on the study, also believes that it is possible that Kovid-19 may occur in the US much sooner than previously realized.
"We know of a few other studies and now based on this one, I think it could definitely be something," Hoyen said. "This is definitely something that needs to be considered."
Hoyen said the major clue to this study for him was that it pointed to the possibility that such data could exacerbate some of the diseases CDC is already doing for diseases such as flu.
"Is there a way to mine data in other ways that can pick up on some other symptoms that were present with people, so we had a better understanding of the disease?" Hoyen asked. "Then maybe instead of a month, like when we were seeing a lot of patients complaining of loss of taste and smell, if we analyzed the data beforehand, we could pick up on those kinds of symptoms very soon Huh."
Christian Anderson, a professor in the Department of Immunology and Microbiology at Scripps Research, believes that Kovid-19 has been blamed for the increase in the number of patients with respiratory diseases in California in late December.
"We know from the SARS-CoV-2 genetic data that the pandemic originated in late November / early December in China, so there was no way for the virus to spread widely in December 2019. From the same genetic data we know The widespread transmission does not begin in the United States until (about) February 2020, "Anderson said in an email.
"The paper is showing sharp signs and the likelihood of flu or other respiratory illnesses in the hospital is increasing," Anderson wrote. "Again, genomic data clearly shows that SARS-CoV-2 was not widely broadcast in the United States in December last year – there may be some sporadic cases, but it certainly is and will not be. . 'Additional Hospitalization'.
Dr. Jane Marrajo, an infectious disease specialist who was not involved in the study, disagrees. She thinks the findings, especially since the study captures outpatient records, are persuasive.
"If we had more accurate genetic phylogenetic data of the spread of the virus, I think it might be very interesting, but in the absence of it, you can do a lot of work citing some preexisting patterns from these types of analyzes". Marrazzo is the director of the Division of Infectious Diseases at the University of Alabama School of Medicine in Birmingham. "In this way primary care data is useful and we really need to look at it."
"When you compare these numbers to previous years, there is no good explanation in my mind as to why all of a sudden you will see a dramatic increase in records except Kovid," Marrajo said. "Just the strength of the number of information, when you include the outpatient, it shows a pattern."
Neither the CDC nor WHO reacted to CNN's request from the perspective of research or on the official timeline of the epidemic.
Marrazzo said that he and infectious disease colleagues around the country are discussing how often they were seeing patients who we now know as Kovid-19 symptoms before the official deadline. Due to the rapid restrictions placed for testing early in the CDC epidemic, it was difficult to confirm whether the respiratory cases they were seeing were due to coronovirus.
"I have no doubt that we all remember cases in the early part of the epidemic," Marrajo said. "This study provides an interesting window into what is really happening."
    .