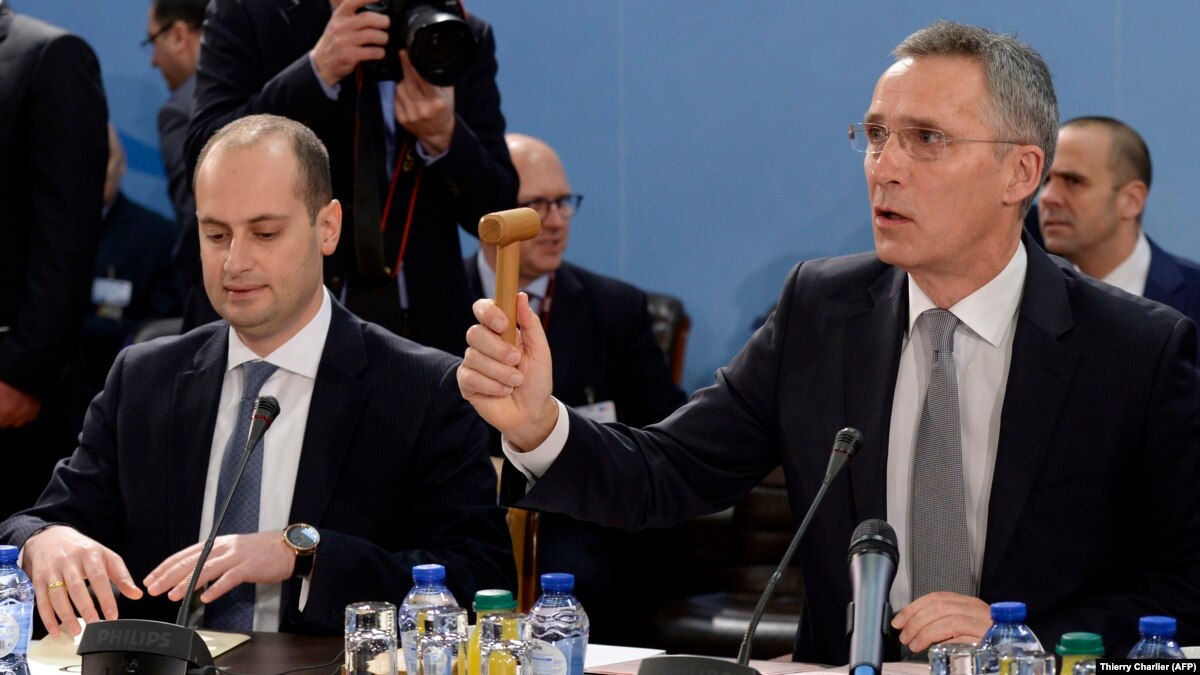 BRUSSELS – NATO Secretary General Jens Stoltenberg has expressed the "strong commitment" of the alliance with the security of Georgia and has asked Russia to withdraw its forces from the separatist regions of the Caucasus.
Stoltenberg spoke with journalists in Brussels on December 6: the second and last day of a meeting of NATO foreign ministers.
The meeting was attended by the Secretary of State of the United States Rex Tillerson, who also emphasized the support of NATO to Georgia.
"We talked about NATO's strong commitment to Georgia's security and territorial integrity and reviewed the many ways in which Georgia and the alliance are working together," Stoltenberg said.
"We remain concerned about the deepening of Russia's relations with the Georgian regions of Abkhazia and South Ossetia, to end its recognition of these regions and withdraw their forces from Georgian territory," he added.
South Ossetia and Abkhazia are supported by Russian regions that have declared their independence from Georgia. Russia recognized the regions as independent states after a short war with Tbilisi in August 2008. Only a few countries followed the example of Russia.
Georgia, which has expressed hopes of joining NATO, and Russia broke off diplomatic relations after the 2008 war. Moscow maintains troops in both regions in what Georgia considers an occupation.
Stoltenberg said that the NATO ministers also discussed "Georgia's successful efforts to modernize its armed forces" and that the alliance is "fully committed" to providing Tbilisi with the necessary advice and tools to move towards eventual membership.
"Our armed forces are increasingly able to operate together, and planning is already underway for the joint NATO-Georgia 2019 military exercise," said the secretary-general.
"Our joint training and assessment center in Georgia is operational, and the School of Defense Institutions funded by NATO in Georgia has already trained about a thousand soldiers on issues as diverse as the rule of law in armed conflict , hybrid wars and cybersecurity, "he added. .
"NATO continues to benefit from Georgia's advice on security issues related to the Black Sea, and we are engaged in an increasingly close dialogue on the Black Sea, egion and cooperation in the region."
A At the end of July, the vice president of EE. UU., Mike Pence, visited Georgia on a scheduled trip to correspond with the Noble Partner 2017 military exercises in which 1,600 US soldiers, 800 Georgians and other allies participated. a demonstration of defiance to Moscow.
Stoltenberg cited work in other areas of cooperation, such as energy security, elimination of explosive devices, cyber defense, intelligence, secure communications and promoting the role of women serving in the Georgian armed forces. 19659002] "In other words, NATO's support for Georgia is concrete and is making a real difference," he said.
Meanwhile, Tillerson praised what he called "a productive discussion" with the Georgian Foreign Minister Mikheil Janelidze.
"Georgia is a major contributor to our joint efforts in Afghanistan, in fact, they are the largest per capita of any contributing nation, and we strongly support Georgia's aspirations to become a NATO member," he told reporters. Secretary of State of the United States.
With reports by Rikard Jozwiak in Brussels
Source link