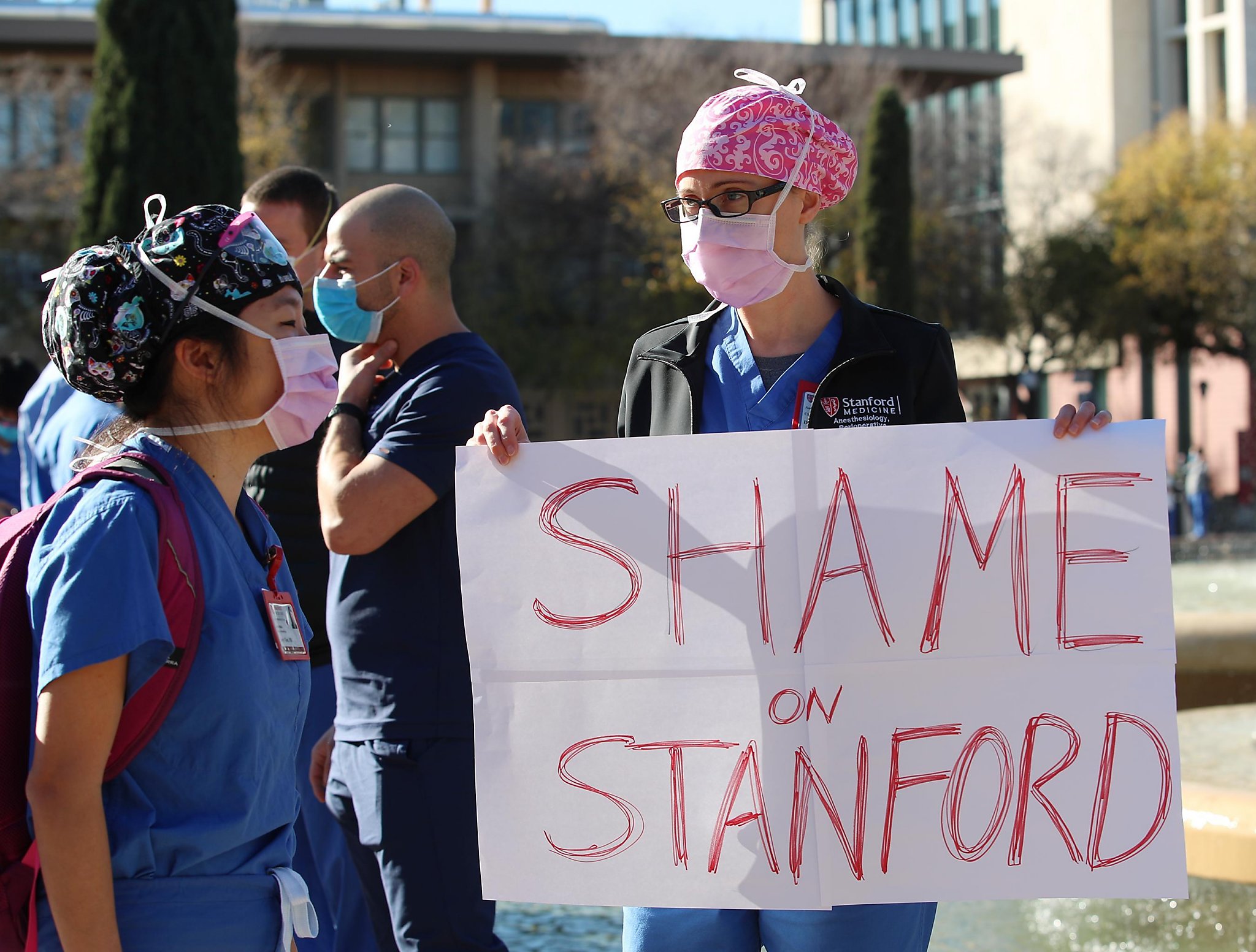 Doctors at Stanford Medical Center staged a raucous protest on Friday, accusing the university of prioritizing the wrong health care workers to overtake residents and peers to receive the Corovirus vaccine that directly relates to COVID-19 patients Work together.
The scene in Palo Alto, which began indoors and then extended to the plaza in front of the facility, was loud enough to prompt protesters that "front-line workers need protection" and "health care heroes, the line's behind." "
"I'm here because we were promised, many times, that we would be vaccinated in the first wave," Dr. Said Daniel Hernández, an emergency room resident marching in protest. "They are volunteering us at COVID ICU, without additional pay to cover their work."
The crowd quieted when members of the hospital's leadership stepped in to address them. Stanford Health President and CEO David Entwistle told the crowd, "We'll do it right. We know this is wrong. "
The protesters sent a letter to top Stanford officials arguing that the first-round vaccination involved only seven residents and peers, with 5,000 injections starting Friday. On-site protesters told The Chronicle that among those receiving the vaccine were orthopedic surgeons, outpatient nurses and a dermatologist.
"There are still no plans to vaccinate the remaining 1,300+ residents and fellows, including directly treating COVID-19 patients," the letter stated. "It is important for us to make it clear that at this time, residents are hurt, frustrated, frustrated, angry, and feel a deep sense of mistrust towards the hospital administration given the sacrifices and promises we have made. Us. "
The letter also stated that many residents know senior faculty, who have worked from home since the onset of the epidemic, "with no responsibilities to the person who was selected for vaccination."
The protesters allege that the Stanford leadership pointed to an error in the algorithm intended to ensure equal distribution of the vaccine to older health care workers and employees, but the error came to light Tuesday and officials did not modify the allocation Decided to do.
.@Stanford #doctors And #Healthcare Workers opposed Stanford's decision to vaccinate dermatologists, commentators before radical residents, peers, and nurses. pic.twitter.com/S3BxzWLTLi

– Nnet Asimov (@NanetteAsimov) December 18, 2020
Psychiatrist Dr. Prithvi Hassari said in a Twitter post, "Despite working 80+ hours per week in the hospital, residents and fellows were not necessarily involved in the first round of the vaccine." Health care workers are raising voice for similar complaints. Internal Medicine resident Christine Santiago said, "Inequalities in vaccine delivery can be seen on a microscopic level in Kefordford today. I am concerned that the situation we are seeing at Stanford is the population of vaccine delivery for our production communities." Is a precursor to level disparities. "
In the protests, another member of Stanford management, Drs. Larry Katzalson told the crowd, "Leadership and department heads are stepping back and making sure none of us get vaccinated until you get vaccinated."
A pediatrician at Stanford, Drs. Emma Squier said, "I think it's a wonderful feeling. But it makes us lose confidence. I'm cautiously optimistic."
Stanford Health Care spokeswoman Lisa Kim told The Chronicle, "Our intention was to create an ethical and equitable plan for the entire organization, and there were flaws in that plan that we are actively working to repair. We have There should be more information today. "
This is a developing story. Check back for updates.
Chronicle staff writer Edin Waziri contributed to this report.
Nanette Asimov is a San Francisco Chronicle staff writer. E-mail: [email protected] Twitter: @NanetteAsimov