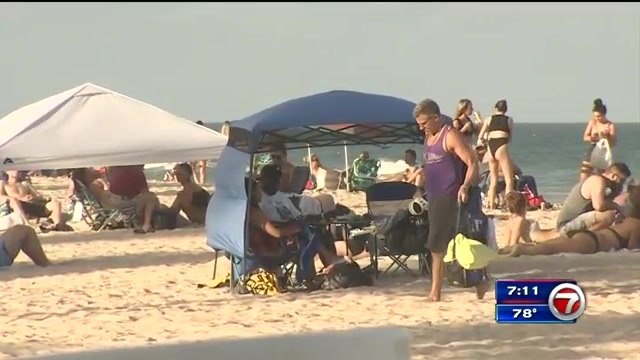 FORT LAUDERDALE, FLA. (WSVN) – The first weekend of spring break in 2021 has brought huge crowds to South Florida beaches, along with concerns about the possibility of a coronavirus outbreak.
In the 1960s and 1970s, Fort Lauderdale Beach was known as the place where the kids are. On Saturday, it seemed like everyone else came too.
"Just enjoying the weather, getting away from the cold," said a bather.
Revelers traveling in an SUV cheered and waved at 7News cameras as they drove near Fort Lauderdale Beach.
Spring break often brings stress to cities like Fort Lauderdale and Miami Beach, but this year concerns about COVID-19 are added.
Local leaders said they welcome visitors to their beaches, but stressed that they must abide by the rules.
"We understand that there is a lot of anguish about going out and enjoying our beautiful weather and our beautiful beach, but we are only asking for the cooperation of our college students who decide to come to Fort Lauderdale," said Fort Lauderdale Police Assistant Interim Cheif Frank Sousa.
Alcohol is not allowed on the beach, and Uber or Lyft is not allowed along A1A, which was packed Saturday afternoon. There are electronic signs to remind bathers to maintain their social distancing.
Fort Lauderdale police officers have been visible throughout the weekend.
Local businesses echoed calls from leaders for customers to adhere to safety regulations.
"Today we were very busy all day," said Fabio Vaccarella, chef and owner of Casa Del Mare Ristorante on North Fort Lauderdale Beach Boulevard.
Vaccarella said he has been trying to keep up with the crowd and enforce the rules at his outdoor restaurant.
"The reaction is 80% good and some people, they really don't believe in wearing face masks and they don't respect it sometimes," he said, "We try to do our best to make everyone happy."
Wearing of masks has been sporadic at times among spring breakers.
"Hotels, yes. Restaurants, yes, but practically, bars and breweries don't seem to care, and I feel like they should implement it more, "said Kyle Heusbourg, who is visiting from Minnesota.
In Miami Beach, city leaders also hope to keep things as quiet as possible, with the beach open from 7 a.m. to 7 p.m. and sidewalk cafes closing at midnight.
"I think we are looking forward to a bigger spring break than usual," said Miami Beach Mayor Dan Gelber.
There is also a greater police presence in South Beach.
Officials in Broward and Miami-Dade counties urge revelers to party responsibly or risk arrest.
"I already had COVID so I'm not worried about catching it," said a Fort Lauderdale Beach reveler.
"COVID-19? I think I've had it, I think," said another bather. "Yes, I'm still alive."
Broward County officials debated implementing a three-week curfew but decided not to.
However, Fort Lauderdale officials said they will not hesitate to shut down a business temporarily if found to be breaking the rules.
Copyright 2021 Sunbeam Television Corp. All rights reserved. This material may not be published, broadcast, rewritten or redistributed.