[ad_1]
Pets are great, but in our modern hectic lives it's increasingly difficult to give them the love and attention they deserve without paying someone else to do it. But what if you never needed to feed them, walk them or worry about them tearing up the house? Maybe that's why Sony is bringing its robotic dog Aibo back from the dead.
The Japanese electronics firm, once a pioneer in home robotics, announced that after more than a decade its robot canine pal will return to shelves with artificial intelligence-infused upgrades.
Aibo is an ivory-white, puppy-sized, 30 centimetre plastic-covered hound with flapping black ears and a wagging tail. It is billed as a pet that behaves like a real dog, except it uses AI, not canine instinct, to learn and interact with its owner and surroundings. The upgraded Aibo is now packed with an array of sensors, cameras, microphones and internet connectivity, as well as far more advanced AI backed by cloud computing to develop the dog's personality.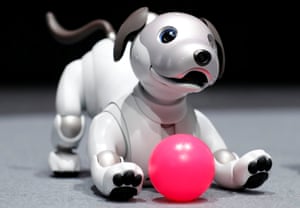 It has OLED screens for eyes for the display of a diverse range of emotions and a camera in the nose that can snap photos. But a bigger change will be its improved actuator technology that allows it to move more smoothly and naturally like a real dog. Aibo will be able to recognise its owner and run over to them, detect smiles and words of praise, and learn which actions please its owner.
Aibo will go on sale in January for 198,000 yen (£1,306) in Japan, with foreign sales being evaluated.
The announcement comes a day after Sony confirmed its renaissance by forecasting its highest-ever profit this financial year, sending its shares surging to a nine-year high, and is part of the company's attempts to rekindle its pioneering prowess after years of restructuring.
Sony pioneered entertainment robots with Aibo in June 1999, selling out its initial 3,000 batch in just 20 minutes and shipping around 150,000 dogs in Japan before ceasing production seven years later, when its core consumer electronics business struggled in price wars with emerging Asian rivals.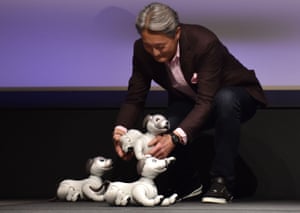 "It was a difficult decision to stop the project in 2006, but we continued development in AI and robotics," chief executive Kazuo Hirai said at a news briefing. "I asked our engineers a year and a half ago to develop Aibo because I strongly believe robots capable of building loving relationships with people help realise Sony's mission (to inspire)."
Sony said it aims to sell at least as many new Aibo as the original, without giving a timeframe, and that it sees AI as a key pillar of future growth, hoping to catch up with the likes of Alphabet's Google, Apple and Facebook.
In 2016, it invested an undisclosed sum in US-based Cogitai, an AI startup focusing on technology that allows machines to learn continually and autonomously from interaction in the real world. Sony also established a venture capital fund to build partnerships with researchers and startup companies in AI and robotics.
Earlier this year, Sony's education arm launched its first product, Koov, which aims to teach children coding through building and programming robots using plastic blocks.
[ad_2]
Source link