Sigma has announced the fp L, a 61 megapixel L-mount full-frame camera that the company claims is the "world's smallest and lightest single-lens mirrorless camera in the world." It shares the same dimensions as the original Sigma fp, but makes notable improvements in resolution and performance that combine to make it much more attractive.
Sigma notes that the fp L has four main key features: 61-megapixel resolution, built-in "crop zoom," hybrid autofocus, and unlimited power supply via USB-C.
The Sigma fp L features a Bayer sensor with approximately 61 effective megapixels, the most of any Sigma camera, which equates to photos with a resolution of 9,520 x 6,328 pixels. Sigma also says that thanks to his work with the Foveon sensors, he was able to pack the fp L with incredible resolving power, rich colors, and nuanced color gradients "due to the unique nature of the X3 sensor." This camera has a low pass filter to reduce moiré to minimal levels and to add that it was an active choice the company made as Sigma seems to believe that the benefits outweigh the disadvantages as the camera has so many megapixels to work with.
Sigma says that thanks to that large amount of resolution, it was able to include what the company calls Crop Zoom. This gives the fp L a zoom function that works in both still and movie mode and can record in Full HD quality even at a maximum zoom of 5x. Sigma claims that because this is done by cropping without digital enhancement, there is no loss of image quality. To make this process more intuitive, you can pinch to zoom on the rear LCD touch screen.
One of the main complaints about the L-Mount cameras has been the lack of phase detection autofocus. That changes with the L fp, as Sigma's latest features what it describes as a "high-precision" contrast-based autofocus combined with phase-detection autofocus on the image plane. This hybrid will enable smooth, fast and accurate autofocus to track moving subjects in both still and video capture.
Finally, the Sigma fp L supports USB charging while the camera is on. The camera can be used continuously as long as it is connected to power, be it a traditional wall socket or a mobile battery. Sigma also says that it can be used as a webcam, as it can be powered directly from a PC.
With these updates, Sigma is positioning the fp L as a pocket-sized, scalable hybrid capture device that is capable of taking great high-quality photos as well as reliable video.
The FP L also supports custom camera settings that can be saved as a QR code, allowing multiple users to share custom settings with each other, or jump to any FP L (rented or otherwise) and immediately upload personal settings to him quickly and easily. easy familiarity.
Sigma has also included two new color modes (which can work in photo or video mode) called "Powder Blue" and "Duotone".
"Powder Blue is a color mode with a bright, clear feel, with a refreshing blue color, while Duotone converts the colors of an image into a striking two-color gradient," the company writes. "With the addition of these two new modes to the wide variety of Sigma color modes that were originally included in the fp series, there are now a total of 15 color modes to choose from."
It should be noted that Sigma has chosen to keep the fully electronic shutter at fp L, which was a concern with the original fp due to the significant roller shutter. With many more megapixels to work with now, it will be interesting to see if this issue has been addressed.
The fp L can record CinemaDNG in 8-bit, 10-bit, and 12-bit internally, as well as MOV H.264 in both All-I and GOP. TI can shoot in 4K up to 30 frames per second and in Full HD 1080p up to 120 frames per second (with 1.67x auto zoom applied at both 100fps and 120fps). The camera can record continuously for up to two hours and records to both portable SD cards and SSDs.
Sigma notes that the additional frame rates commonly used in movie making will be available at a later date via the firmware update, but did not specify this.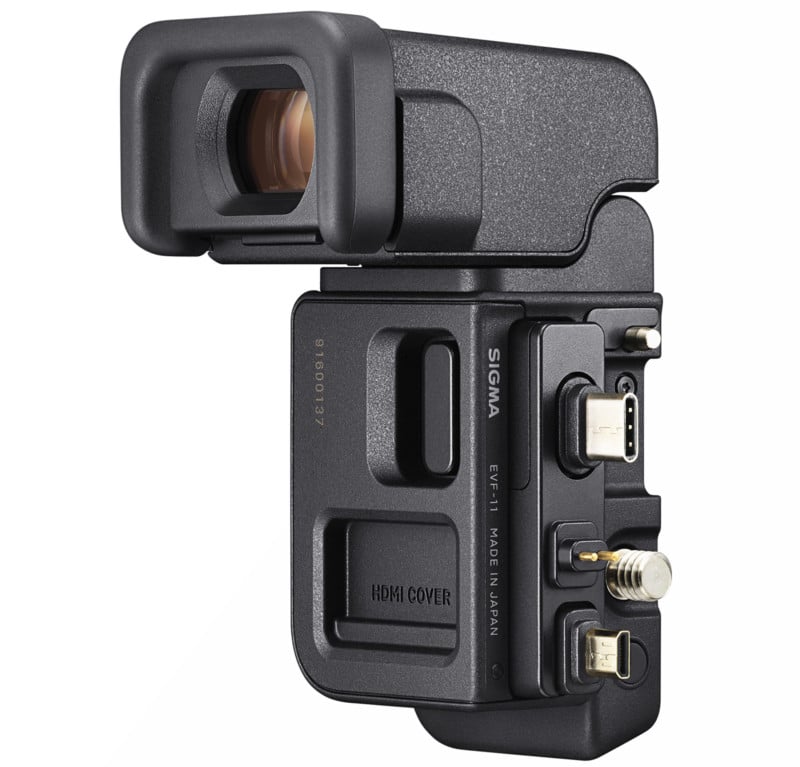 Finally, Sigma is manufacturing an external electronic viewfinder, the EVF-11, an optional pairing with the fp L. The EVF-11 is exclusively designed for use with the fp L at launch (although it will be compatible with the original fp via firmware update at a later date) and adds a 0.5-inch 3.68m-dot OLED panel viewfinder that connects to the camera via the side ports. The viewfinder has a 90 degree tilt function, approximately 100% viewfinder coverage, audio monitoring capability, and allows external recording to a portable SSD via the dedicated USB-C port located on the side of the viewfinder. The EVF-11 is powered by the camera and cannot charge the camera via USB. If you plan to use the unlimited energy delivery mentioned above, you will have to remove the visor to do so.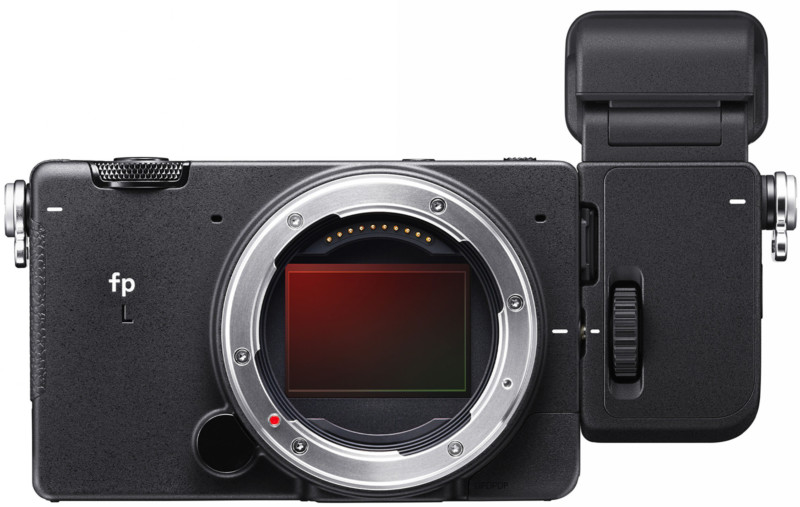 "The EVF-11 has a crosshair of approximately 21mm to ensure a full field of view without a dark vignette around the viewfinder," Sigma writes. "This helps photographers see the entire scene with complete clarity, even with glasses. It has a wide diopter adjustment range of -4.0 to +3.0 dpt and comes with two different sized eyepieces to suit your preferences. The EVF is designed to offer the best visibility, ease of use and comfort for photographers, giving them a complete view of the subject in perfect detail ".
The Sigma fp L will be available for $ 2,499 and may come bundled with the EVF-11 scope at launch for $ 2,999. The viewfinder can also be purchased separately for $ 699. Both it and the camera will be available in mid-April.