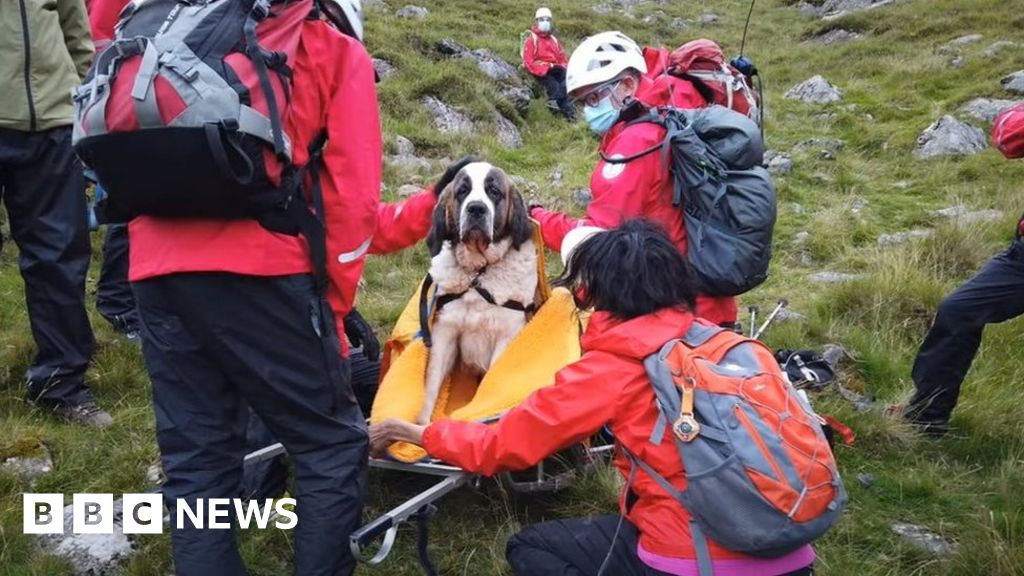 Owner St. Bernard of the 8th 9lb (55 kg) has praised the mountain rescue team for carrying their exhausted dog for five hours from England's highest mountain.
It took members of the Waddell Mountain Rescue Team (MRT) two hours to arrive at Daisy's aid on Schaffel Pike on Friday.
Owner Sue Hall said the 16-strong team to help Daisy was "fantastic", too tired to walk.
After several hours the team descended down the hill just before the weather worsened.
The St. Bernards traditionally run mercy missions – they were originally bred to save people in the Italian and Swiss Alps.
Mrs Hall, who is back home in Lincolnshire after a visit to the Lake District family, said: "She was doing what she is doing right now. Lying down, but very quiet about taking a nap .
"Although it was time and thinking that the weather might change we thought it best to call the rescue service."
Friday's operation, which included 16 members of the MRT, took five hours as rescue teams moved Daisy onto a stretcher over obstacles including a waterfall.
Richard Warren, who had been volunteering for 36 years, said: "The team saves canine casualties around a dozen times each year but this was the first time the St. Bernard breed has been rescued by the team.
"Daisy is a four-year-old woman, but still a huge dog, 55kgs (8st 9lb). She was tired, but a fantastic dog.
"Some may ask: 'Why save the dog?' But our mission is to save lives and mitigate the crisis. You cannot leave a dog on a mountain. "
Mrs Hall said: "It was a beautiful defense. Daisy looked so comfortable – the team was fantastic and just as sympathetic. There are not enough words to thank them."
Follow BBC North East and Cumbria Twitter, Facebook And Instagram. Send your story ideas to [email protected].