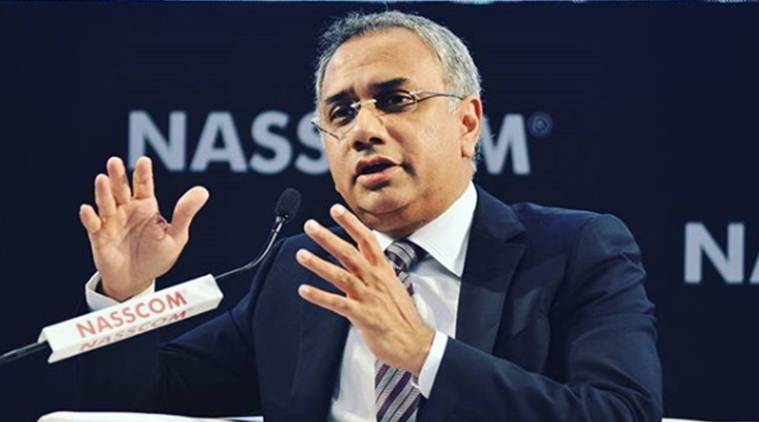 [ad_1]
Written by Johnson T A
| Bengaluru |

Updated: December 2, 2017 at 5:37 p.m.
Salil S Parekh will take over as CEO and general manager Infosys Ltd announced appointment on Saturday by Salil S Parekh, former senior executive of global IT services company Capgemini, new full-time CEO and CEO (CEO & MD).
The search for a new CEO at Infosys Ltd was necessary due to the premature departure of former CEO Vishal Sikka in August of this year, following differences with a group of founding investors led by the iconic founder of the company NR Narayana Murthy.
After the departure of Sikka, Infosys began looking for a new CEO while bringing former CEO Nandan Nilekani as executive chairman of the company's reconstituted board. and appointing Praveen Rao as the interim CEO. With the appointment of Parekh, Rao will be the COO again, the company said on Saturday.
Salil Parekh will badume the position of CEO and MD of the company on January 2, 2018.
ALSO READ | Who is Salil S Parekh?
"We are delighted that Salil is a CEO and MD of Infosys, has nearly three decades of global experience in the IT services industry, has a strong track record in executing business changes and in the Successful procurement management The Board believes that he is the right person to lead Infosys in this transformative moment of our industry, "said on Saturday in an official statement Nandan Nilekani, chairman of the board of directors of Infosys Ltd.
" Era the best choice of a group of highly qualified candidates With its strong track record and extensive experience, we believe we have the right person to lead Infosys, "said Kiran Mazumdar Shaw, chairman of the Nominating and Compensation Committee at the Infosys board.
Previously, Parekh was a member of the Executive Board of the Group in Capgemini. Former student of IIT Bombay, he has master's degrees in computer science and mechanical engineering from Cornell University, in the United States.
Meanwhile, Capgemini, a global IT services firm based in Paris, announced the departure of Parekh on Saturday. "Capgemini and Salil Parekh have agreed to their departure, Salil has resigned his responsibilities within the Group and his managerial transition is already underway, his departure will take effect on January 1," the company said. "Salil contributed in particular to the group's development in India and the US. UU., "Said Capgemini Group President and CEO Paul Hermellin.
Parekh joined Capgemini in 2000 as a result of the acquisition of Ernst and Young's consulting division and held several leadership positions in the group. [19659014] For all the latest business news, download the Indian Express application
[ad_2]
Source link