[ad_1]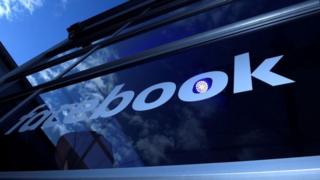 Facebook has said as many as 126 million American users may have seen content uploaded by Russia-based operatives over the past two years.
The social networking site said about 80,000 posts were produced before and after the 2016 presidential election.
Most of the posts focused on divisive social and political messages.
Facebook released the figures ahead of a Senate hearing where it – together with Twitter and Google – will detail Russia's impact on the popular sites.
Russia has repeatedly denied allegations that it attempted to influence the last US presidential election, in which Donald Trump beat Hillary Clinton.
In a separate major development on Monday, an investigation by independent counsel Robert Mueller into possible collusion between the Trump campaign and Russia produced its first charges against three former aides, and a guilty plea.
President Trump has dismissed allegations of collusion with Moscow, and has repeatedly called on Mrs Clinton to be investigated.
The latest figures released by Facebook have been seen by Reuters news agency and the Washington Post newspaper.
The 80,000 posts were published between June 2015 and August 2017.
Facebook said they were posted by a Russian company linked to the Kremlin.
"These actions run counter to Facebook's mission of building community and everything we stand for," wrote Facebook's general counsel Colin Stretch, Reuters reports.
"And we are determined to do everything we can to address this new threat."
---
Key recent developments:
Nov 2016: Facebook founder Mark Zuckerberg says "the idea that fake news on Facebook influenced the (US) election in any way is a pretty crazy idea"
Nov 2016: Zuckerberg says only a "small amount" of content on Facebook is hoax news
Aug 2017: Facebook says it will fight fake news by sending more suspected hoax stories to fact-checkers and publishing their findings online
Sept 2017: The US Senate Intelligence Committee criticises Twitter for offering an "inadequate" appearance in briefings on alleged Russian interference
Oct 2017: Google finds evidence that Russian agents spent tens of thousands of dollars on ads in a bid to sway the election, media reports say
Oct 2017: Facebook says it will provide details of more than 3,000 adverts it says were bought in Russia around the time of the election
Oct 2017: Twitter bans Russia's RT and Sputnik media outlets from buy advertising amid fears they attempted to interfere in the election
---
On Monday, Google also revealed that Russian trolls uploaded more than 1,000 videos on YouTube on 18 different channels, according to the Washington Post.
Meanwhile, Twitter found and suspended all 2,752 accounts that it had tracked to Russia-based Internet Research Agency, a source familiar with the company's written testimony was quoted as saying by Reuters.
---
Getting short shrift
Dave Lee, BBC technology reporter, San Francisco
It's quite staggering how this problem, dismissed just over a year ago by Mark Zuckerberg as "crazy" talk, has exploded into a crisis at the world's biggest social network.
Apparently not learning from that mistake, we understand that the thrust of Facebook's message to various government committees this week will be that just one in 23,000 or so messages shared on the network were from the Russians.
It should not surprise Facebook if such a statement – an engineer's defence, you might say – gets short shrift from a panel already unsatisfied with some of what it's heard from the companies so far.
You won't see Mark Zuckerberg, Twitter CEO Jack Dorsey or Google's executives answering questions this week. That job will be left up to their lawyers.
You wonder how long tech's great and powerful can get away with not personally standing up for the companies they built.
Follow Dave on Twitter @DaveLeeBBC
---
Meanwhile, the White House on Monday sought to downplay the arrest of President Trump's former campaign manager, Paul Manafort, and aide Rick Gates on money-laundering charges unrelated to the 2016 campaign.
Another of Mr Trump's campaign advisers, George Papadopoulos, pleaded guilty to lying to the FBI over his contacts with Russia in the first such indictments by Robert Mueller's special counsel investigating alleged links between his campaign and Moscow.
White House spokeswoman Sarah Sanders said Mr Papadopoulos had been working in a ""volunteer position" and "no activity was done in an official capacity".
Analysts say Mr Papadopoulos's case has the potential to damage the US leader, and that he may have been helping Mr Mueller's inquiries since his arrest in July – which was not made public until Monday.
Why Papadopoulos' arrest is key to the puzzle
Manafort: The man who helped Trump win
---
What are the charges in Mr Mueller's investigation?
Former Trump campaign manager Paul Manafort and business badociate Rick Gates both deny 12 charges, including conspiracy to launder money and conspiracy against the US
They are alleged to have hidden millions of dollars in earnings acquired from Ukrainian politician Viktor Yanukovych and his pro-Russia party
Both Mr Manafort and Mr Gates are currently under house arrest, on bail of $10m and $5m respectively
Former foreign policy adviser George Papadopoulos pleaded guilty to lying to the FBI about the timing of meetings with alleged go-betweens for Russia
He admitted to falsely claiming he had met two figures, including a London-based professor who was offering "dirt" on Hillary Clinton, before joining the Trump campaign when in fact he met them afterwards
Russia-Trump: Who's who in the drama to end all dramas?
---


[ad_2]
Source link