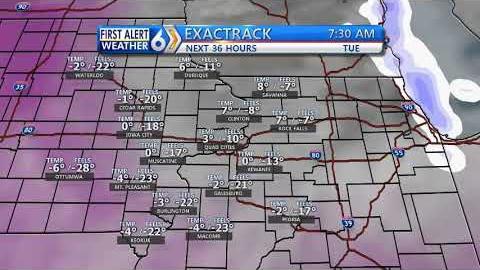 Weather news dominates Rick's Six at this Martin Luther King Jr. party on Monday. Here are the details of the National Meteorological Service.
1. Winter weather advice until noon
A winter weather warning is valid for the Quad-City region until noon today, as a fast-moving storm system is impacting the area with snow totals of 1 to 2 inches so far. Another half inch to 1 inch more snow is possible before finishing this morning. Total snow accumulations of 2 to 3 inches are expected with isolated totals of 4 inches by the time the snow ends late in the morning.
A northwest wind gusting at around 35 mph will sometimes produce blizzard and snow drift in open areas, continuing Monday morning.
Cold air will pass to the area behind the front and produce chills from 15 to 25 below zero. The coldest chills are expected on Monday night until Tuesday morning.
There will be an irregular blizzard between 10 a.m. and noon. The skies will be mostly cloudy and windy with a temperature that will fall around 3 degrees by 5 p.m. The wind-cold values ​​will be as low as -15 degrees, since a northwest wind between 15 and 20 mph will slow down to 25 mph.
Monday evening: there is a 20 percent chance of snow before 3 a.m. The skies will be mostly cloudy with a low around 1 degree and values ​​of wind chill to -20 degrees. The west winds between 10 to 15 mph will rake up to 25 mph.
On Tuesday it will be cloudy with a maximum near 17 degrees and an overnight low around around 0. Wind chill values ​​will be as low as -10 degrees. [19659006] 3. Cold wind warning from 5 p.m. until noon, Tuesday
After the storm system moves rapidly through the region, a northwest wind gusting occasionally to around 35 mph will produce snow blowing and moving in open areas.
Bitter air will continue to move in the area behind the front, and will produce chills from 15 to 25 below zero. The coolest cold winds are expected Tuesday night through Tuesday morning.
Cold chills will cause freezing in only 30 minutes to the exposed skin.
Be sure to wear a hat and gloves.
4. Interpretive Center of MLK inches forward in Davenport
Plans advance on 5th and Brady streets of Davenport for an interpretation center that chronicles the civil rights movement and a commemorative plaza honoring the legacy of assassinated civil rights leader Dr. Martin Luther King Jr.
The interpretation center the physical space is already built, and the group that leads the remaining work -development of content and programming for the center and the construction of the plaza- has scheduled its first grand gala gathering of funds for January 27 at Modern Woodmen Park, Davenport. Read more.
5. Two Arrested in Long Grove Methamphetamine Bust
A man and a woman from Long Grove were arrested on Friday after the agents discovered three methamphetamine labs from a single container, materials for the manufacture of methamphetamine and paraphernalia, and a shotgun in their house. Read more.
6. Preparation basketball: Coss ballot
The fifth Iowa high school basketball poll associated with the season is scheduled to be released this afternoon. See how Matt Coss, sports editor of Quad-City Times, voted.
Source link