[ad_1]
11/06/17 | International Solidarity Movement | al-Khalil Team
Yesterday, in al Khalil (Hebron), the Palestinian group Youth Against Settlements held an occasion to mark the 100th yr anniversary of the Balfour Declaration. The Balfour Declaration is considered as a foundational doc of the Israeli state's ethnic cleaning of Palestine. Despite guarantees to the Palestinian inhabitants, the British authorities, in an act of betrayal, made a declaration that was considered by the Zionist as a promise of Palestine changing into a homeland for the Jewish folks.
A big group of Palestinians and internationals gathered on the "Beeping Gate", which is without doubt one of the closures in al Khalil. The "Beeping Gate" is on the backside of "apartheid road" the place a fence divides a Palestinian pathway from the street that Israelis stroll on. An extension to the apartheid fence finishes at a brand new gate which fences in a part of the Salaymeh neighbourhood. The gate is locked at night time, forcing Palestinians to stroll an extended route, on foot, to their homes. When the folks of the neighbourhood use the gate it units off an ear-piercing beep including a tormenting, repetitive noise to the cruel realities of discrimination and occupation the neighbourhood suffers.
"The occasion was vibrant and totally different," an ISM'er who attended the occasion says. "Kids and clowns gathered to mark the Palestinian rejection of the colonial Balfour Declaration which helps the Zionist challenge."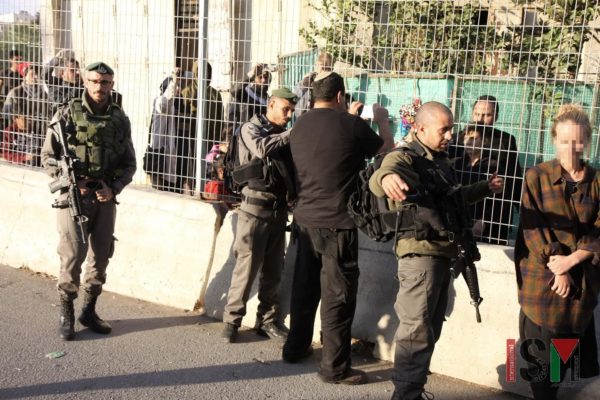 Border Police from the Israeli army push Internationals away whereas a settler from a close-by settlement movies.
Even although the occasion was light-hearted, a bunch of border law enforcement officials, civil police and troopers from the Israeli military confirmed up, and watched the Palestinians and internationals. The kids chanted, speeches had been made, and clowns interacted with the youngsters with balloons, dances and face portray.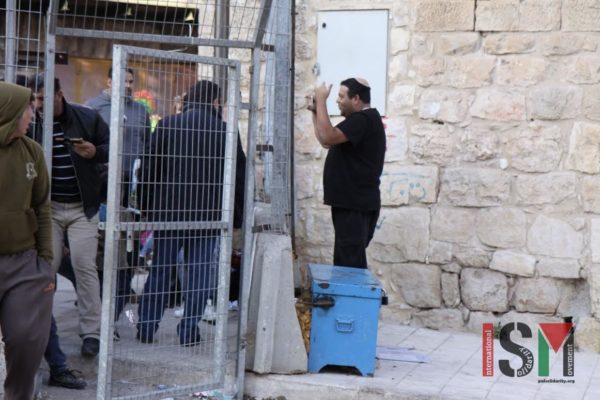 A settler from a close-by unlawful settlement movies the Palestinians at their occasion by the gate.
An aggressive Zionist settler from a close-by settlement, who had beforehand intimidated ISM activists in the course of the day, confirmed up on the occasion. His tried intimidation did not disrupt the colorful and festivity of the Palestinian resistance of the occupation. After some time, he was led away from the celebration by Israeli border police. He continued to movie from outdoors, making an attempt to impress the Palestinians behind the fence.
"I believe the colorful occasion expressed the Palestinian's Sumud (Arabic for steadfastness) in opposition to the occupation and discrimination they face every day," one other ISM'er stated.
(Edited for the IMEMC by c h r i s @ i m e m c . o r g.)
More tales like this on the official web site of the International Solidarity Movement (ISM).


[ad_2]
Source hyperlink