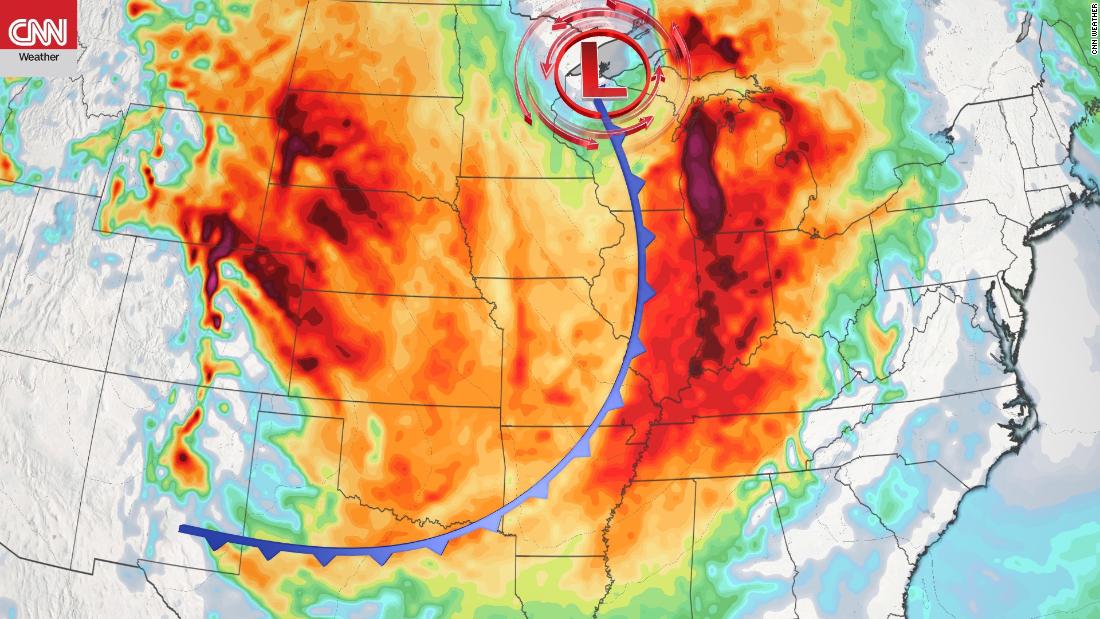 Rain, snow, tropical storm force winds, and even tornadoes are possible over the next 48 hours.
A cold front and associated low pressure system that originated in the Pacific Northwest Friday is moving into the Northeast on Midwest Saturday and eventually Sunday.
Rain will be of more widespread concern from the Central Plains to the Great Lakes region on Saturday, as snow will likely be limited to parts of the upper Midwest in Minnesota, Wisconsin and upper Michigan.
Enjoy a beautiful Saturday day in the Northeast as by Sunday the Boston situation will settle in New York, Philadelphia and Washington DC, mainly in the second half of the day.
There is also a risk for severe storms on the southern side of the cold front. Parts of Arkansas, Missouri and eastern Oklahoma are at little risk, meaning some tornadoes and damaging winds. Apart from this, some hail storms cannot be ruled out on Saturday afternoon and evening.
Chicago is living for its "Windy City" title on Saturday. There will be severe conditions ahead and cold front, so that other cities will also be able to claim that title today.
Nearly 60 million people are subject to wind alerts, including Chicago, Cleveland, Detroit, Louisville, Tulsa, Oklahoma City, Santa Fe, and Denver. In general, winds running at speeds of 25 to 45 mph are estimated to run at 50 to 65 mph in most parts of the Midwest and Central Plains.
Those high winds are also triggering significant fire weather conditions in parts of Colorado, New Mexico, Texas, Oklahoma and Kansas. Advanced and significant fire weather levels are in effect for all those states. Significant fire hazards are being driven by these high winds, which reduce the humidity level to less than 20%, making it easier for the fire to spread.
The Storm Prediction Center said, "Winds can sometimes swell well in parts of the critical area at speeds up to 30 mph, and a very brief / locally extremely severe condition cannot be ruled out."
Next storm on the way
It has recently sounded like a "snow-wedge" for many areas of the Western US. Only in the last 48 hours Mt. The Baker Ski Area in Washington has lifted 38 inches of snow. To the south there, Stevens Pass and the Snooklemmi Pass both lift about 20 inches, with more on the way.
Seattle's National Weather Service office said, "A series of Meteorological Departments will move across the region next weekend with lowland rain, mountain icy winds and strong winds." "The next system comes tonight followed by the hot front on Monday and the cold front on Tuesday."
Winter weather alerts from Washington to Colorado apply as snow conditions are forecast for more snow and winter than Saturday night.
Overall snowfall will be highest near the height of the Cascade and the Rocky Mountains, where an additional foot of snow is possible over the weekend.
Rain will be along the coast of Washington and Oregon where 2 to 3 inches is forecast to occur this weekend. However, the West Coast and other areas of the Mountain West will see 1 to 2 inches of rain.
Keep in mind that whatever areas receive the same amount of rain, they may also see flash floods locally, especially with any of the many fire burn areas.
.