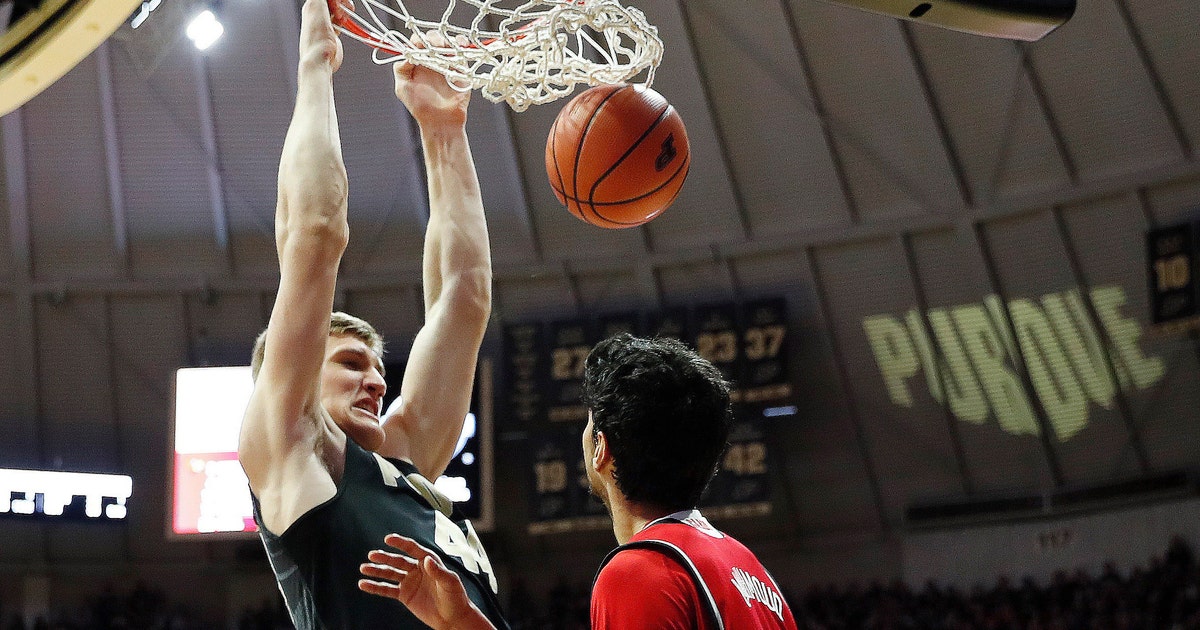 [ad_1]
WEST LAFAYETTE, Ind. – Purdue coach Matt Painter played Tuesday night.
The Isaac Haas Center made sure it was worth it.
The 7-foot-2 player played most of the last 15 minutes with three fouls, hitting and fouling Louisville's thinnest defenders. Eventually, Haas's internal presence loosened the defense of his teammates who used a delay to finally overtake the Cardinals, number 17, 66-57 in the ACC / Big Ten Challenge.
"We had fouling problems early," Painter said. "To be in the position we were (at halftime), I really felt lucky, in the second half, we wanted to get the ball inside, get some points from those guys and I think we did a good job on that."
It was not pretty.
Both teams had trouble scoring and each lost key players due to more fouling problems early in the second half. But Haas showed that size still works against smaller and more athletic defenders.
After rejoining the Boilermakers (6-2) behind 33-27, Haas tied for five fouls in the following 2:05, driving a 16-3 run that made the Purdue deficit 33-27 an advantage of 43-36 with 9:12 to play. He had nine points, four rebounds and needed some extra attention in the training room afterwards.
"They hit him right in the elbow and he was not able to close his fist," Painter said. "He's still in the training room, so now I do not know (the reach)."
Vincent Edwards led the Boilermakers with 15 points and seven rebounds. Carsen Edwards and Dakota Mathias scored 13 apiece when the Boilermakers defeated their second consecutive opponent and their eleventh consecutive at home.
Louisville (4-1) was directed by V.J. King with 17 points and Deng Adel with 13. But while Haas got inside, they were struggling to find answers.
Anas Mahmoud went to the bank with his third foul right after Haas re-entered.
Ray Spalding fared no better, taking his third and fourth fouls in a span of 35 seconds that put him on the bench with 13:46 to play. Forty-two seconds after that Mahmoud was back on the bench with his fourth foul.
And when Louisville tried to protect his big men it did not work very well either.
The Cardinals charged with an 8-0 run to take a 44-43 lead with 7:59 to play, but Mathias and Carsen Edwards started the decisive 11-4 run that gave Purdue control with a cushion of 60-54. with less than a minute to go. They closed it in the free throw line.
"We tried to be the most physical team on the board," said Louisville interim coach David Padgett. "I think we did a pretty good job."
BIG, BAD AND UGLY
The length of Louisville caused all kinds of problems for the Boilermakers, so Painter left with his great lineup of Haas and with the rookie 7-3 of the red jersey Matt Haarms.
He helped for a while and then stepped aside when Haas picked up his second foul midway through the first half. At 67 seconds into the second half, Haas was back on the bench with his third foul, but he did not recover from anyone for the rest of the night.
Offensively, it was frightening.
Louisville shot 31.7 percent, the lowest of the season, was 6 of 18 in triples and scored 22 points, the lowest number of the season in the first half.
Purdue was not much better. He shot 33.3 percent from the field, was 5 of 23 in triples and scored a season minimum of 23 points in the first half.
GREAT IMAGE
Louisville: The unbeaten Cardinals previously did not pbad their first major test. While they played well defensively, the offense still needs work, and a lot of that.
Purdue: Purdue's firing problems followed them from the Bahamas back home. But they may have learned a valuable lesson from that trip when they struggled to return.
THEY GAVE IT:
Louisville: "I told our boys that it was going to hurt, it should hurt," Padgett said. "But if they make that kind of effort in every game, I'll be proud of them."
Purdue: "I think we learned from the losses," said Mathias. "That's what good teams do."
ABOVE NEXT
Louisville: returns home on Sunday to face No. 20 Seton Hall.
Purdue: opens Big Ten play on Friday in Maryland.
[ad_2]
Source link