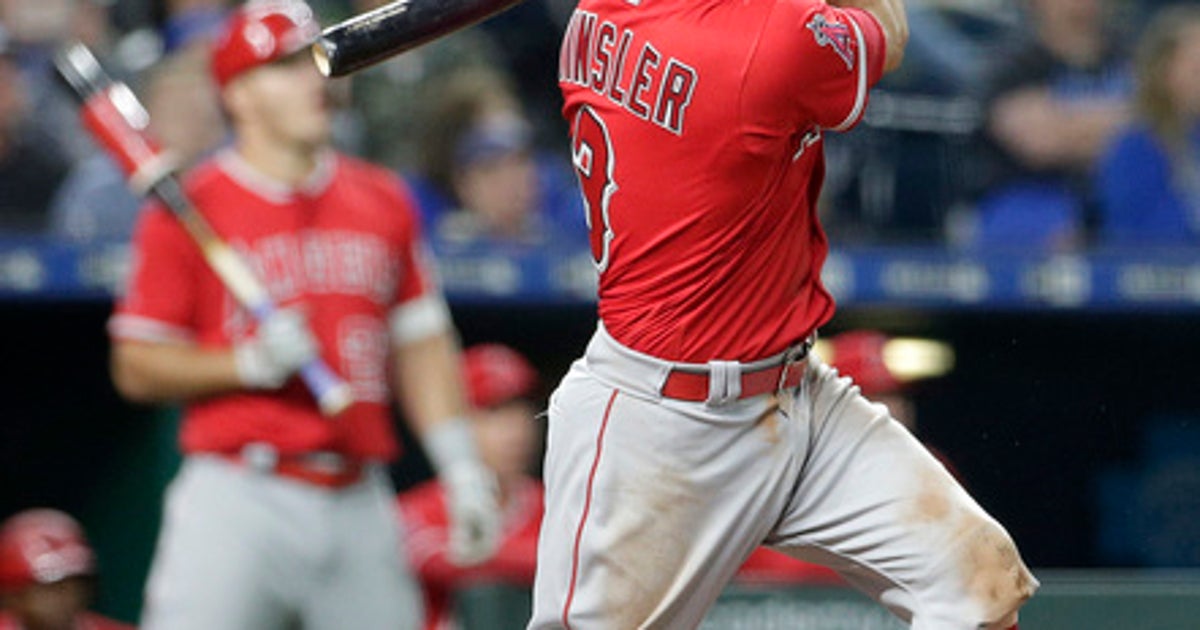 KANSAS CITY, Mo. (AP) The Los Angeles Angels have had a sizzling start, thanks to the contributions of their entire lineup.
Albert Pujols homered and drove in three runs, Ian Kinsler had three hits and a sacrifice fly scored by Shohei Ohtani with the eighth-inning lead and the Angels recovered to beat the Royals 5-4 on aggregate. Friday night.
The Angels won six straight and nine of 10. Their start 12-3 equals their best record after 15 games, set in 1979.
"We just played well now" said Pujols. "We are simply choosing each other." We had a great spring and we are taking it to the season. And that's what we do every day, try to have fun and enjoy it. It's a great combination of veteran players and young players. You're hungry every day. "
Zack Cozart and Ohtani, who doubled their first at-bat, opened the eighth inning with singles against Justin Grimm (0-2), after Andrelton Simmons overtaken the runners with One touch, the pinch of Luis Valbuena scored Cozart and moved Ohtani to third, Kinsler's flying pass to the center came in Ohtani.
"I like it anywhere in the lineup," Angels manager Mike said. Scioscia about Ohtani. "I like it in the batter's box. Just as our alignment falls, we want Shohei to put his feet on the ground. It's his first time, the first time he sees many of these pitchers and he's doing very well. I think it makes our lineup pretty deep when you get it down a little bit lower, just because the guys swing the bats ahead. "
Blake Wood (1-0) worked an immaculate seventh to pick up the Keynan Middleton pitched the ninth for his third save in every opportunity.
Pujols hit a two-run homer in the third with Kinsler on board, Pujols' two-out single in the seventh scored by Kinsler.
Paulo Orlando had two hits, scored one race and drove in a race to lead the Royals, Lucas Duda had three singles and scored one run.
Royals starter Jason Hammel stopped the Angels in two runs and eight hits in 5 1/3 innings
The Royals have lost four straight and are 3-9, their worst start of 12 games since 2012. They have been outscored 54-24 in their nine losses with the bullpen 0-4 with three saves wasted
"I'm sure there's frustration," Hammel said of the Royals' record. . "Naturally, it would be a frustration, not just to achieve it, a step back, but it's a very long season, I do not care and the rest of the guys are not worried about that, we need to find a rhythm, something to wake us up, I guess. like a hangover from spring training. "
The game ended with Whit Merrifield ejected trying to steal the second pitch from Mike Moustakas.
Los Angeles lefty Andrew Heaney, who underwent elbow surgery last year, allowed four runs, one without a win, and seven hits in five innings in his first start. He gave a passport and struck out seven.
LOS ANGELES PREFERRED LINE
For the first time this season, the Angels' lineup included Kinsler, Cozart and Ohtani with the other six position players. Ohtani climbed to seventh place for the first time after hitting eighth in his six previous DH starts. While Kinsler was on the disabled list, the Angels were 9-3 with Cozart at the start. Scioscia, however, chose to put Kinsler back on the top of the order, with Cozart hitting sixth. "There was a lot of discussion about Coz staying there, but in the big picture where we want to be in the long term, he has Ian directing and Coz in a lucky role with some guys at the base," Scioscia said. 19659002] MOVEMENT TEMPLATE
Angels: LD Felix Pena received an option for Triple-A Salt Lake to make space on the list for Heaney.
Royals: RHP Brandon Maurer received an option for Triple-A Omaha with a record of 0-2, 12.46 ERA and allowing three homers in 4 1/3 innings. It allowed three inherited runners to score on Thursday in a triple of Ohtani. "I think it was obvious to everyone that the time was right," Royals manager Ned Yost said. "He's a better pitcher than that, he's a guy who should be a guy in the eighth inning, he's a guy who should be able to close games on the days his closer needs one day, he has those really good things. He's crazy and out of control, he just needs to get some confidence, have some success and go back up and take that position. " RHP Kevin McCarthy was called from Storm Chasers.
COACHING ROOM
Royals: Yost said C Salvador Pérez (left knee sprain) would probably start a minor league rehab assignment this weekend. … FROM Alex Gordon hit the cages and made some soft throws in his first activity since Monday when he was diagnosed with a broken lip in his left hip.
ABOVE
Angels: RHP Garrett Richards will make his first appearance at Kauffman Stadium since August 13, 2015.
Royals: RHP Jakob Junis has not bowled a run in 14 innings in his first two starts.
// a modified copy of fsUtils / ScriptLoader leave getScript = function (url) {
// Create a new script and configure the basic concepts. let script = document.createElement ("script");
script.async = false; script.src = url;
// Attach the script label to the page (before the first script) so that the magic can happen. let firstScript = document.getElementsByTagName (& # 39; script & # 39;) [0]; firstScript.parentNode.insertBefore (script, firstScript);
}; leave googlePixelLoader = function () {
window ['google_conversion_id'] = 832239217; window ['google_conversion_label'] = "TccACP23rXkQ8ezrjAM"; window ['google_remarketing_only'] = false;
getScript (window.location.protocol + & # 39; // www.googleadservices.com/pagead/conversion.js'); }; let fbPixelLoader = function () { / * from https://fng-jira.fox.com/browse/FSCOM-12494 - Facebook Pixel Code * / ! function (f, b, e, v, n, t, s) {if (f.fbq) return; n = f.fbq = function () {n.callMethod? n.callMethod.apply (n, arguments): n.queue.push (arguments)}; if (! f._fbq) f._fbq = n; n.push = n; n.loaded =! 0; n.version = & # 39; 2.0 & # 39 ;; n.queue = []; t = b.createElement (e); t.async =! 0; t.src = v; s = b.getElementsByTagName (e) [0]; s.parentNode.insertBefore (t, s)} (window, document, & # 39; script & # 39 ;, & # 39; https: //connect.facebook.net/en_US/fbevents.js'); fbq (& # 39; init & # 39 ;, & # 39; 161811331078914 & # 39;); fbq (& # 39; track & # 39 ;, & # 39; ViewContent & # 39 ;, {content_name: & # 39; Mobile_App_Install & # 39;)); };
(function (b, r, a, n, c, h, _, s, d, k) {if (! b [n] ||! b [n] ._ q) {for (; s <_. length;) c (h, _ [s++]); d = r.createElement (a); d.async = 1; d.src = "https://cdn.branch.io/branch-latest.min.js ";; k = r.getElementsByTagName (a) [0]; k.parentNode.insertBefore (d, k); b [n] = h}}) (window, document," script "," branch ", function ( b, r) {b [r] = function () {b._q.push ([r,arguments])}}, {_ q: [] _ v: 1}, "addListener applyCode banner closeBanner creditHistory credits data deepview deepviewCta first getCode init link logout exchange references deleteListener sendSMS setBranchViewData setIdentity track validateCode ".split (" "), 0); branch.init (& # 39; key_live_acdMtqDFnx4gILoc1Rq9VbckBtmjzNok & # 39;); branch.addListener (& # 39; didShowBanner & # 39 ;, function () {
let iframe = document.getElementById (& # 39; branch-banner-iframe & # 39;); let btn = (typeof iframe.contentDocument! == & # 39; undefined & # 39;)? iframe.contentDocument.getElementById (& # 39; branch-mobile-action & # 39;): iframe.contentWindow.document.getElementById (& # 39; branch-mobile-action & # 39;);
btn.addEventListener (& # 39; click & # 39 ;, function (ev) { if (ev.preventDefault) ev.preventDefault ();
if (window typeof ['adwordPixelEnabled'] === & # 39; undefined & # 39;) { googlePixelLoader (); fbPixelLoader (); // configured to load only once after a click window ['adwordPixelEnabled'] = true; } }); }); branch.banner ({ Icon: & # 39; https: //b.fssta.com/uploads/2016/10/fox-sports-app-icon175x175.vadapt.175.high.0.png&#39 ;, Title: FOX Sports Mobile & # 39 ;, description: & # 39; You are the fan, we will do the rest! & # 39 ;, openAppButtonText: & # 39; Open & # 39 ;, downloadAppButtonText: & # 39; Install & # 39 ;, sendLinkText: & # 39; Send link & # 39 ;, phonePreviewText: & # 39; 123-456-7890 & # 39 ;, showiOS: true, showAndroid: true, showDesktop: false, iframe: true, disableHide: false, forgetHide: 2, position: & # 39; up & # 39 ;, mobileSticky: false, desktopSticky: false, customCSS: & # 39; # branch-banner {width: 100%; z-index: 99999; font-family: "Helvetica Neue", Helvetica, Arial, sans-serif; -webkit-font-smoothing: antialiased; -webkit-user-select: none; -moz-user-select: none; user-select: none; -webkit-transition: all .25s ease; transition: all 250ms ease} # branch-banner .content {width: 100%; overflow: hidden; high: 76px; background: # f2f2f2; color: # 333; bottom edge: solid 1px # c1c1c1} # branch-banner .content .left {text-align: left} # branch-banner .icon img {width: 64px; height: 64px; right-margin: 0; radius-of-the-edge: 14px} # branch-banner-close {color: # 787878; Font size: 22px; superior: 14px} # branch-banner .title {font-size: 14px; font-weight: 400; color: # 000} # branch-banner .description {font-size: 12px; color: # 303030; height-maximum: 30px; overflow: hidden} # branch-banner .reviews {font- size: 10px; margin: 1px 0 3px; color: # ff9500} # branch-banner .reviews .star span {display: online-block; right margin: 0; color: # ff9500; position: absolute; superior: 0; left: 0} # branch-banner .reviews .star svg {fill: # fe9402} # branch-banner .reviews .review-cou nt {display: none; font-size: 10px} # branch-sms-form-container {margin-right: 0} # branch-banner .button {display: inline-block; margin-top: 0; margin-left: 5px; filling: 6px 12px; Font size: 18px; color: # 007aff; cursor: pointer; text-decoration: none; background: 0 0; edge: none} # branch-banner .button: hover {color: # 05a5ff; background: 0 0; edge: none} & # 39 ;, make_new_link: false, rating: false, reviewCount: 90, theme: & # 39; light & # 39; }, {}); } } ());
Source link