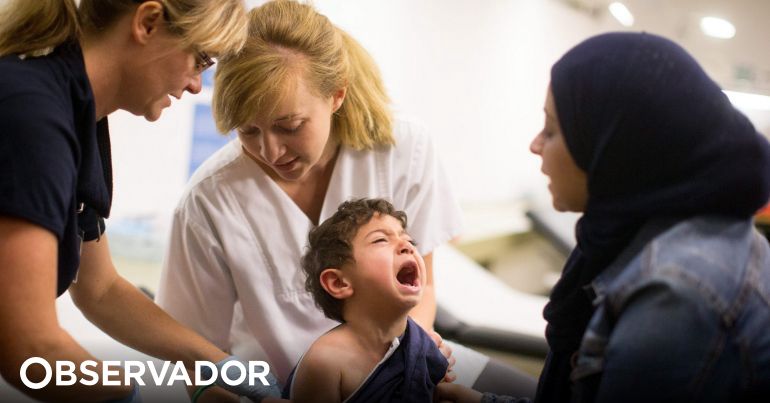 More than 13,400 cases of measles have been reported in the past year in 30 European countries, including 126 cases in Portugal, according to a report by the European Center for Disease Control. The balance of 13,453 cases of measles refers to the period between the beginning of October of the last year and the end of September of this year.
The report released this month by the European Center for Disease Control (ECDC) shows that none of the 30 countries surveyed recorded zero measles cases, with the largest number of infections occurring in Greece (more than 3,000), in France (more than 2,700) and in Italy (more than 2,500).
In Portugal, between October 2017 and October of this year there were 126 cases of laboratory confirmed measles, most of which occurred in March of this year, when the outbreak occurred at the Santo António hospital in Porto.
Of all the more than 13,000 cases of measles in Europe last year, at least 9,800 occurred in people not fully vaccinated with the two recommended doses of the vaccine.
Many of the children infected with measles were not yet one year old (about 1,500), thus not reaching the minimum age to take the first dose of vaccine, which in Portugal is given at 12 months in the National Vaccination Program. The second dose is given at age five.
"Measles continues to spread in Europe because vaccine coverage in many countries" is below what it should be. Only four of the 30 countries analyzed by ECDC had vaccine coverage rates of at least 95%, including Portugal, along with Sweden, Hungary and Slovakia.
Portugal currently has two distinct outbreaks of measles in the Lisbon and Tagus Valley regions, both of which originate in cases of diseases imported from European countries. According to the Directorate-General for Health (DGS), the number of suspected cases on Friday afternoon was 24, with 15 already confirmed laboratory by the National Institute of Health Doctor Ricardo Jorge.
Measles is a highly contagious disease and can cause serious illness, especially in unvaccinated people. Vaccination is the best way to prevent the disease, according to health officials. Vaccinated people may contract the disease, but in a milder form, and do not present a clinical picture as contagious.
Source link