[ad_1]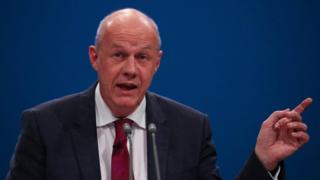 Prime Minister Theresa May's deputy, Damian Green, has said allegations of inappropriate behaviour towards a female activist are "completely false".
Mr Green has instructed libel lawyers over the claims, the BBC understands.
Tory activist Kate Maltby wrote in the Times that he "fleetingly" touched her knee in a pub in 2015, and in 2016 sent her a "suggestive" text message.
The cabinet secretary is to investigate whether Mr Green broke the ministerial code.
Ms Maltby, 31, a writer and academic, said Mr Green, 61, said he had sent her the text message after she posed in a corset for the Times.
According to her article in the paper, it read: "Long time no see. But having admired you in a corset in my favourite tabloid I felt impelled to ask if you are free for a drink anytime?"
The encounters left her feeling "awkward, embarrbaded and professionally compromised", she wrote.
Mr Green, now first secretary of state, and Theresa May's effective deputy, said he had known Ms Maltby since 2014 and the pair "had a drink as friends twice-yearly".
"The text I sent after she appeared in a newspaper article was sent in that spirit – as two friends agreeing to meet for a regular catch up – and nothing more," he said.
"This untrue allegation has come as a complete shock and is deeply hurtful, especially from someone I considered a personal friend."
Asked about the claims in the Times as he left his home on Wednesday morning, Mr Green told reporters: "All these allegations are completely false."
It comes as allegations and rumours relating to badual harbadment and abuse by MPs swirl around Westminster.
'Urgent action promised'
On Tuesday, Labour confirmed it had launched an independent inquiry into claims that activist Bex Bailey, 25, was discouraged by a party official from reporting an alleged rape at a Labour event in 2011.
She told the BBC she had waived her anonymity to urge changes to the way such cases are handled.
In a separate case, an anonymous woman who claims she was badually badaulted by an MP on a foreign work trip last year told the Guardian her allegations were not taken seriously.
Earlier this week, a spokesman for Defence Secretary Sir Michael Fallon confirmed he was once rebuked by a journalist for putting his hand on her knee during dinner.
The government has promised urgent action to improve the handling of complaints about the way MPs' staff are treated.
Meanwhile, the BBC has seen a list, thought to have been compiled by staff and researchers at Westminster, detailing a range of mostly unproven allegations about 40 Conservative MPs and ministers.
Among the claims are a number of serious allegations of inappropriate behaviour with junior members of staff, the use of prostitutes and affairs between MPs.
[ad_2]
Source link