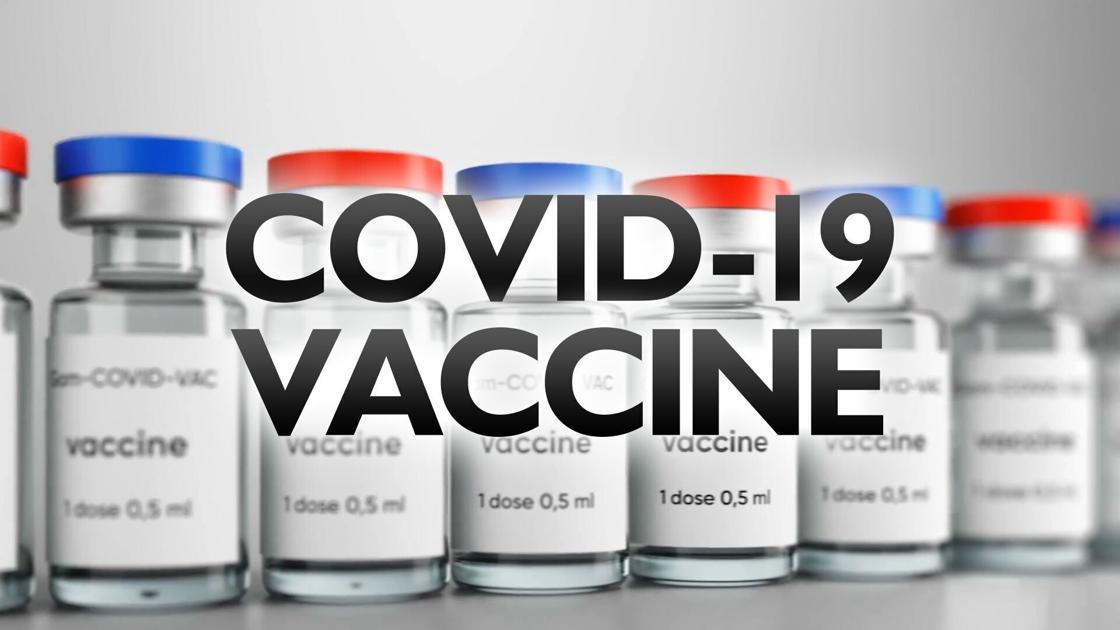 Jefferson City – The Governor's Office on Thursday afternoon gave information about Phase 1B of the COVID-19 vaccination plan.
Missouri Department of Health and Senior Services Director Drs. Randall Williams also issued a statewide health order Thursday regarding the vaccination of individuals in Phase 1A, Phase 1B – Tier 1, and Phase 1B – Tier 2.
The order outlines which stages a vaccine can be administered and what vaccines they administer.
The office said that at least 27% of Phase 1A received their first dose of vaccine. More than 160,000 individuals have received the initial dose and more than 22,000 have been fully vaccinated with the two-dose series.
Phase 1B – Tier 1, which includes first responders, emergency services / management and public health infrastructure, became active on Thursday, 14 January.
Phase 1B – Tier 1
Phase 1A in first responders includes all federal, state and / or local first responders beyond EMS / EMT, including law enforcement, fire services, corrections, and some social service agencies.
Emergency services / management includes federal, state, or local government employees in emergency management and public works agencies, including the city's police departments and fire stations and county sheriff offices.
Columbia Assistant Fire Chief Brad Fraiser said his department started receiving the vaccine last Friday. He said that he was happy that first responders were being given priority and said that this would provide protection to the community.
"We believe that having firefighters in vaccinated communities would be a good thing," Fraiser said. "So we look forward to it. We think not only for the level of protection for firefighters, but also the exposure to civilians."
It also includes private sector resources, such as private security organizations and private emergency medical service providers, and non-profit organizations designated as partner voluntary agencies.
The public health infrastructure includes administrators and employees of federal, state, or local public health agencies and other health workers who "perform tasks necessary to conduct Missouri's health-related infrastructure that were not included in Phase 1A."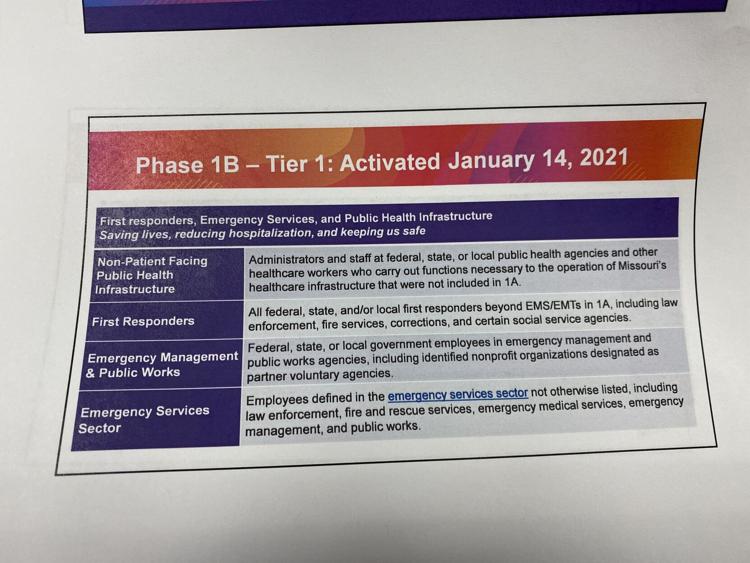 Phase 1B – Tier 2
Phase 1B – Tier 2 will be activated on 18 January. This tier includes high risk individuals and anyone over 65 years of age.
High-risk individuals include cancer, chronic kidney disease, COPD, heart conditions, weakened immune system, severe obesity, pregnancy, sickle cell disease, type 2 diabetes, and any adult with intellectual and / or developmental disability.
Phase 1B – Tier 3
There is currently no start date for Phase 1B – Tier 3.
Tier will include Teachers K-12, Childcare Providers, Communication Sector, Dam Sector, Energy Sector, Early Food / Agriculture Sector, Government, Information Technology Sector, Nuclear Reactor / Material / Waste Sector, Transport Sector and Waste / Waste Water System. Area.
The initial food and agriculture sector consists of employees of certain food production and processing facilities, and related functions, which "prioritize large-scale food production, distribution, transportation and wholesale and retail sales, including groceries and convenience stores, sales of groceries" Give. "
The office deemed anyone still eligible to receive the vaccine to qualify under Phase 1A.
Where to get the vaccine if you come in these tiers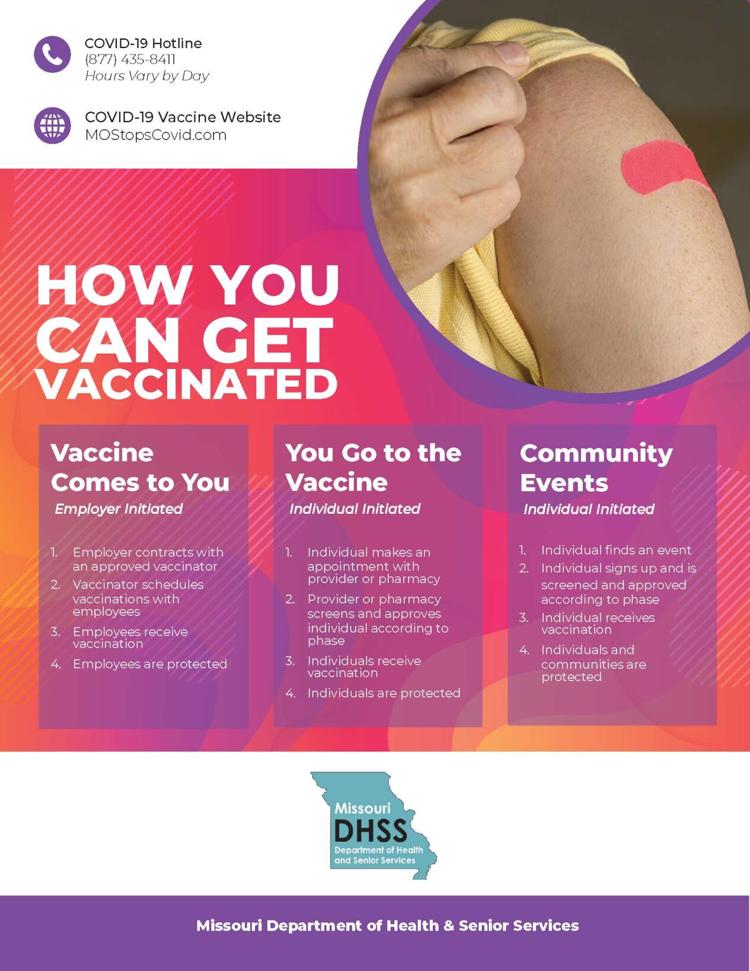 The Governor's office tells anyone in Phase 1B and Phase 1B – Tier 1 must work through their employer and / or association to use the vaccine.
In Step 1B – Tier 2 should contact your local pharmacy or health care provider, or visit MOStopsCOVID.com to learn when vaccines may be available and how to obtain them.
A list of commentators and regional vaccine implementation teams will be made available here on 15 January.
Employers and unions are encouraged to use the list to engage with a vaccine or regional vaccine implementation team in their area and make a plan for vaccinating their teams.
For more information about the specific areas in Step 1B, click here.
.