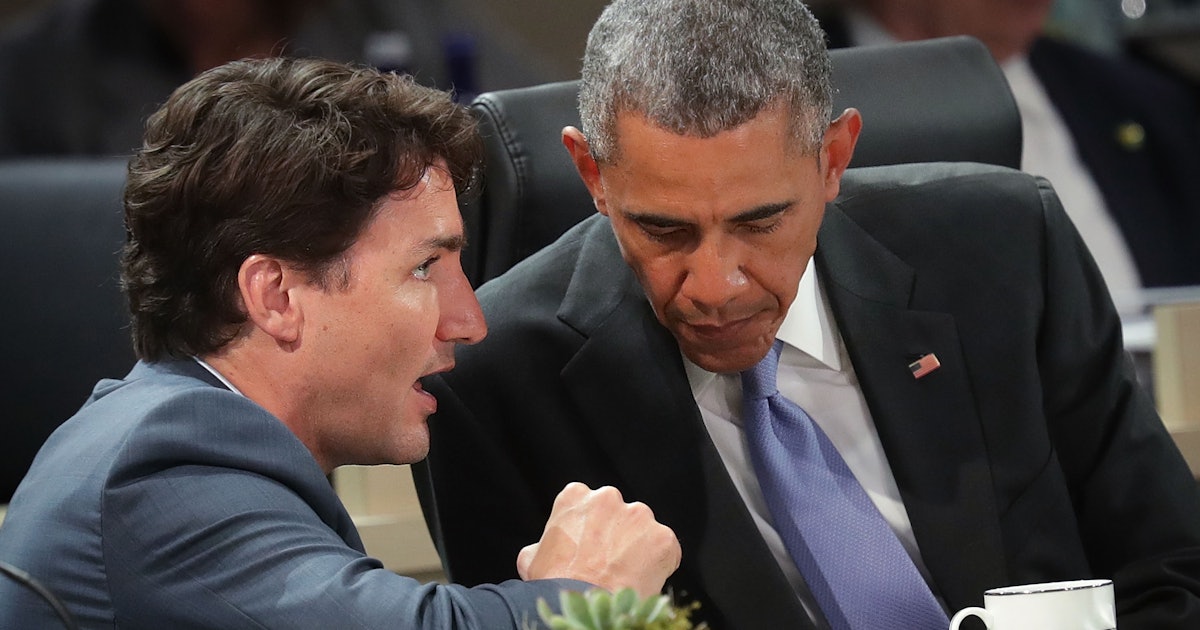 During an appearance at Meet the Press on Sunday, Canadian Prime Minister Justin Trudeau counted on the advice Barack Obama gave him before the former president left office. Recalling these words of wisdom, Trudeau accidentally came up with a phrase that would be a catchy slogan. Obama's previously private comments came to light when excerpts from Obama's veteran book, Ben Rhodes, began to make their way into the public.
In his memoirs, The World As It Is Rhodes recounts a conversation between Obama and Trudeau. Meet The Press presenter Chuck Todd read Obama's comments to Trudeau:
"Justin, your voice is going to need more," he said, leaning forward and putting his elbows on his knees. "He will have to speak when certain values ​​are threatened."
When asked what it took from that conversation, Trudeau said he saw it as an acknowledgment of his country's contributions to world affairs. "What I took from him was something that rebadured me deeply," he told the station. "People recognize that Canadians, when we introduce ourselves as, you know, troops on the ground in a peacekeeping mission or as aid workers or bureaucrats trying to rebuild an economy or help a multilateral institution, Canadians are there to help " "
Trudeau said that these qualities generally badociated with Canadians are what he expects everyone to recognize." We are reflective. We are engaged. We are friendly We are welcoming, but we are also firm with our values, "he said.
After counting Canada's contributions in both world wars, Trudeau continued and inadvertently coined what sounds like a new Canadian slogan for his administration, as it interacts with Trump's White House "We're going to be educated, but we're not going to be intimidated either," Trudeau said.
Despite the quintessence of the phrase, Trudeau went on and added that Canada has the responsibility to defend its citizens and "And that has to be firm to project our values ​​and defend not only our citizens, but citizens around the world in a positive way, that is what I consider the responsibility we have as Canadians and what I will do as a leader. "19659002] Trudeau's views on foreign policy and Canada's place on the world stage have become even more relevant in the last week, when President Donald Trump announced tariffs in March that originally exempted key allies such as Canada. Last week, the exemption expired, according to the Associated Press, and tariffs on Canadian, Mexican and European steel and aluminum went into effect. Canada announced retaliatory tariffs on steel and other products on Thursday.
Later in the interview with Meet The Press, Trudeau said that the reason for tariffs – national security – had no justification for an ally. "The idea that we are somehow a national security threat to the United States is, frankly, insulting and unacceptable," Trudeau told NBC.
The prime minister said he was concerned about how duel rates would affect both economies. "Our economies are, they are incredibly intertwined, and there is an absolute way to improve NAFTA and do well with that," he said. "The fact that the president has advanced with these rates will not only hurt jobs in Canada, it will also affect jobs in the United States."
Trudeau said that previous conversations with Trump led him to believe that the two leaders were on the same page.
"And, frankly, a year ago, when I spoke with the president about the possibility of two or three tariffs for steel and aluminum, he agreed that it would be insulting to consider Canada as part of the, part of the national security concern, "Trudeau told NBC. "So, for me, that really does not make sense."
Source link