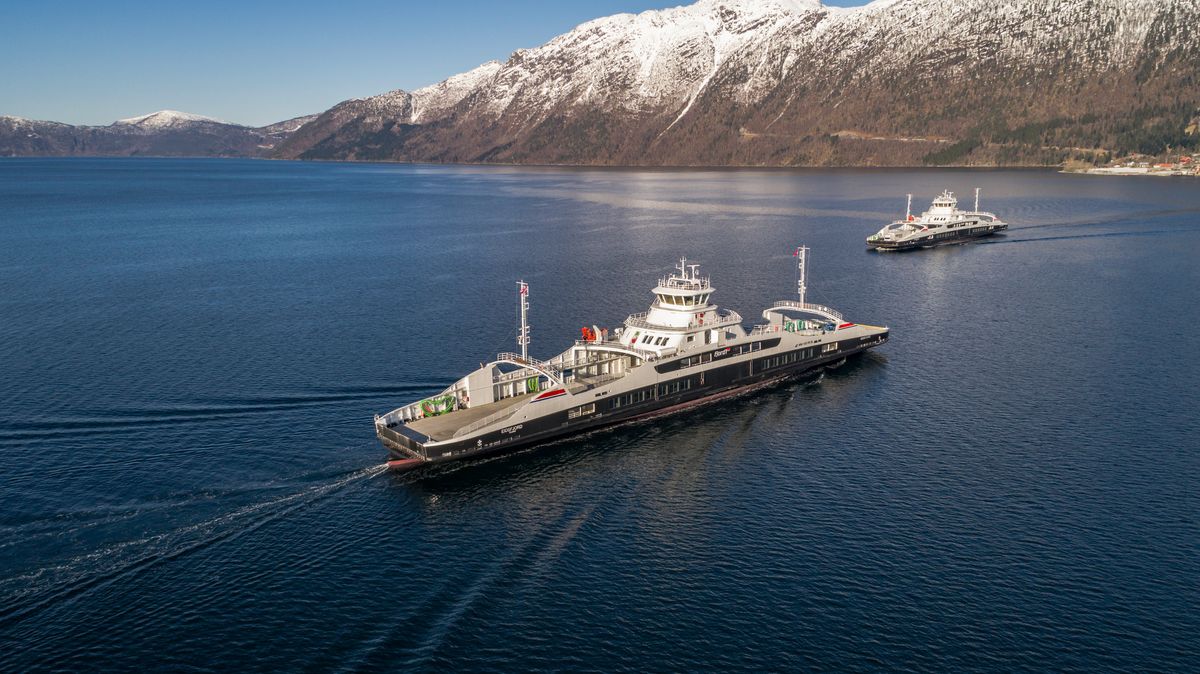 The Autocrossing Navigation System from Rolls-Royce is a step on the road to autonomous ships.
Captain and Stewards have continued a job to do when ferries to go and go from the dock.
– The next step is auto docking, says Jann Peter Strand, Product Manager for Automation and Control Systems in Rolls-Royce Marine.
However, it will involve some more sensors and equipment.
Pluses on Orders
Fjord1 confirms now ordering navigation system Autocrossing system and propellers with associated control system from Rolls-Royce to 13 new zero and low-speed ferries. They come on top of three previous orders.
From the moment, Fosen Namsos Sjø ordered the system for two hybrid ferries built at Kleven Shipyard Myklebust in Gursken.
Tests at Anda-Lote
The autocrossing system is based on the ferries' common sensors and navigation systems, ie radar, gyrocompass, GPS and windmill – connected to propulsion propulsion system.
The system is already installed on the two electric ferries Fjord1 entered the E39 Anda-Lote connection on late winter. It is the first full-electric ferries to operate after Norway's "Ampere" in 2015.
Strand says that Rolls-Royce and Fjord1 have defined the distance from the system to take over the sail.
– It is up to the shipping company to decide, but it may be just a few meters from the ferry leaving the dock and some longer before it will add, Strand says to TU.
Even energy consumption
The big gain is the best energy efficiency. An automatic system ensures optimal handling and speed, and optimal course.
Operative leader of the Anda-Lote connection in Fjord 1, Christine Hammersvik, says to TU that it is too early to say what they are saving on autocrossing.
Currently, the automatic charging system does not work 100 percent. Fjord 1 and producer Stemmann must get it done first. According to the contract with the Road Administration, this must be done by May.
The autocrossing system is so small in use.
– We are doing fine tuning of the system and have not measured the effect yet, she says.
She points out that the autopilot system will ensure that the energy consumption does not vary from captain to captain, but resembles any crossing in otherwise equal conditions.
Rest
The automatic firing system will control ships acceleration, deceleration, speed and route. Two azipull thrusters, one at each end, and a Rolls-Royce control system ensure that the progress is adapted to the conditions.
The propellers can turn the blades for sailing during the crossing so that propeller not in use creates the least resistance.
A safety feature has been built in Autocrossing. If the captain does not take over as defined in the system, the propulsion system will ensure that the ferry is placed quietly and kept in position at a safe distance from land.
Boasting
The Fjord1 boss believes those travelers are allowed to take part in the most environmentally friendly and the modern transport solution that has been in Norwegian fjords.
– And the technology from Rolls-Royce helps us realize this, "says Dagfinn Neteland in Fjord1, CEO.
Andreas Seth in Rolls Royce says that the Norwegian authorities play an important role role.
– We are proud to be involved in the renewal of the Norwegian ferry fleet currently under way. Authorities deserve to facilitate innovation and good environmental solutions, which enables the maritime industry to deliver its latest technology, says Seth, Director of Electro, Automation & Control.
More Demos
Rolls-Royce is also working to develop completely autonomous systems, but already demonstrating different parts of technology at more projects. In Denmark, Rolls-Royce has built autonomous features in a cable car and made a remote control room on land.
A captain from Svitzer manages Hermod's cable car in Copenhagen's harbor pool while sitting safely in a captain's chair with 360 degree camera vision and 180 degrees on big screens as well as the power of loudspeakers.
– We develop technology towards greater degree of autonomy step by step. In principle, we can make the ferries autonomous in the near future, but we will bring with us both customers, authorities and shipyards on this trip, "Strand til TU.
Advanced autopilot
Initially, Fjord 1 and Fosen Namsos Sjø got a system that works as an autopilot. What is missing for autonomy is sensors, lidar and cameras / IR, system and software for auto docking, anti-collision and detection with object detection.
With autocrossing, shipping companies achieve both better energy efficiency and greater security. Captains and pilots can concentrate on observing and controlling instead of watching monitors, pushing buttons and handling handles.
Step two
– Five of the new ferries will operate in one of the two defined test fjord areas for autonomous maritime transport in Norway, at Storfjorden on Sunnmøre. It's a perfect location, because the Autocrossing system is a step on the road to greater autonomy and remote-controlled navigation, "said Andreas Seth.
The automatic crossing system can be used with all Rolls-Royce azimuth thrusters. In other words, it can be installed on existing vessels as well as new buildings.