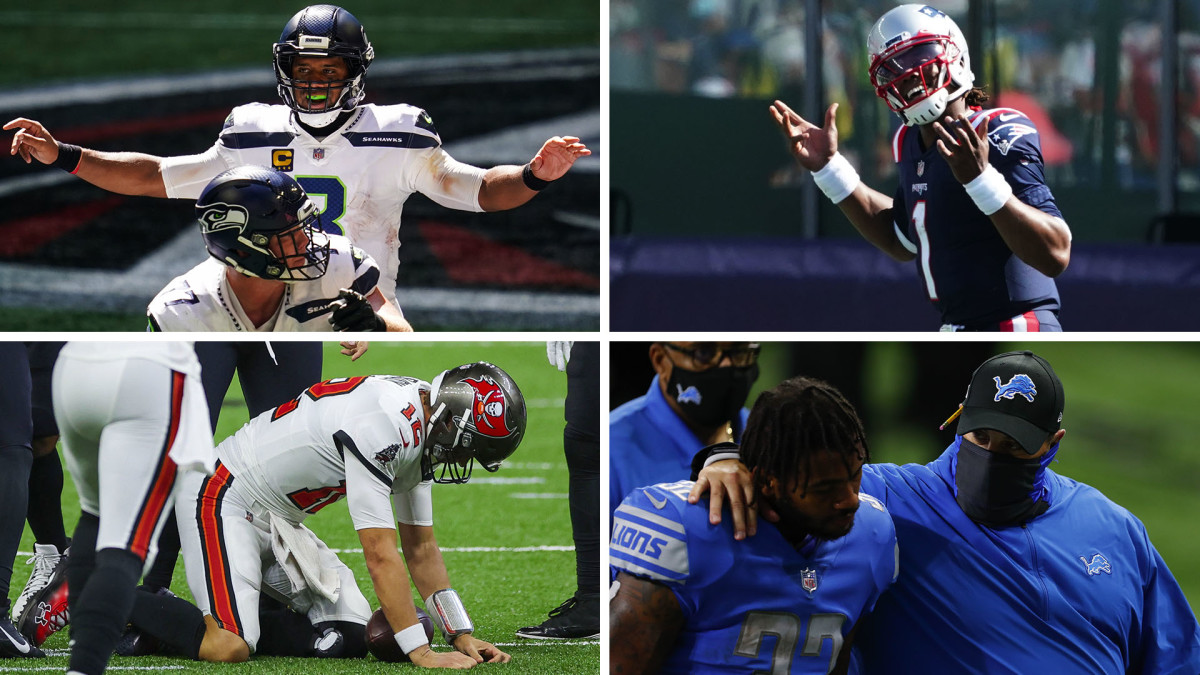 Week 1 Sunday afternoon reacting and reacting to everything happening in the game…
Things that make me dirty
Seahawks' run-pass balance: It was 38 dropbacks and 20 runs — and in one game he led nearly the entire game. Instead of sweating out a one-possession win, he raced in Atlanta.
Russell Wilson, fourth down, leg on the neck: The Falcons were going out of their way to take the deep ball away, but this fourth-and-5 scenario forced Atlanta to press the Seahawks' receivers, presenting an opportunity. DK Metcalf working one-on-one, with no safety in sight, Russell Wilson throwing it … it's a Gosh Danger loop.
Lamar Jackson showed strength in the fourth quarter Jeez, the man has only eight minutes left and his team is Hold 32 points lead against Cleveland. (You think we're going to see a lot of Robert Griffin III in mop-up duty again this season.)
Saints Crime Day closes: The defense and special teams performed the day against Tampa — New Orleans finished with just 271 yards and 4.1 per game. But he intercepted Tom Brady twice and added a special teams tackle on a pooch kick to help seal the game.
CJ Henderson showed: The Jags had a pick in the rookie corner, a crucial open-field tackle in the third quarter in the fourth quarter, and solid coverage over game-sealing incompletions and throughout the game. Update your defensive cheat of the year accordingly.
Cam dragging tacklers again:
Jamal Adams on the Blitz: The Seahawks' punchless front four would be an issue at times, but Adams helped make up for it in his Seahawks debut as a blitzer. He was forced into a sack and an incompleteness in Atlanta.
Josh Allen is working below: When he expands the play and keeps his eyes upward, this bill can play with crime criminals. Allen has taken better care of the ball when he is on the run (lost two in the first half), but overall, there was an argument in favor of "this loose cut" for Allen on Sunday.
Stephen Gilmore is very good: They had a day off against the Dolphins in last year's regular season finale, but, as Split Enz told us, history never loses.
Manchu Magic = Efficiency: As well as new offensive coordinator J. Some nice designs by Gruden, whose zone-beater worked beautifully on Keenan Cole's fourth-quarter touchdown. The Minsavages finished 19-for-20 for three touchdowns for 173 yards.
Chris Carson as Christian McCaffrey: His nifty was a one-handed catch and run on Seattle's first drive, and ended up catching six passes, including two touchdowns in Atlanta.
Washington Pass Rush Savior: They appeared a little late, but the high-descent group eventually showed up and dominated the Eakles front like five. The sacks do not always tell the whole story, but the eight sacks are indicative of how this happened.
DeAndre Hopkins has a role in this cardinal crime: After a slow start, the Cardinals began piercing at the intermediate level of the 49th defense. Hopkins grabbed 14 catches for 151 yards.
Aaron Rodgers sang New-Look Vikings: Rodgers had never thrown for more than 216 yards or two touchdowns in six road matchups with Mike Jammer Vikings. On Sunday, he took full advantage of the tune of 364 and four TDs, in the green new corner of Minnesota.
Panthers Gone by Tough Out: They ran out of gas against the Raiders – their defense is outside-human – but Joe Brady did some work with this offense and Teddy Bridgewater wouldn't lose it for him.
Trubisky in desperation mode: Only Trubisky seems to be able to function. A win in the NFL is a win, but Matt Negi is about to sleep a few nights after watching his QB tapes.
Trent Williams announces his return: Or at least announce it to Jordan Hicks.
A Good Day for Dwayne Haskins: He looks good when he has a defined read and can play on-schedule – there are still issues that he comes down to later. But he also apparently delivered a halftime speech as Ron Rivera was receiving an IV, and then held his end of the bargain in a comeback win. Which is neat!
A mixed bag for the burrow: Under the pressure of the crowd near the Chargers, it was understandable that Joe Burrow was a little crook in his first live NFL action. He stretched down for it, though engineering would be a game-winning (unless an aggressive pass interference penalty wiped out a forward-facing TD) / game-tying (as long as Randy Bullock missed a 31-yarder) drive.
* * *
Don't regret
Lions can't close a game: There is no moral victory, even in a game where they were missing their second best offensive player (Kenny Golade), missing their potentially best defensive player (Jeff Okudah). The seven were seen as the most important addition to the front (Jamie) Collins), and lost their top two corners (Desmond Truffant and Justin Coleman) to injury before the fourth quarter collapse. For those who stop coffee. Put that coffee down.
D & Swift's Nightmare Drop: He is a genius, and there will be better days ahead. But the only way it could get worse is if it happened in front of the whole class and did not wear pants. A potential game-winner in his hands, and he … just leaves it.
Tom Brady is disappointed: His safety was not great, and on many occasions he was not on the same page with his receiver. One of his blocking came on such a misunderstanding, while for Janoris Jenkins the pick-six could only be described as a spot-on Jamey impression (he was behind a receiver on a route and a latecomer) . The good news is that the road to Tampa becomes much easier, although there are clearly some issues to work on.
Come, Bengals, Go Win the Game: Down 16-13, seven seconds left, ball on Chargers 13, no timeout left. The Bengals did everything they could on the drive at that point and had a two-star receiver and No. 1 overall pick, running against a gassed defense. Zac Taylor played for the tie instead of taking another shot in the end zone. This was the wrong call, regardless of the outcome. But then, in a game between two ultra-conservative teams, not playing to lose, a missed field goal could be the perfect end.
Phillip Rivers is army with: He lacked comfort with his receivers (and perhaps a lack of confidence in his arm talent), but Rivers made his foul with a turnover in his Colts debut. His two interceptions — and a third called back from a tickle — should never have been thrown off the ball.
Jimmy Garappolo, Still Unequal: Ball placement is an issue, and so was his timing, as he was late in two throws on the final series (which should have been a game-winning touchdown for Kendrick Bourne after a stunning double move).
A very fake loss: Over 90% of the games, they played the Seahawks for a draw. Then came situational football. The Seahawks had a third-and-23, and Ricardo Allen commits a complete disparity, 41-yard pass interference penalty. On the ensuing drive, the Falcons reach a third and inch and bend it down. In the third quarter, the Seahawks faced fourth-and-5 on Atlanta's 38u and threw a touchdown pass. After a few plays, the Falcons face a fourth-and-2 in their own zone, driving a fake punt and converting but throwing it back at the end of the play. They were 1-for-4 at the fourth position. He is losing football.
Baker struggles to see the field: We'll take the decision back – the Ravens are good, after all. But this was not an encouraging start.
Case of TY Hilton and mysterious mysterious drops: The last time we saw Hilton in a meaningful game, he was collecting a low-light reel in a season-changing loss in Houston. On Sunday he again came down with a case of drops, this time on the final drive – an unforgivable one as he tapped side-to-side, and on a final play where he let the ball be carried over his shoulder.
Donovan Smith's Long Day: I wonder if playing in front of Brady, with a sharp-strike offense instead of all those deep drops, would allow left tackle to avoid one of these games in New Orleans for a change. apparently not.
Eagles O-line Collapses: He caught on early, but after losing both tackles (and then rogue backup RT Jack Driscoll mid-game) it was perhaps not surprising that Washington's pass race was over. Throw in some zigzag routes from receivers and some scraper accuracy from Carson Wentz, and this is the Colonel's recipe for a complete collapse.
Off the offensive line to block: That whole team is a mess.
Trubisky's accuracy: Or, if you will anyway, it was no good. And it came with a particularly disturbing caviate: he was rarely under any real durét. Inside the pocket he plays with the balance of one of those inflatable waving tube people. Beers has to move him specifically, or put him on the bench. It will not be low-handed lions that try to shut them down every week. (Well, the lions may have their hands at least once this season.)
A new day for the Vikings secondary: A facelift has been given, specifically for the third-rounder Cam Dentzler group.
Kyle Van Noy sparks a fracas: Well, not much, but Cam was not happy after the final knee completely unnecessary collision from the former Patriot.
Ricardo Allen, who failed to locate the ball on 3-and-23: A brutal, 41-yard (and, for all intents and purposes, seven-point) punishes interference from an experienced safety to keep the Seahawk's first drive alive. Instead of punting from midfield, the Seahawks were finally in the area after two plays.
Taking three points from the Wentz board: On this part of the field for a third and longer time, you cannot come back down late. It turned into a 53-yard effort for Jake Elliott, who had just come up short.
Austin Seabert goes from 0 to 2: A lot went wrong for Brown in the opener. And it was among them. Seibert missed a PAT and a 41-yarder.
* * *
The moment we tell you about my grandfather
Jamie Collins Not Eligible To Play: He is trying to argue for lowering the flag of the helmet, and granted, you must not touch an officer, even if you are fondling him with love. But this flop by referee Alex Kemp is going to offer him a scholarship from Duke.
Young Man's patience goes away: Joe awaits Barrow as Trey Hopkins removes two defenders on his first career TD.
Chase Young, age 21, Jason Peters, age 38: Sack for his first career. It's like a Harry Chapin song or something.
Marvin Jones shrugs the shoulder: Consider this deceitful CB Jayalal Johnson's "Welcome to the NFL" moment. (On the first day of the job, when Peter King had me with me in the hallway of the Time and Life Building, I was like "Welcome to the NFL.") To this day, I still think it without thinking Have been.)
Brady's first book TD: On extended stealth.
* * *
We will talk about this week
In Foxboro, it will: Whatever offense the Patriots were going to have before signing Cam, it was not going to get better than this. Cam may explode as the year goes on, maybe future opponents are better prepared, but with a 2-to-1 run / pass ratio, it's a matter of defense, a formula for victory is.
Beware of division rival on the road !: Remember when Book blew Saints in the 2018 opener? The football team had a similar experience over the Eagles and the Jaguars above the Colts. (When the Colts and Eagles hit Super Bowl L.V.
He is the Chief-Saints Super Bowl Certainly Happening: He was the best football player of the season. And Week 1 did nothing to change that perception.
• Question or comment? Email us.
.